Ask an Adult-Film Superstar: Joanna Angel Guest Reviews Bucky Larson: Born to Be a Star
Sure, many film critics will review (and like Movieline, pan) Bucky Larson: Born to Be a Star this weekend. But what better way to prepare for the porn-themed Happy Madison comedy starring Nick Swardson than with the expert critique of an actual porn star? Enter Joanna Angel, the five-time AVN Award-winning adult film entrepreneur who writes, directs and produces her own films under her Burning Angel Entertainment production shingle.
Angel, who minored in film studies at Rutgers University, was kind enough to meet up with Movieline in Los Angeles this morning for a matinee screening of the R-rated comedy -- about a bucktoothed Midwesterner who moves to Hollywood to make it as a porn star, like his parents did. Afterward she analyzed the film and its semi-accurate depiction of the porn industry and shared real life behind-the-scenes secrets of adult entertainers over lunch. Our NSFW conversation follows.
So what is your initial reaction to Bucky Larson: Born to Be a Star?
It was definitely better than I thought it was going to be. It was really cute and funny. I actually usually hate movies that are about the porn industry because they are so far off from the truth. That's fine, I don't have anything against the people that make those movies. I understand that they need to embellish to make a good story. Obviously, Bucky Larson is a fake story but what I liked about it is that people usually make the same porn jokes, kind of at the expense of the characters. This didn't do that and it showed a real, sad side of the industry too.
In what way?
They showed Bucky going to auditions in the Valley, not getting parts and living in this little apartment. Obviously, there is no one like Bucky Larson in porn but they showed the struggle of someone trying to make it and failing at first. When people think about porn, they tend to think about a girl who got stuck in there and then makes something bad into good by making a gazillion dollars. I like that this is a story about someone who didn't care about the money at all, that just wanted to be something big and happened to be passionate about porn. And this movie didn't have all the usual movie porn elements like parties and cocaine and orgies.
Are there a lot of people out there who are actually that passionate about porn as an art form?
Definitely. I'm one of them. Not like his story is anywhere close to my story but I did try to get a distribution deal a long time ago with a bunch of mainstream companies and nobody cared. Then I did my own stuff on the web and it caught on. When it caught on, that's when the mainstream companies became interested in my company which is exactly what happened here.
A few people give Bucky the same note with his rejection -- that he was just not endowed well enough to make it in porn. Did you get one overriding note from those mainstream companies that turned you down?
No, it was a long time ago. I just remember walking around AVN like six years ago, with a DVD of stuff that I had made, trying to find someone to give it to. People just kind of brushed me off, saying "Sure, I'll pass that on," but no one gave me the time of day. But I appreciated that Bucky wasn't just some douchey porn guy. They juxtaposed his sweetness and innocence with those types of guys.
When Bucky meets with prospective employers, they immediately ask him to drop his pants. Does that really happen in the industry?
Guys have to do it, but it would never happen at a party. There are porn agencies and you do have to take off your pants and show the people your dick. It's kind of important.
Do guys who are not at all well-endowed, like Bucky, have a change at getting into the porn business?
They would have to do it like Nick Swardson's character. They'd have to come up with a gimmick. There are niche sites like that with really fat guys who fuck chicks or really small Asian dudes. There is a market for everything.
Bucky never actually has sex on camera. Does that still count as porn?
I always say that the difference between the porn and a mainstream movie is the cum shot. There are intense love scenes in movies, although never really an erection. People have fucked in mainstream movies before. I kind of think that the cum shot is what makes a porn a porn, and Bucky's movies had that.
Were there any aspects of the porn shoots in the film that were realistic?
It actually looked like the person who made the movie researched porn a little because there were some little things they got right.
Like what?
There are actually directors like Don Johnson's Miles Deep. He's kind of jaded, not very wealthy, been in the industry for a long time, trying to hold onto something in the past.
Miles gets angry at the make-up artist for distracting Bucky before his scene. Certain actors have particular things they do before the camera starts rolling to get in character for the scene. Is that the same for adult performers?
First, make-up artists don't really spend times with the guys -- that part was fictitious. But you do have to prepare. I'm not sure what guys do to prepare but every girl does something in particular to prepare for a scene. Everybody douches or whatever. Some put tea tree oil on their vaginas. If you're doing an anal scene, you have to do an enema. Some girls have to use a bunch of toys to get ready for an anal scene. Some don't have to. You have to take care of your body though, essentially you're like an athlete. They have to practice every day, eat certain things. That's what we do.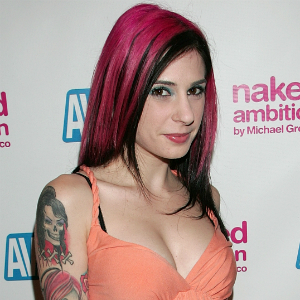 Bucky also had extremely supportive parents, which goes against the stereotype of a porn star having a fractured childhood and distant relationships with his/her parents. Do you see entertainers with supportive parents like that?
You do. My parents are pretty supportive. They would never come with me to the Adult Video Awards like Bucky's did. They would never look at my videos, but I've been doing this so long. They just want me to be happy. One time, my mom drove me to a porn convention in New Jersey. I introduced her to the guy who coordinated the convention. It was fine. They know this is what I'm doing and it's not just a phase. I have come across people whose families don't talk to them because of their job though. It's sad.
Do you know of any second generation porn stars like Bucky?
I know I've talked to people but I can't think of any off the top of my head.
Would you ever let your kids do porn?
I don't know. I don't have children. I don't have a husband. I don't have a boyfriend. I don't really want to think about it. It's not the worst job someone could have. I'd like to think I'd be a cool parent if I do ever have a kid.
Do you ever see people as comically naive as Bucky in the industry?
You'd be surprised. We shot a girl a couple weeks ago and the only other person she had had sex with was her husband who she had dated since high school. I guess her husband thought it would be kind of hot for her to try out porn. We shoot a lot of new girls and I practically talk them out of it when they apply. I don't ever want to be the cause of anyone's mental breakdown. I make it clear that everyone is going to see [their video].
One female character in this movie thinks that she will make a great porn star because she is "a total slut." Did that line offend you?
Not really! That's a pretty common thing for girls in porn to say.
I thought that it might be offensive since there are other skills and talents required to be a good porn star -- I'd imagine -- than just being promiscuous.
Usually sluts make pretty great porn stars. [Laughs] You can't fake liking sex. It's always just better when a girl is naturally turned on all the time.
Would your recommend this movie to your friends?
Maybe not to see in the theater -- but on Netflix. It was a cute, stupid movie. In the first five minutes, I thought it would be over-the-top slapstick but it surprised me. There were actually scenes that gave me some kind of emotion.
Any scene in particular?
When Bucky won his AVN awards, I remembered when I won my first AVN. I didn't win 20 like Bucky -- which would never happen if you are some niche porn star. Also, those categories weren't the real AVN categories. But I won my first when my company was really small. It was a really proud moment. We were going up against these big companies and I wasn't expecting to win anything. To even be nominated was a big deal. I remember winning and it was the best moment of my life. I was so happy.
What category did you win?
Most Outrageous Sex Scene. We made a zombie movie [Re-Penetrator] and in the movie, I kill the guy I'm having sex with. I pull his intestines out.
What didn't you like about the movie?
The ending. [Spoilers ahead] It seemed weird that even though porn had been his passion the entire movie, he had to choose between porn and his girlfriend [Christina Ricci]. I don't like that that was the "happy ending" -- that he didn't want to do porn. I thought that was a bad lesson but whatever, it's a movie. I don't think Hollywood can show two people being in a happy relationship if one does porn. They're not ready for that. I struggle all the time with dating people.
Would you ever leave porn, like Bucky did, even if it was for the love of your life?
No, but that would be ridiculous because I'm not just making that decision for myself. I have employees to think about.
There were vague moments of inspiration in Bucky Larson.
There really were -- until the last 10 minutes when they were like, "Don't do what you were trying to do for the past 90 minutes. Move back to Iowa."
And open a steakhouse.
He should have done porn, and she should have supported them. Or they should have done pornos together like Bucky's parents. That would have been cute.
That would have been a good ending! What would you rate this out of ten?
I don't have to compare it to like Lord of the Rings, right? If I were to compare this to other comedies, I'd give this a 6. I definitely did like this more than all the other mainstream movies I've seen about porn before.
Even Boogie Nights?
I love Boogie Nights and maybe there was a time where the industry was like that... but no.
We laughed out loud during this.
We did, and I almost cried. During the scene when Bucky dresses up like an old lady and helps Christina Ricci's character get over her fear of carrying a tray. [Christina Ricci plays a waitress who was traumatized years before when she dropped a tray of soup on an old woman, sending her to a burn unit. Since then, Ricci will only work at diners where tray carrying is not required.] That was cute.
You might be the only person that Bucky Larson almost brings to tears.
I'm a sucker for romantic stuff though. I'm an easy cry.
Many thanks to our guest reviewer, Joanna Angel. Find more information about her work at her official website, www.joannaangel.com.
PREVIOUSLY: Ask a Programmer: Movieline's Guide to 5 Major Fall Film Festivals