The 5 Films Likeliest to Ignite a Toronto 2011 Bidding War
It's that time again -- time for actors and filmmakers to cross their fingers, for studios and distributors to get out their checkbooks, for bleary-eyed audiences to get their running shoes on, and for all of them to meet up north for the 2011 Toronto International Film Festival. As always, their confluence will yield a handful of big-screen surprises, some bitter disappointments, and the usual all-night wheeling and dealing for the best of the fall crop premiering in the week ahead.* Per annual TIFF custom, let's have a browse through the catalog (and a listen to the buzz) at five particular titles you should expect to hear about early and often.
WHAT IT'S ABOUT: A collegial group of New York couples grapples with the uneasiness of some of their rank's pursuing parenthood.
UPSIDE: That cast! Kristen Wiig, Jon Hamm and Maya Rudolph join forces from Team Bridesmaids, while Adam Scott, Megan Fox, Edward Burns, Chris O'Dowd and Jennifer Westfeldt (who also wrote and makes her feature directing debut) round everything out. Festival organizers characterize the film as a "romantic comedy with an edge," which happens to be one of the most lucrative breeds of movie on the current scene.
DOWNSIDE: Not much, unless it sucks. And Toronto has as much paper-tiger programming as any major festival on the planet.
POTENTIAL BUYERS: Fox Searchlight, Focus Features, Roadside Attractions, FilmDistrict
HOW MUCH? < $4 million
WHAT IT'S ABOUT: An angry, disillusioned middle-aged man (Joel Murray) and a simpatico teenage girl (Tara Lynn Barr) embark on a violent, bloody crusade against the moronic culture of America.
UPSIDE: Writer-director Bobcat Goldthwait has been ramping up his pitch-black comedy chops for a while now, with both Sleeping Dogs Lie (2006) and World's Greatest Dad (2009) demonstrating the comic's adeptness with bitterly dark material. This could be just the bracing election-year culture-war tonic that nudges him ever-so-gently into the outer banks of the mainstream. Plus: Come on! Freddy Rumsen is in it!
DOWNSIDE: Last year's ultra-violent vigilante-hero entry Super went exactly nowhere outside the festival bubble that celebrated it. And that had stars.
POTENTIAL BUYERS: IFC Films, Magnolia, Oscilloscope
HOW MUCH? < $1 million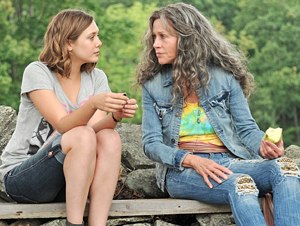 · Peace, Love, & Misunderstanding
WHAT IT'S ABOUT: A newly divorced attorney (Catherine Keener) hauls her kids (Elizabeth Olsen and Nat Wolff) off to meet their estranged hippie grandmother (Jane Fonda). Bittersweet family hijinks ensue.
UPSIDE: Both this and Keener's other TIFF entry, the family farce The Oranges, are receiving considerable pre-festival speculation; either could go early in the proceedings. I like this one's chances more, though: Fonda is Fonda, veteran Aussie director Bruce Beresford is due for a Stateside comeback after his coolly received ballet passion project Mao's Last Dancer, and Olsen is the It Girl of the fall thanks to her breakthrough performance in Martha Marcy May Marlene. Even if it flounders critically in Toronto, it's got to be as good an investment -- think theatrical, video, cable and VOD platforms -- as anything else screening up there this year.
DOWNSIDE: Not a lot? Again, it might suck, but you're buying for the long haul. No one will remember TIFF 2011 six months from now.
POTENTIAL BUYERS: The Weinstein Company, Sony Pictures Classics, Relativity
HOW MUCH? < $3 million
WHAT IT'S ABOUT: An out-of-control cop (Woody Harrelson) becomes embroiled in the eponymous corruption scandal that rocked the LAPD in the '90s.
UPSIDE: Harrelson reteams with writer-director Oren Moverman -- both of whom earned Oscar nominations for their sublime 2009 collaboration The Messenger. Word on the street since the script made the rounds has this landing on top 10s and awards races through the end of this year and into 2012.
DOWNSIDE: Hype. So much hype. It could either be Training Day or Brooklyn's Finest. Possible (but not likely) police-union backlash in Los Angeles and beyond.
POTENTIAL BUYERS: Oscilloscope, The Weinstein Company, Summit, Lionsgate
HOW MUCH? < $4 million
WHAT IT'S ABOUT: A woman (Michelle Williams) thought happily married to her cookbook author husband (Seth Rogen) finds herself irresistibly attracted to the new neighbor (Luke Kirby) across the street.
UPSIDE: Sarah Polley's much-anticipated follow up to her 2006 directing debut Away From Her has a lights-out cast and boasts the notorious promise of co-star Sarah Silverman nude. Williams and Rogen are said to be superb; for the latter, this film -- paired with his other TIFF premiere 50/50 -- should amount to a significant career turning point.
DOWNSIDE: Cast notwithstanding, how significant an impression can this really make outside the art house? Will Polley's team be asking too much for a film that may yet prove to have too limited an appeal?
POTENTIAL BUYERS: Lionsgate, Sony Pictures Classics, Magnolia, Roadside Attractions
HOW MUCH? < $2 million
Drop back by this weekend for TIFF 2011 coverage from our Canada-bound critic Stephanie Zacharek and the rest of the team at Movieline HQ.
*: Shame, a TIFF selection that is also expected to complete a North American distribution deal in the days ahead, premiered last weekend at the Venice Film Festival and thus is not included for consideration here.