Postcard from Venice: Time to Say Goodbye, But First: Could Polanski Win a Golden Lion?
Venice is a city of lions. There's the ubiquitous winged lion, the symbol of Saint Mark, seen everywhere in statuary and on banners. Last night, outside the Casino, one of the main buildings of the festival complex, I saw a winged lion statue, about 12 feet off the ground, with a single wine glass perched delicately if a bit precariously atop one of his meaty paws, left behind by some meticulous reveler. Other lions have no wings but appear not to mind much, standing guard at church entrances, outside restaurants or at the center of neighborhood squares. And everywhere you look, there are smaller lion faces gazing back at you: Some have important and obvious jobs to do, holding door-knockers or doorbells in their mouths. Others are free to simply be themselves, but all seem intent on keeping an eye on things.
Then there are the festival prizes, the Golden and Silver Lions, which will be announced on Saturday. Today is my last day at the festival (though I'll be reporting back on the prizes over the weekend), which means it's time to look back at the movies I've seen in the past seven days and suggest some possible winners -- though remember, there's no such thing as a sure thing.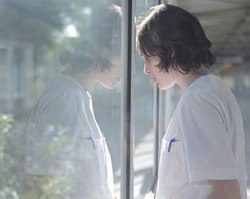 The movie my English-speaking friends seem to like the best so far is Alps, an intriguing picture from Greek director Yorgos Lanthimos (who gave us another festival favorite, Dogtooth, a few years back). In Alps, a disparate group of people -- a nurse, a paramedic and a gymnast and her coach -- have banded together to form a little crew whose purpose isn't immediately clear. Nor do they have a name, until their leader, the paramedic, played by Aris Servetalis, proposes that they call themselves the Alps -- they constitute a stalwart and reliable presence in a world where there's always the risk of loss. Eventually we learn that the Alps provide a strange but possibly invaluable service: They approach individuals who have lost loved ones and impersonate the deceased, in some cases acting as a receptor for all sorts of cathartic behavior, in others simply acting as a stand-in to assuage grief.
Alps is an intellectual exercise first and foremost, a stark puzzler with modest production values (that means lots of handheld camera work and washed-out colors) that's engaging enough for the questions it asks in its sly, sidelong way: Chiefly, who are these people? And by extension, who is anyone? Are the people we know really the people we know, or are they all impostors? And so forth. I'm not sure Alps cuts as deeply as so many of my colleagues seem to think it does, but it's still an intriguing piece of filmmaking that could attract some love from the jury here, possibly the director's prize, the Silver Lion.
Variety has been publishing a special festival edition each day this week, the official publication of the festival, which features a chart in which a selection of international critics assign a score to each movie. As of Wednesday, the picture with the highest score is Roman Polanski's Carnage, with an 8 out of 10. The next highest scores go to George Clooney's The Ides of March (7.5) and Steve McQueen's Shame (7.4), which may be my personal favorite of this festival (although I was also impressed by the craftsmanship and emotional resonance of Tomas Alfredson's Tinker, Tailor, Soldier Spy). I wasn't able to see Carnage here in Venice, but it certainly has a strong chance of winning the Golden Lion, depending, perhaps, on how preoccupied the jury is (it's headed this year by Darren Aronofsky) with Polanski's personal reputation. European critics and moviegoers have tended to be more forgiving of Polanski than American ones, choosing to focus on the work rather than the fairly certain fact that he committed a crime for which he was never punished. Politics often play a huge role in festival prizes, and this one could go either way.
I'm also pleased to see that Ann Hui's tender and beautifully crafted Tao Jie, or A Simple Life, has also found some favor among critics here. (It currently has a 7.2 on the Variety scorecard.) Andy Lau, perhaps best known to American audiences from his roles in the Hong Kong Infernal Affairs movies, plays a movie-biz accountant named Roger who takes it upon himself to look after his family's elderly housekeeper, Au Tao (Deanie Ip, a revered actress in Hong Kong cinema and Lau's real-life godmother), who has asked to be put in a nursing home.
The picture is surprisingly unsentimental, and Hui has a gift for zeroing in on the telling detail. In one sequence, we watch as Au Tao prepares to attend a movie premiere with Roger: She puts on her nicest clothes -- simple items that have clearly been cared for and treasured for years -- and slips two modest gold and jade rings on her fingers. She takes out a tube of lipstick that's almost completely worn down -- this, too, may have been cherished for years -- and in a moment that speaks volumes about the complex relationship between economy and vanity among the aged, smudges a bit on her lips with her fingers. We see her reflection in the mirror; she looks adequately pleased. It's the kind of quiet detail we go to the movies for, the whisper that speaks louder than a shout.
I'm not sure there will be a prize for A Simple Life, but it's one of those movies I'm grateful to have seen here, and I hope it finds a larger audience worldwide. And as always, I'm sad to leave Venice, a city I've grown to love. But Toronto -- which will feature some of the films I've missed here, including The Ides of March, beckons. So once again, I say arrivederci, Venice! And starting Friday, hello, Toronto.
Read all of Stephanie Zacharek's coverage of the 2011 Venice Film Festival here.