J. Edgar to Debut as AFI Fest Opener [UPDATE]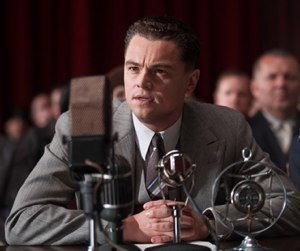 If last year's opening night was a favorite festival memory for AFI Fest director Jacqueline Lyanga, one can only imagine the blast she's going to have on Nov. 3: The 25th annual incarnation of the festival has announced the world premiere of Clint Eastwood and Leonardo DiCaprio's hugely anticipated biopic J. Edgar as this year's opener.
The announcement came via press release early this morning (the full details can be found below). We'll see how this impacts J. Edgar's awards chances down the line; clearly, after giving The Fighter its opening-night slot in 2010, AFI firmed up its role in the derby, and after years of coming out swinging in early fall with previous festival entrants like Mystic River and Changeling, Eastwood is going for the last word on fest season this time around. Should be interesting.
Also, for those of you who capitalized on last year's free ticket offer, good news and bad news: That offer still stands, just not for this event. [See update/correction below.] Still! Huge get! High-five, AFI.
UPDATE (12:30 p.m. ET): A representative for AFI Fest passes along this clarification about the Opening Night Gala seating/ticketing: "Free tickets will be available to all events, including our Opening Night Gala. The Star and Marquee patron packages are ways to guarantee reserved seating in advance." Got it. Check out more about tickets and scheduling at AFI Fest's Web site.
=========
LOS ANGELES, CA, September 7, 2011 - The American Film Institute (AFI) announced today that J. EDGAR, directed by AFI Life Achievement Award recipient and Academy Award-winning director Clint Eastwood, will have its world premiere as the Opening Night Gala of AFI FEST 2011 presented by Audi. The film stars Academy Award nominee Leonardo DiCaprio in the title role, along with Academy Award nominee Naomi Watts, Armie Hammer and Oscar winner Judi Dench. It is produced by Academy Award winners Eastwood and Brian Grazer, and Oscar nominee Robert Lorenz. From an original screenplay by Oscar winner Dustin Lance Black, the film explores the public and private life of one of the most powerful, controversial and enigmatic figures of the 20th century, J. Edgar Hoover, founding director of the FBI.
"Clint Eastwood is an American icon - one whose work as a director, actor, producer and composer not only stands the test of time, but also continues to add new, rich chapters with each passing year," said Bob Gazzale, President and CEO of the American Film Institute. "What a gift it is to be going to the movies when Clint Eastwood is making them, and what an honor it is for the American Film Institute to premiere his latest contribution to America's cultural legacy."
J. EDGAR stars Leonardo DiCaprio, one of today's most acclaimed actors, who recently headlined the worldwide blockbuster INCEPTION. He has been honored with three Academy Award nominations for his performances in BLOOD DIAMOND, THE AVIATOR and WHAT'S EATING GILBERT GRAPE. His impressive credits also include THE DEPARTED, SHUTTER ISLAND, CATCH ME IF YOU CAN and TITANIC.
Eastwood has a long history with AFI. He was the recipient of the AFI Life Achievement Award in 1996 - described as "an actor who doesn't waste words and as a director who doesn't waste images" - and his films have appeared on the annual AFI AWARDS top ten list four times since 2000 - GRAN TORINO (2008), LETTERS FROM IWO JIMA (2006), MILLION DOLLAR BABY (2004) and MYSTIC RIVER (2003).
For the third consecutive year, AFI FEST will continue its unprecedented offer of free tickets to all screenings, but only the Star Patron Package and Marquee Patron Package provide reserved access to the J. EDGAR world premiere Opening Night Gala. These and other AFI FEST Patron Packages - which ensure access to sold-out galas and other high-demand films and events - are on sale now at AFI.com/AFIFEST. The American Film Institute is a 501©(3) non-profit educational and cultural organization, and Patron Packages are tax-deductible to the full extent of the law.
Individual tickets to AFI FEST screenings and galas will be available to AFI members on Wednesday, October 26 in a 24-hour advance window before they become available to the general public on October 27. In addition, AFI members receive a 10% discount on all Patron Packages. Information about AFI membership is available at AFI.com/membership.
AFI FEST - celebrating its 25th year - will take place November 3 through 10 in Hollywood, California, at the historic Chinese Theatre, the Chinese 6 Theatres, the Egyptian Theatre and the Hollywood Roosevelt Hotel.
###