Watch: Grace Kelly, Marlene Dietrich, Marilyn Monroe and Charlize Theron Co-Star in CG-Aided Dior Ad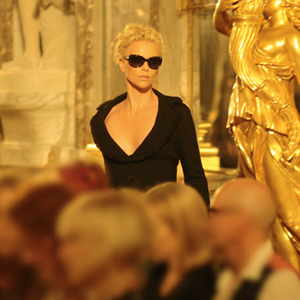 The new Dior short film/luxury ad starring celebrity spokesmodel Charlize Theron makes a number of assumptions off the bat. First and foremost, that you'd believe screen icons Grace Kelly, Marlene Dietrich, and Marilyn Monroe would shill for any designer even in death, but more so? That Theron, statuesque living goddess that she is, is the natural glam heir to those ladies' legacy. Then again, it was filmed inside of Versailles. Point, Charlize!
In Dior J'adore, Theron arrives late to a runway shoot inside of Versailles's famed Galerie des Glaces (Hall of Mirrors), cheek-kissing a beauty who turns out to be Kelly, vibrant and almost lifelike via the magic of CG. Who's that mugging for photogs in menswear in the corner? Oh, just Marlene freaking Dietrich. Handling a bottle of the Dior J'adore fragrance is none other than Monroe herself. Well, a close-to-realistic, uncanny-valley version of Marilyn, anyways.
But Charlize has no time to sit wondrous at this marvel of celebrity couture conjuring -- she's got a catwalk to stalk, beautifully bathed in golden, buttery light by none other than French director Jean-Jacques Annaud (Seven Years in Tibet).
Shameless manip of old Hollywood glamour or delightful blending of past and present screen icons? (And does this version of Charlize Theron, flawlessly perfect exquisite couture goddess, jive with the everywoman version of Theron passed out drunk on the poster for Young Adult?)