Bad Movies We Love: The Main Event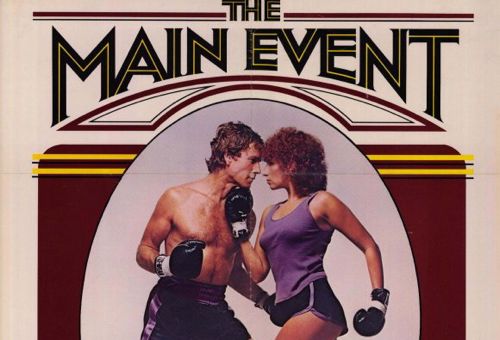 Since Warrior and Tom Hardy are planning to beat us up this weekend, I figured we'd counter their attack by revisiting the least gripping boxing movie of all time: The Main Event (a.k.a. "A Glove Story"). If flaxen, dimpled, Dancing with the Stars candidate Ryan O'Neal is your idea of a prizefighter and Barbra Streisand is your idea of his grimy promoter, then The Main Event is the pugilist saga for you. Otherwise? It's a terrifying medley of boner jokes and Barbra costuming. Ready to watch the stars of What's Up, Doc? threaten to pummel each other in front of a screaming crowd? Ding-ding!
Now for the most plausible synopsis of the past century: Barbra Streisand plays a perfumer named Hillary Kramer whose business manager steals her money, leaves her broke, and -- would you look at that? -- forces her into managing a crusty old boxer (Ryan O'Neal) whose career she once bought as a tax writeoff. As you can see, this mimics the story of Don King to an astounding degree. Hillary just needs to be convicted of manslaughter a couple times and this turns into a gender-neutral biopic.
Let there be no mistake: The Main Event is an intentional comedy, one that sometimes tries to recall Peter Bogdanovich's 1972 screwball classic What's Up, Doc? in which Streisand and O'Neal costarred. Unfortunately, it's a comedy that's only funny during the serious moments, and grimly stupid during the "funny" ones. That's bad and lovable, right there. I could probably watch it again and again, especially since Barbra turns a fine performance, all things considered. Though she dazzled us once before in a Bad Movie We Love with A Star is Born, you'll find this film a bit tighter, more enjoyable, and somehow more tragic. That's Ryan O'Neal bouncing around a boxing ring, after all, looking exactly like your dad. I guarantee it.
Here are The Main Event's five greatest perks, ranked for suspense purposes.
5. The Thrilla in the Disco!
Much like in last week's Bad Movie The Wiz (also a '79 joint), one feisty dance boosts the whole movie. There's one key difference: The Wiz is a funky, soulful musical where a jive-ass jam like "Ease on Down the Road" is a perfect fit; in The Main Event, it's a total non-sequitur after two hours of uppercuts and sweaty O'Neal faces. I don't remember Million Dollar Baby ending with a few minutes of "Hey Ya," do you? Whatever. Do boogie!
4. Boner jokez
Just like you expected/feared, a romance springs up between Hillary and her client. As they find themselves sleeping together in a freezing cabin one night, Hillary announces, "If I'm arousing you, I understand completely." After he denies that titillation, she follows up, "Then what's that?" referring to a certain lump against her body. He retorts, "My foot." And then, following more non-foreplay and after a makeout finally ensues, Hillary proclaims, "There's your foot again!" Our boxing champ replies, "Ignore it." Ahhhh, erections. Always great fun when discussed in the unsexiest sports movie since Brian's Song.
3. Ryan and Barbra love pretending to slug each other!
There's a certain charm to the pugnacious energy between Ry and Babs. There's also a certain terror. Note the fury in O'Neal's face as Barbra insults his manhood, wears lilac better than he does, and saves this weird scene at the last minute with slapstick chops. Ali MacGraw wants her turn!
2. Raging Bull by way of ACME
To give you an accurate depiction of what the boxing in this movie's like, I give you this nugget of cinematic gold: While coaching Ryan O'Neal between rounds of a big fight, Barbra hastily throws ice down his shorts. Outraged, O'Neal returns to the ring and slays his opponent. I'm glad that traditional Tweety Pie pranks have practical applications in the boxing world, too. What's next? She throws an anvil at his opponent? Wears roller skates powered by dynamite and tramples both fighters? Puts on a Tatum O'Neal mask, yells stuff about feeling neglected, and watches as Ryan's rage lights up the city? Fine, I'd pay to see that one.
1. Barbra Streisand is a tall drink of water root beer.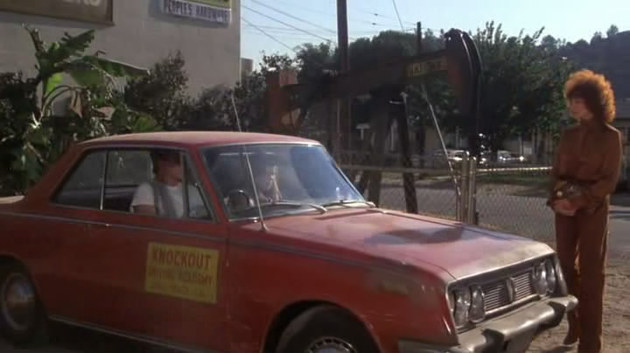 Forget boxing already. The Main Event is about Barbra costuming, Barbra hair that looks like one of Madonna's loathsome hydrangeas, and the uncomfortable matching between the two. In the above picture, Barbra stands by Ryan's decrepit truck dressed in hair-to-toe brown and looking like an A&W float served in parfait crystal. The A Star is Born perm is no help. In fact, it's the un-hottest haircut of Barbra's career, which is sad considering that in 1979, her awesome afro had died only recently. At her best in The Main Event, she dons legwarmers and sweats that would put a love crinkle in Jane Fonda's spandex. At worst, she looks like a reject poodle bassist from the Muppet band. Somewhere in the middle is the definitive portrait of a Bad Movie We Love.