Chris Tucker's Box Office Average Says He Doesn't Have to Work More Often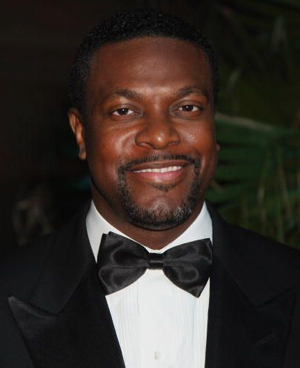 Earlier today, various trades reported that Chris Tucker is circling two big Hollywood roles -- one in David O. Russell's The Silver Linings Playbook and the other in Neighborhood Watch opposite Ben Stiller, Vince Vaughn and Jonah Hill. Nearly all reports also noted that Tucker has been curiously absent from the box office since 2007's Rush Hour 3, which is strange considering that the actor was in the middle of a career upswing that started with Friday, continued with his Jackie Chan franchise and could have ended with the actor becoming one of the most marketable movie stars this decade. But after some careful math, Movieline HQ can tell you exactly why Tucker was free to retreat from the box office...
Simply put: Maybe he just did not need to work. Yes, this goes against everything that our money-grubbing, empire-building society stands for but maybe Chris Tucker is just old-fashioned like that. Let's take a look at the actor's worldwide box office average first to see what kind of box office power the actor had when turning down easy post-Rush Hour paycheck roles.
· Friday: $28.2 million (1995)
· Dead Presidents: $24.1 million (1995)*
· The Fifth Element: $263.9 million (1997)
· Money Talks: $48.4 million (1997)
· Jackie Brown: $39.7 million (1997)*
· Rush Hour: $244.4 million (1998)
· Rush Hour 2: $347.3 million (2001)
· Rush Hour 3: $258.0 million (2007)
Box Office Average: $156.75 million
So yeah, with that kind of B.O. average (and a reported $48 million in the bank for his work in the Rush Hour trilogy), Tucker was free to play hardball.
While promoting a cross-country comedy tour this summer that kept the comedic actor sharp (and paid), Tucker told the New York Times that the parts he was offered since 2007 were too similar to Rush Hour and "frankly, just weren't good enough." The article also noted that Tucker seemed "supremely confident that he can pick up exactly where he left off."
And here we are today, with Tucker poised to re-enter the Hollywood fold. Now if only other comedic actors could have the confidence and grace to restrain from littering the multi-plex with brainless paycheck projects, the movie-going world would be a better place. But I guess Eddie Murphy has proven that no amount of flops and fat suits can keep you from the Academy Award podium.
*Denotes that the title was not released theatrically outside of the U.S.
All box office figures taken from BoxOfficeMojo.com
• The return of Chris Tucker has its 'Silver Linings' [Variety Showblitz]