Postcard from Venice: Tinker, Tailor Is a Rich, Muted Delight; Solondz's Dark Horse Is Charmless
I'm not sure about the other European critics, but so far the U.K. critics here seem to love one picture above all others: Tomas Alfredson's Tinker, Tailor, Soldier, Spy, an adaptation of John Le Carré's 1974 novel, stars Gary Oldman as George Smiley, the deposed British spy who must find the mole who's compromising MI6 -- or "the circus" -- in order to put the organization, and his life, back together. In addition to being based on an enormously popular book, Alfredson's picture is also haunted by a ghost: The 1979 TV mini-series, which featured Alec Guinness in the George Smiley role. Who'd want to try to top that?
The key to Oldman's performance in this beautifully constructed thriller is that he's not trying to top anyone, not even himself. In the late '80s and early '90s, Oldman built a career out of playing brash roles -- in pictures like Sid and Nancy, JFK and True Romance -- layered with so much acting that you could barely discern a character beneath. But in recent years, he's shown a more delicate touch; no longer having to be the over-the-top kid, the flashiest performer in the room, has agreed with him.
In Tinker, Tailor, he's a man who's not just in danger of losing everything he loves; he could lose everything he stands for, which is worse. In one scene he describes to a younger agent how, years ago, he urged a Russian operative -- one who would later become a top spymaster for the other team -- to come to the West. Smiley frames the argument in terms of the man's wife, suggesting that he could make her life better and more anxiety-free. He re-enacts the moment, speaking to an empty chair, as it becomes clear that it's his own estranged wife who's foremost in his thoughts. Oldman is remarkable here for how little he does, for how little he has to do. Oldman's dignity, borne of experience and of making lots and lots of mistakes, is less something you can see than something you can feel. He wears his character's regrets lightly, like a bespoke jacket, a state of being made just for him. It's a remarkable performance.
The picture overall is notable less for its complex plot than for the emotional context of each of its nested backstories-within-backstories. Alfredson (Let the Right One In) allows each character to emerge gradually but distinctly, as if out of fog, into a fully formed human being with certain motivations and heartbreaks. The uniformly terrific ensemble cast includes Colin Firth, Tobey Jones, Ciarán Hinds, John Hurt, Benedict Cumberbatch and Tom Hardy. Especially noteworthy is Mark Strong, as the agent who's perhaps the most harshly tested of all; he plays the character's desolation and determination as two sides of the same coin. Tinker, Tailor, Soldier, Spy feels both old-fashioned and modern at once. And its lovely, understated score (by Alberto Iglesias), with its whispering strings and muted trumpets, perfectly suits the movie's palette of soft mauves and grays. This is a movie rendered in the colors of smoke, though its contours are solid and shapely, formed with the utmost care.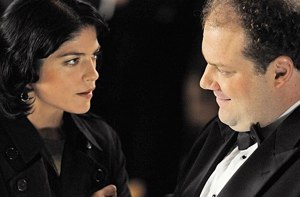 And now a public-service announcement from the "I Just Don't Know What to Say" Department: Todd Solondz's Dark Horse, playing in competition here at the festival, received a mildly appreciative response from the audience when it screened last night. Though I can't be sure how many people liked it, it didn't seem to draw anger or puzzlement or passionate anything out of anybody. It's about as sweet a film as Solondz is ever likely to make -- but that's not to say it's particularly sweet. Jordan Gelber plays Abe, a schlub in his 30s who still lives at home with his mom and dad (Mia Farrow and Christopher Walken) but who'd like to start a romance with the deadpan-to-the-point-of-deadness Selma Blair. Considering this is a Todd Solondz movie, you can guess how that works out for him, though Solondz at least acknowledges his character's humanity. The picture is laden, like a tray of cheap bakery cookies, with jokes that are both off-kilter and thuddingly obvious; it hits the apex of hilarity when Abe tries to return an action figure to Toys'R'Us and is informed by the clerk, authoritatively, that he can't return it because it's been removed from its package. Oh, the irony! Stop, you're killing me! Please -- no more.
Read more of Stephanie Zacharek's 20011 Venice Film Festival coverage here.