What's the Upside of Eddie Murphy Hosting the Oscars?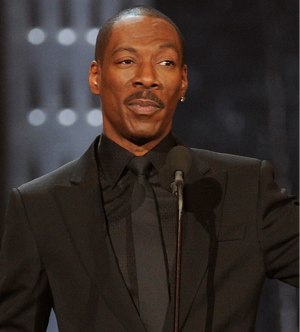 Rumors abound today that Eddie Murphy may dig out of his extended rut with an Oscar-hosting stint next February. The Web site that broke the story says it's a done deal, while our sister site Deadline reports that co-producer Brett Ratner has a few hurdles to clear at the Academy (quite possibly including his producing colleague Don Mischer). Among them: Convincingly answering the question, "What on Earth is the upside of Eddie Murphy hosting the Oscars?"
Aside from the publicity bump for Tower Heist -- the Ratner/Murphy/Ben Stiller collaboration opening in November -- and the legitimizing milestone the job would represent for the 50-year-old comic/actor's flagging career, I can't really see how this would make sense. Let's think about the players:
· Brett Ratner: Wants to make his mark on the event as soon and as indelibly as possible. Eager to make the Oscars funnier, but needs to keep it safe and traditional after this year's debacle. Wants to be the guy known as bringing Eddie Murphy back from his devastating tandem of live-action flops (Meet Dave, Imagine That) with a hit movie and the return to the stage he left decades ago, but will probably just look like the guy exploiting the Oscars for Tower Heist hype and to reinvigorate his long quest to make Beverly Hills Cop 4 with Murphy. Can always point to Murphy's Best Supporting Actor nomination in 2007 (for Dreamgirls) as proof of his Academy approval. Can cite positive working relationship with Murphy -- something not all that many of Murphy's more recent directors can claim -- as insurance against the surly star going off the rails in the intense lead-up to Oscar night.
· Eddie Murphy: A middle-aged comedy genius who's abdicated his legend for a baser, broader paycheck canon including The Nutty Professor and Dr. Dolittle films, The Adventures of Pluto Nash, Showtime, I Spy and the infamous Norbit -- but who now has Tower Heist and next January's A Thousand Words to sell. Reportedly wants to return to live performing and stand-up, though confessed last year to believing that his "cool and edge are gone." Oscars would be arguably the biggest stage possible to mount that comeback -- but the last thing the Academy needs or wants after its Franco/Hathaway experiment is to provide Eddie Murphy's testing ground. Also left the bitter taste of walking out of the 2007 Oscars ceremony after losing to Alan Arkin. If he gave off the impression that he was above it all then, what could possibly have changed in five years? How hard is he willing to work with Ratner, and how will he respond when things go wrong onstage or behind the scenes during the Oscarcast, which they invariably do?
· WME: Murphy's agents are fanning the flames of this rumor as far as they'll burn. Need to move their star to next, mature phase of career while restoring his comic luster among the 25-40 demographic so critical to the Academy and ABC. Could use a coup to wave in front of CAA, which reps Ratner and wants to get its other client Billy Crystal in the hosting slot. (Ratner has apparently pledged Crystal's involvement in some other manner to be determined.) Probably the likeliest winner in this whole schema: If Murphy gets the job and flourishes, he's a hero. (And the chances of that Beverly Hills Cop 4 payday just skyrocketed.) If he bombs, he still hosted the Oscars and can just go off and make Nutty Professor 3.
· Tom Sherak: AMPAS president is the face of the Academy, and needs just one year to go by without getting slapped by storm of Oscarcast second-guessers. Needs least controversial, least risky big name with the least baggage to grace the Oscar stage. Would have to explain to every smug and/or blue-haired Academy voter why the guy who starred in Norbit is hosting the Oscars, plus defend what looks like Ratner and Murphy leveraging Hollywood's biggest night for their own films' benefit. (Especially so early; Oscar host announcements usually arrive in late November/early December.) Would be forced to rally around Tower Heist and A Thousand Words regardless of their quality or box-office potential, lest they bomb and he's stuck with an impotent leading man as host come February. Would be better off with Ben Stiller than Eddie Murphy. Can't afford right now to be stuck in the corner where this gamble places him.
· Don Mischer: Oscar co-producer also bouncing back from this year's nightmare. Brilliant television veteran who no doubt wants another veteran to stabilize the hosting platform; Murphy hasn't done TV in almost a quarter-century. May not have veto power, but has assembled his own list of possible hosts, and has considerably more experience and influence than Ratner when it comes to institutional dealings, negotiations and politics. Dissent could build tension in the ranks, and it's only Sept. 5.
· Billy Crystal: Erstwhile Oscar host who is itching to give it another go after last year's well-received cameo. Safe, inoffensive choice who is exactly what everyone who follows the Oscars knows it needs. If he's going to be involved anyway, why not just give him the host slot and sell next year as the throwback Oscars rather than the comeback Oscars?
· You: Love a good comeback story and would like to see Eddie Murphy reclaim his edgy mojo, but saw what happened to Chris Rock in 2005 and know instinctively that Murphy's compatibility with this particular job is likely less than optimal. Still haven't forgiven Murphy for Norbit. Have high hopes for Tower Heist but are still confused as to how Ratner landed an Oscar-producing gig. Don't understand why Academy won't just appoint Alec Baldwin and Steve Martin as hosts-for-life and be done with it.
So basically: Why Eddie Murphy? Seriously, I'm asking.
[Photo: Getty Images]