In Honor of Labor Day, 5 Movies That Make You Appreciate Your Job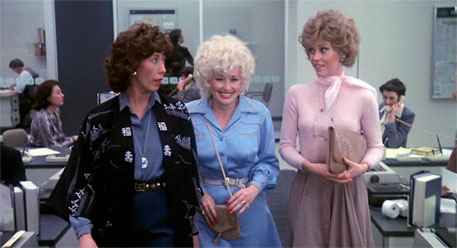 Labor Day weekend calls for more than a celebration -- it calls for validation of this thing we call work. Before you canter drunkenly into the long holiday, here are five movies that will reaffirm your faith in your own employment. It'll add extra grace to your three-day break while making your return on Tuesday much easier. Let's punch in and tune out!
On the Waterfront
Those longshoremen get so rowdy! On the Waterfront's scintillating look at union violence and Marlon Brando's epically downtrodden character Terry Malloy remains a watershed almost 60 years later. It holds up! Just like the effervescent glamor, beauty, and smarts of Oscar-winning supporting actress Eva Marie Saint. Looking fantastic at 87, my darling!
Norma Rae
Norma has it pretty rough in Norma Rae well before she takes on the system and urges a blue-collar town to join the labor union. She toils at the cotton mill, has an affair with an abusive married man, and watches her own family members suffer health setbacks in awful working conditions. Even if you don't win an Oscar for suffering through dehumanizing work conditions, Sally Field did on your behalf.
9 to 5
It's not a perfect or even successful movie if we're grading the second half's strange turn, but 9 to 5's unforgettable characters make it a phenomenal Labor Day treat. The nervy trio of Violet Newstead (Lily Tomlin), Judy Bernly (Jane Fonda), and Doralee Rhodes (Dolly Parton, in her debut feature) exact revenge against their odious boss (Dabney Coleman) providing a thrilling solidarity that made film and fashion history. You drape that precious sweater over your hostile shoulders, Judy!
Glengarry Glen Ross
My god. If you ever thought cold calls and impossible real estate salesmanship could be a fun living, allow David Mamet's stormy, near-noir drama snap you back into sanity. While Al Pacino garnered an Oscar nod and Alec Baldwin famously shined in a supporting role as the hot-shot sales strategist Blake ("A.B.C. - Always Be Closing!"), it's Jack Lemmon who gives the performance of a lifetime as Shelley Levene, the withering veteran with the indefatigable grin who falls on hard times against his scrappy coworkers.
Up in the Air
Here's another example of a movie with a flimsy ending that begins with great finesse: Up in the Air follows George Clooney on his whirlwind, cross-country of firing people on behalf of vile corporate overlords. If his isolation doesn't make you appreciate human contact and a hard-earned paycheck, you might be made of stone - or you're just a savvy, self-assured type like Vera Farmiga's sexy character Alex Goran.
Happy Labor Day weekend, Movieliners!