NASA Thinks You Should Know Apollo 18 Isn't Real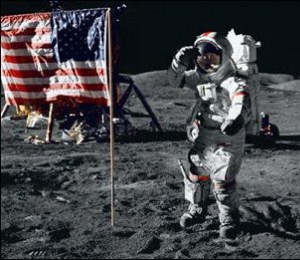 When the Weinstein Co. first announced their Apollo 18 project last year, they sent out a press release stating that Russian producer Timur Bekmambetov had discovered actual Apollo 18 footage that would be incorporated in their "documentary." Just three hours later, the studio retracted the release with a new one that curiously did not mention the footage. But then they released a trailer for Apollo 18 that opened by claiming "the following is the recovered footage from Apollo 18." Confusing much? On the eve of the film's release, NASA is finally coming forward to talk about Apollo 18.
No, not an actual Apollo 18 mission -- NASA still claims that the last manned trip to the moon was Apollo 17 in 1972 -- but about the Weinstein Co.'s project that has been blurring the line between fact and fiction in an (ineffective) ploy to generate buzz.
"Apollo 18 is not a documentary," Bert Ulrich, NASA's liaison for multimedia, film and television collaborations, told the L.A. Times. "The film is a work of fiction, and we always knew that. We were minimally involved with this picture. We never even saw a rough cut. The idea of portraying the Apollo 18 mission as authentic is simply a marketing ploy. Perhaps a bit of a Blair Witch Project strategy to generate hype."
So there you have it. Also, you might be interested in knowing that while NASA had no part of this weekend's feature, the organization did support Michael Bay in his effort to make this summer's other lunar-themed film, Transformers: Dark of the Moon by letting him film on its shuttle launch pads at the Kennedy Space Center.
But back to the main issue: Did anyone out there really think Apollo 18 was a real documentary?
· NASA reaches its outer limit [LAT]