The Girl's Guide to the 2011 Fall Movie Season
What's a girl got to do to find a decent movie around here? Usually, wait until the summer -- a season full of big budget action blockbusters, male-targeted comedies and easy paycheck franchise extensions -- ends, and the movie posters change color with the leaves. Fortunately, Movieline has just the guide to make the seasonal cinema transition a little easier.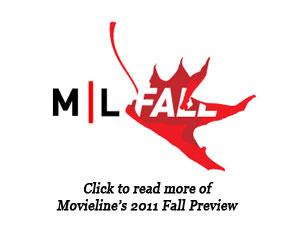 · I Don't Know How She Does It (Sept. 16)
After spending six seasons and two feature films as Carrie Bradshaw, will Sex and the City fans buy Sarah Jessica Parker as anything other than a hopelessly hip sex writer? Or will they even care, as long as SJP is racing around a gorgeous New York City-scape in heels, encountering sexy men (in this case, Pierce Brosnan) and spilling her inner monologue via thoughtful voice over? The Weinstein Company is hoping that by keeping those SATC elements they can retain the franchise's audience in the upcoming femme-comedy I Don't Know How She Does It, adapted by director Douglas McGrath (Emma) from Allison Pearson's novel. If anything, seeing SJP play an overextended wife/mother/breadwinner who weeps over missing her son's first haircut and uses a mammogram as an excuse for office tardiness will help audiences decide whether they want to see Carrie Bradshaw crest middle-agedom in that rumored Sex and the City 3. Olivia Munn, Christina Hendricks, Kelsey Grammer, Jessica Szohr and Seth Myers co-star as characters who do not begin to understand the pressures of a working mother.
· What's Your Number? (Sept. 30)
For the first time since The House Bunny, Anna Faris assumes headliner position in What's Your Number?, the comedy that dares to give its female protagonist 20 past sex partners without categorizing her as a slut. Maybe she categorizes herself as a slut -- and embarks on a mission to find true love with one of her former conquests (played by Joel McHale, Matt Bomer, Zachary Quinto, Andy Samberg, Chris Pratt and more) rather than take on a 21st lover, but still, progress! Conveniently Faris's character has a super-hot neighbor (Captain America himself, Chris Evans) who helps her track down her exes in exchange for her helping him escape his. (Irony!) You already know how this rom-com will end, but with the adorable Faris as the lead and a knockout supporting cast (including Movieline crush Ari Graynor), at least it will be fun to watch.
David Wain's next directorial project will likely appeal to different audiences for different reasons. One group of moviegoers will check out the comedy -- about a married couple (Jennifer Aniston and Paul Rudd) who flees New York for a hippie commune after the husband loses his job -- because of the film's comedy pedigree (Wain and Party Down star Ken Marino co-wrote, Judd Apatow and Paul Rudd produced). One group of moviegoers will be interested in seeing Jennifer Aniston go topless. And another group of moviegoers -- the tabloid set -- will be interested in seeing the project where Aniston and her new beau Justin Theroux "fell in love." Only instead of playing onscreen love interests like Aniston's ex Brad Pitt and his future partner Angelina Jolie did in Mr. and Mrs. Smith -- the pair play wife and hippie commune leader. Malin Akerman, Lauren Ambrose, Alan Alda, Kathryn Hahn, Ken Marino, Melissa Joan Hart, Reba McEntire and Ray Liotta round out the varied Wanderlust cast.
· Martha Marcy May Marlene (Oct. 21)
On the flip side of the wacky commune comedy is Martha Marcy May Marlene, Sean Durkin's haunting drama about a young woman (Elizabeth Olsen) who escapes an abusive cult in the Catskill Mountains only to deal with the psychological consequences. The film has already garnered breakout buzz for Olsen (sister of Mary-Kate and Ashley), who is being suggested as a potential Oscar nominee. And while it won't be a "fun watch," the film (which also stars John Hawkes as the creepy cult leader and Hugh Dancy and Sarah Paulson as the family that takes in Olsen after her escape), Martha Marcy May Marlene should be on everyone's awards-season checklist.
Pages: 1 2