Scott Pilgrim vs. the World to Live on in Monthly L.A. Residency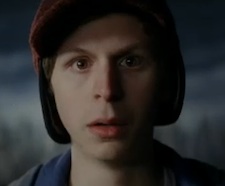 Edgar Wright's geek fantasy epic Scott Pilgrim vs. the World may have biffed with mainstream audiences last year, but it's earned a dedicated fan following since, granting it bona fide cult status. That cult will have the opportunity to worship at the altar of Scott Pilgrim starting next month, when L.A.'s New Beverly Cinema begins screening it in a monthly midnight residency.
The news comes courtesy of the theater's Twitter feed, while programmer Julia Marchese tells Movieline the monthly midnight screenings begin Friday, September 23. (New Beverly owner Quentin Tarantino's Pulp Fiction and Reservoir Dogs also screen regularly.)
So mark your calendars and dust off those hipster tees and Ramona Flowers wigs, kids! Scott Pilgrim cos-play will be encouraged.