Robert Pattinson Loves Him Some Ladies in New Images from Bel Ami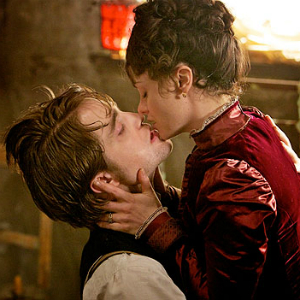 Though a U.S. release date has yet to be set, Twi-hards are already squeeing with anticipation for Robert Pattinson's period adaptation Bel Ami, in which the Twilight star plays a turn of the century dandy sleeping his way through the ranks of Parisian high society. Which means he gets up close and personal (and hot and heavy and between the sheets) with pretty much every woman in sight, as seen in a new batch of pics that have surfaced online.
Based on Guy de Maupassant's 1885 French novel, Bel Ami marks a more mature turn for Pattinson, who finally gets to seal the deal onscreen with Kristen Stewart in November's The Twilight Saga: Breaking Dawn Pt. 1, if rather chastely. (And with horrific consequences.)
As soldier-turned-man whore George Duroy in Bel Ami, however, expect RPattz to go full sexy with co-stars Christina Ricci, Uma Thurman (both pictured below), and Kristin Scott Thomas. Behold, the artful period design and various compromising positions you can expect to see (along with a snap of Pattinson and director Declan Donnellan).