Talkback: Name Your Favorite Rejected Toy Story Title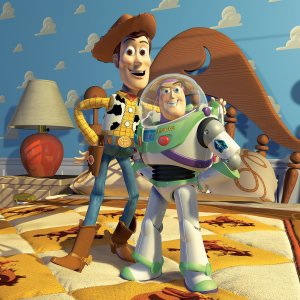 We still may not know for sure whether Pixar is planning a Toy Story 4, but we do know that sixteen years ago -- long before Buzz and Woody grossed nearly $2 billion at the global box office -- Pixar was having a difficult time titling John Lasseter's toy project. So much so that the studio enlisted all of their employees to brainstorm ideas, some of which have surfaced on the Internet today.
The folks over at Ain't It Cool noticed that Pixar's Lee Unkrich -- who edited the original Toy Story before going on to direct the most recent threequel -- started listing some of the rejected titles on his Twitter page. Of the 200 plus alternate titles, here are the ones Unkrich shared:
The New Toy
Made In Taiwan
Moving Buddies
To Infinity and Beyond
Wind-Up Heroes
The Cowboy & The Spaceman
Spurs & Rockets
Bring Me The Arm of Buzz Lightyear
Toyz in the Hood
Each Sold Separately
Rex's First Movie
Wind the Frog
Wings & Pullstrings
Some Assembly Required
For the Love of Peep
The Favorite
"If you thought those were bad, there were hundreds of others," Unkrich added on his Twitter feed. "None were better than plain old Toy Story, so that's the title the world got."
Which of the above titles is your favorite? I can't even begin to picture a world in which Tom Hanks has to promote a movie called Bring Me the Arm of Buzz Lightyear or, most horrifically, Moving Buddies.
· Lee Unkrich reveals some rejected Toy Story titles that were kicked around! [AintItCool.com]