11-Year-Old Bailee Madison on Don't Be Afraid of the Dark, 'The Definition of Scary'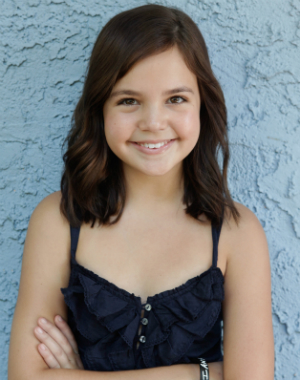 Where have America's sweethearts gone? Seventeen-year-old Dakota Fanning is charging hard towards adulthood, with Abigail Breslin (15), Chloe Moretz (14), and sister Elle (13) hot on her heels. Enter 11-year-old Bailee Madison (Bridge to Terabithia, Conviction, Just Go With It), a young actress who's already been acting for half of her life and shows it by holding her own opposite Guy Pearce and Katie Holmes in the Guillermo del Toro-produced horror thriller Don't Be Afraid of the Dark.
Like her preternaturally poised peers, Madison is mature beyond her age in many ways. "I'm so into pumps right now, you have no idea," the fashion-minded pre-teen enthused when Movieline sat down with her in Los Angeles this summer to discuss Don't Be Afraid of the Dark, which marks her first starring role. But onscreen in the contemporary Gothic tale, about a young girl sent to live with her distracted architect father (Pearce) and his new girlfriend (Holmes) who discovers sinister creatures in her new home's basement, Madison conjures a sullen, adolescent naiveté -- plucky, curious, a touch defiant and a bit withdrawn -- that brings her performance to life with a natural believability.
Movieline spoke with the expertly composed and wise-beyond-her-years Madison about filming director Troy Nixey's Don't Be Afraid of the Dark, its R-rating (and why the film is "the definition of scary"), working with Guillermo del Toro (a "wonderful, wonderful talented man"), her upcoming rodeo film Cowgirls N' Angels, and the prospect of sharing the screen with fellow young veteran Chloe Moretz in the near future.
You've been acting for quite a while now, and you're only 11 years old. How old were you when you first started acting?
I did Bridge to Terabithia when I was around 6 years old but for my first movie I was 5.
When did the acting bug really get you hooked?
My mom and my sister did commercials, and now my mom's always with me. I did commercials when I was with them, but I feel like it was when I'd watch them that I'd think I just wanted to do that, you know? So when I auditioned for my first one with Salma Hayek and Jared Leto -- it was called Lonely Hearts, with John Travolta -- that to me was like, 'This is exciting! Let's do this!' And then after that I did another little one and I got Bridge to Terabithia, which was just the beginning of this amazing journey.
That's a pretty special movie.
I love Bridge to Terabithia so much. I have so many wonderful memories, and I really think God did just bless me with that.
You've done TV, you've done many films by now... you're basically a veteran.
I've heard that word a lot! [Laughs] Thank you.
How do you choose roles for yourself at this point? Especially since Don't Be Afraid of the Dark is dark and scary it earned an R-rating, although I suppose it did start out as a PG-13 film.
Yes, it did. I did say that the other day, though! I said, 'Wait, PG-13!' Let's not forget here. But I picked it because I wanted to be able to show a variety. I didn't want to have someone think of me as the same thing, the same kind of acting. I wanted to be able to show a scary, horror, kind of thriller genre in my acting and my resume, so I was excited to take on this new challenge.
Guillermo [del Toro] is so much a part of this movie; his fingerprints are all over it. Were you familiar with his work beforehand?
I know that my family was so familiar and they kind of brought me up to date with his work, and he was truly just amazing when I met him, he was such a nice guy. It's amazing to see his passion for movies, you know -- the sparkle in his eyes when he sees it come off of the script. So that was just amazing to get to watch, and he's just such a wonderful, wonderful talented man. He taught me so much and gave me the ability to get ready for the scene -- for this crazy scene.
How did you work together on set with Guillermo and Troy [Nixey]?
Before they'd yell action I would turn to them and I'd nod my head and he would nod at Troy, and Troy would yell, 'Action.' We kind of all just got to work together. He really just made sure that I knew that I was capable of doing so much more than what I thought I was. He would pull that extra mile out of me. I feel so honored to have had the privilege to get to work with him.
You're right about Guillermo -- he's well known for his infectious love of movies. And comics, and books...
And everything! And love for just people. No matter what, if someone stops him just to say something he'll stop and he'll have a conversation with you, out of his day. I look up to that so much.
You seem a lot like that yourself.
Thank you! Thank you very much.
The original Don't Be Afraid of the Dark scared plenty of young folks when it first aired, including Guillermo. He's also said it reminds him of the films that frightened him when he was little. What were some of the films that were like that for you?
I mean, I was only 9 back then. [Laughs] So I don't know, I didn't really see a lot of scary films because I was at that age where I wasn't really into the scary stuff. And I feel like once I got older and filmed this movie I was excited to do that kind of stuff. But always having an older brother, you can always watch the films he's watching. But like I said, I wanted to show variety and I wanted to challenge myself, so I was so ready for the thrill of it.
Have you seen the movie?
Yes, I have.
Do you feel like it deserves its R-rating?
I do. I feel like it's a really big suspense movie, it keeps you on the edge of your seat. It's not very gory, which is the good part because I feel like it's just a beautifully well-told scary film. I mean, the definition of scary is what this is. Just when you're able to breathe we snap you right back into this position where you're like, 'Ahhhh!' and crunching on your popcorn so loud. Those are the kinds of movies that are wonderful because you're able to watch it over and over again.
You and Katie [Holmes] have the strongest relationship in the film, but it changes from the beginning to the end. How did you two first get to know each other and develop your characters' bond?
I feel like when we all met each other we had a few weeks of rehearsal before we actually started filming, so we were able to sit down with the director and go, 'This is what I was thinking for this,' and we just worked off of each other's' instincts. And of course you don't shoot in order. We had to be prepared... one of our biggest scenes was on our first day, it was the koi pond [scene]. That was the first scene where [Katie and I] actually start liking each other, so that was even more we had to show the difference, because we were already kind of still distant in that scene but we still got each other. So we wanted to make sure that all the beginning scenes were very, very distant.
Let's talk about some of your upcoming films. First of all, I'm so impressed by how much you are working right now.
Thank you! [Laughs]
How is that possible? Are you home-schooled or do you still go to school?
I go to school. I'm originally from Fort Lauderdale, that's my home town in Florida. So when I'm on location I just get the packets from school in Florida. And when I go to Florida I go to Christ Church School.
Do you miss it when you're off filming?
Of course I do! I have all my friends there but I make sure I keep in touch!
Tell me about Cowgirls N' Angels.
Cowgirls N' Angels is about a girl who's never met her dad before, and sets out on this rodeo journey with a rodeo instructor for Sweethearts of the Rodeo in hopes of finding him. So it kind of shows her love for horses and passion for what she's been doing, riding, but there's still something missing. She still needs her dad. Everyone needs a father and everyone needs a mother, so it's just a really sweet movie.
Did you get to work a lot with horses?
I got to ride so many horses and learn tricks and ride an actual rodeo, so that was a blast.
One of your co-stars was Jackson Rathbone, which would be exciting for many Twilight fans your age.
Yeah, I was excited! He was so sweet when I met him. I was watching because I wasn't in that scene that day and I turned around and went, 'Oh, hello!' And he's just sitting next to me. I was like, 'How ya doin'?' And we just started talking. He's such a nice guy and he does great in this film. It's cool to see him with a country side.
You have a project with Chloe Moretz as well, Dance of the Mirlitons, which is interesting because you two are in this fairly small group of up and coming young actresses. What part of that project are you most looking forward to?
Thank you. I know, I'm excited to get to work with her. I think it'll be cool to get in the same room and show our different unique personalities and our love for the films we do.
Don't Be Afraid of the Dark is in theaters August 26.