Amber Heard and Johnny Depp Get Cozy in New Image from The Rum Diary
Hunter S. Thompson's novel The Rum Diary, written in 1959 but not published until 1998 -- the year Johnny Depp channeled Thompson in Fear and Loathing in Las Vegas -- tells the tale of Paul Kemp, an American journalist who finds himself living and drinking among expats in 1950s Puerto Rico. There he meets Chenault, the ravishing girlfriend of another man, with whom he becomes obsessed. After the jump see Depp and Amber Heard getting cozy as Kemp and Chenault in a still from the October release, adapted by writer-director Bruce Robinson (Withnail & I, Jennifer 8).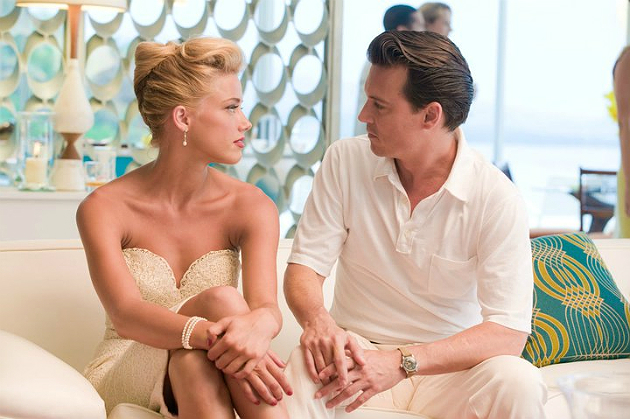 Looks pretty gorgeous, from the color palette to the period style to Amber Heard's perfect, well, everything. Just one nagging detail remains as what we know of The Rum Diary thus far: It seems that Robinson has taken some creative liberties with the plot, according to the official synopsis which describes Chenault's boyfriend as "Sanderson, a businessman involved in shady property development deals" instead of Kemp's colleague Yeamon, as written in the book.
With Depp as Kemp, Heard as Chenault, Aaron Eckhart as the aforementioned Sanderson, Richard Jenkins as newspaper editor Lotterman, Michael Rispoli as Bob Salas, and Giovanni Ribisi as Moberg, take a look at the film's synopsis, courtesy of GK Films:
"The Rum Diary is a GK Film, Infinitum Nihil and Film Engine production starring Johnny Depp. Based on the debut novel by Hunter S. Thompson which initiated his long, distinguished and brilliantly unpredictable career, The Rum Diary tells the increasingly unhinged story of itinerant journalist Paul Kemp (Depp). Tiring of the noise and madness of New York and the crushing conventions of late Eisenhower-era America, Kemp travels to the pristine island of Puerto Rico to write for a local newspaper, the San Juan Star, run by downtrodden editor Lotterman (Jenkins).

Adopting the rum-soaked life of the late-'50s version of Hemingway's "The Lost Generation," Paul soon becomes increasingly obsessed with Chenault (Heard), the wildly attractive Connecticut-born fiancée of Sanderson (Eckhart), a businessman involved in shady property development deals."
The Rum Diary is in theaters October 28.
[GK Films via ComingSoon]