Jason Momoa on Conan the Barbarian, Game of Thrones, and Getting Past Baywatch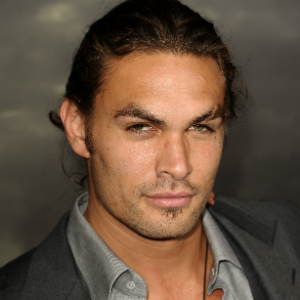 When Jason Momoa assumes the mantle and broadsword of Robert E. Howard's iconic hero Conan the Cimmerian in Marcus Nispel's re-envisioned Conan the Barbarian, he's got eight decades of popularized novels, artwork, and the specter of Arnold Schwarzenegger's famous '80s-era barbarian to contend with. Which is why, with Hawaiian-born Momoa's distinct look, his influences, and the circuitous route he took from Baywatch hunk to Game of Thrones fan favorite, you should be happy that this isn't your grandpa's Conan.
Nispel's bloody Conan the Barbarian reboots the familiar origin tale with the orphaned warrior, now grown, bent on vengeance against the warlord Khalar Zym (Stephen Lang), who killed his family. Along the way there are women (Rachel Nichols as Conan's love interest) and witches (Rose McGowan as Khalar Zym's daughter) and copious amounts of bloodshed. Momoa, who sees his Conan as an amalgamation of artist Frank Frazetta's '60s and '70s-era interpretation combined with a dash of a Japanese samurai and his own Hawaiian heritage, added his own personal connections to the material: The emotional aftermath of a violent 2008 attack that required over a hundred stitches to repair his face, and the force of new fatherhood that brought a new understanding of what it means to have something to live and die for.
Movieline caught up with Momoa at last month's Comic-Con to discuss how he landed Conan the Barbarian, what sets his Conan apart from the rest, how he struggled to even find an agent after his stint on Baywatch: Hawaii, and why Game of Thrones was "the greatest production I've ever been a part of."
How did you come to be the new Conan?
You know, when I first got it, it was because of Game of Thrones. I went in to HBO and did the audition for Drogo -- I went in and did haka, which is Maori, because Drogo doesn't speak English and I wanted to portray what he would be like commanding his officers or going to war. So in the audition they were just like, 'Holy shit.'
Haka is intense, it's intimidating.
Absolutely. So I did the haka and one of the casting directors was like, 'All right, I've got your new Conan.' They called up but I was already going to do Game of Thrones, but I came back and Conan wasn't cast yet. I went in and met Marcus Nispel and he fell in love, he told me his ideas of what he wanted to do for Conan, I said here are my ideas -- this is how I'd want to play him. They liked it and I had to prove it to Lionsgate and everyone.
And how did you do that?
It's funny, because I told the story -- they wanted to see it, I did do the haka one time for them, because they'd heard about it. But I had to prove to Lionsgate... I went in to meet [Lionsgate motion pictures president and co-chief operating officer] Joe Drake, who's very big and intimidating when you're in that office, and I was with [head of motion picture production] Mike Paseornak and Joe Drake early in the morning and I knew they were going to ask me, 'Why would you want to play Conan? What makes you think you can play Conan?' So I went in and told the story about how my face was smashed in. I had 140 stitches to put my face back together. I'm telling this story, re-living it... and obviously I'm a father, my wife's eight months pregnant. I'm just amped. I'm getting pissed, getting into the whole act. I'm sitting there living through it. I tell them the story and I'm like, 'Now do you think I can play Conan?' And you can see on my face I just want to kill them, by re-living it. And they were like, 'Absolutely.'
Is this unlike most auditions you've had, digging so deep and using such a personal story?
It wasn't really an audition, that was just going in there to talk about it. I did a screen test, which they did full make-up for and there were three other guys, I think. We went and did the full screen test, which was great. Marcus, it was on his own bill. He went in there and shot it on film, he went all out for it. He had me going in and out of plants. He was like, 'Kill the plant! Kill the plant!' I'm grabbing a sword, killing this thing. It was crazy.
I like the idea of you as Conan because you're so different from the popularized Arnold Schwarzenegger version that most people know. What were the ideas you brought in?
I think what was really my big introduction to Conan were the Frank Frazetta paintings. If you look at them, I look just like him. He's got this dark skin, crazy eyes, the eyebrows, the slash through the face. I wasn't big enough, but we had to put some weight on. But just from coming from that warrior race, of being Hawaiian, I thought I could offer something heavier. Also having children, something to die for. Something to absolutely die for and live for. My father, I'm close to him; in the story his dad dies in front of his eyes, but to be outside of that, having children -- you can identify with that a little bit more than someone who has to act it. And I went and studied a lot of cats. When you read the books, and look at the comics -- that's great about Frank Frazetta too, the movement in his paintings -- you can see, like in Berserker, the movement. You don't need to see a movie to understand what this kind of person is like. They're beautiful paintings. But I studied a lot of cats and animals because I found that he would be like a lion or a panther when he moved. The way he moves, the way he looks -- he's minimal in his movements and fatless in his words, too. He only has to say what he needs to.
What were your thoughts on how Conan should fight?
I studied a lot of samurai movies, Akira Kurosawa movies, because I wanted to make him fight like a samurai, but with a broadsword. Also in terms of the stance; I wanted to be really low, so you'll see my pose is really, really low, Japanese samurai-style. That changes the DNA in how you walk, and it helped.
Nice. You think Conan, you don't necessarily think Eastern influences.
It's all very Zatoichi. Even when you see me holding up the sword, they wanted me to hold it the other way. I was like, 'No.' That's Arnold's way. I wanted to use a reverse-grip. It's his father's sword but you always see me holding it in the reverse-grip. That's why I flip it and it goes [makes whirring sound] and I wanted it to be like, 'See my dad and what we made together?' I wanted it to be close to me.
One of the first red band clips released was touted as an indication of how bloody the film is, and another featuring the actor who plays young Conan also indicates that many heads will roll.
Leo Howard completely beats me, he's the real Conan. If he were older, I wouldn't have a job. He was phenomenal.
Is this truly the bloodiest movie of the summer?
Hands down, yeah. [Laughs]
Was that a goal for the film from the start?
No! You know, we didn't even set out for that, but you know, this isn't Prince of Persia. It's not Disney. It's Conan. If it didn't have it... it needs to have that blood, it's got to go there. We don't want to piss off the fans. It's eight decades of different types of fans, there's a whole new generation that's going to fall in love with it again, I hope.
What do you hope to convey to fans of Conan going into this new iteration of the mythology?
I'm just trying to do the best I can. I'm a fan, and I want to portray... as an artist, I'm acting. I'm not a barbarian. I wanted to embrace that role and I hope everyone loves it. I love reading those stories and I wanted them to sit down for two hours and enjoy it. But you know what I love about him, too, is that he's not a superhero. That's what's great about him, because he could kick a superhero's ass. Captain America, watch out. Thor -- a hammer, really? No. [Laughs] I love to take all those superheroes on. He's just a man, he's a pirate, he's a thief. He's someone you'd follow into battle. He's that rogue, dangerous, wandering lion.
Now, we've got to talk about what I really came here to talk about: Baywatch. More specifically, what happens in Baywatch: Hawaiian Wedding.
[Laughs] What's that?
The love story switcheroo your character has in the Baywatch movie, Hawaiian Wedding!
I haven't seen it!
What? Your character switches partners in the movie, all of a sudden. Don't you remember?
I tried to delete all that from my memory! [Laughs] You loved Baywatch: Hawaiian Wedding?
Well... I remember it dearly.
I'm glad you do. I haven't seen it.
How do you feel about your time on Baywatch?
I love that it got me into acting, because I was 19 when I got it and it's now 13 years later. I love that it gave me the opportunity to fall in love with acting, but it also really, really hurt me, being on it. Just because it's Baywatch, people don't think you can act. I'm constantly fighting that stigma. When I got cast as Conan, people were like, 'You're hiring the Baywatch dude to play Conan?' It's such a far-fetched thing... I was born in Hawaii but I was raised in Iowa. It's the last thing I would be, to be on Baywatch. It's just so weird that I was. But I'm still very close to those friends, the people that I worked with. Jason Brooks is a dear friend of mine.
Was it a struggle to build a career after that point?
It absolutely was. It took me four or five years just to get an agent.
Really?
I couldn't get a job afterwards. No one would take me seriously. So I went, screw them -- I went to school, trained, I traveled the world and finally got in there a little bit. Then Stargate Atlantis was very great to me. I loved Stargate, and I had fantastic crews and cast. It was like getting paid to go to school. It set me up to play Conan.
And how do you feel Game of Thrones impacted your career?
It was an honor. It's the greatest thing I ever went out for. It's the greatest thing I ever read, the greatest production I've ever been a part of. That level of acting, writing, producing... it's hands down the greatest thing I'll probably have in a long [time].
The timing is also fortuitous, because people have seen and loved you in Game of Thrones and just as you exit that show comes Conan.
That's right! And it's funny, even people from Lionsgate, no one had seen Game of Thrones while we were doing Conan. I'm like, 'Trust me -- I did a really good job!'
Conan the Barbarian is in theaters Friday.