First Look at Charlize Theron in Diablo Cody-Jason Reitman Collabo Young Adult
After nabbing Oscar nods for their first collaboration, the 2007 indie darling Juno, screenwriter Diablo Cody (who won the Academy Award) and director Jason Reitman reprise their partnership in this December's Young Adult, the story of a YA novel author (Charlize Theron) who returns to her hometown to win back her now-married high school sweetheart (Patrick Wilson). After the jump, get your first look at Theron traveling in a slightly less glamorous getup than we're used to seeing.
Observe: The baggy Hello Kitty t-shirt. The hair pulled back. The luxury toy dog half-slipping off the shoulder. The last-minute Victoria's Secret purchase for use upon arrival. This woman does not give a crap right now. She's probably wearing Uggs, too.
Now, compare this to what real-life Charlize Theron looks like when traveling the world: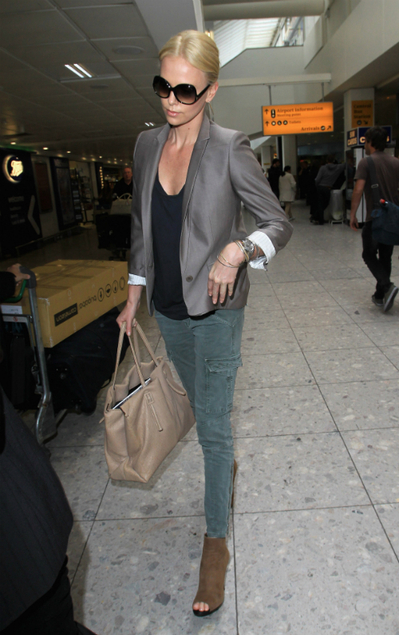 Would real Charlize Theron ever wear sweat pants to the airport? HELL NO.
Conclusion: This is what you call acting. And I kind of love the idea of slightly sloppy, slightly not-together, living in the past Charlize Theron trying inappropriately to break up a marriage. Sounds like My Best Friend's Wedding for the YA author community.
The official synopsis of Young Adult, courtesy of Paramount Pictures and Mandate Pictures:
Academy Award® winner Charlize Theron plays Mavis Gary, a writer of teen literature who returns to her small hometown to relive her glory days and attempt to reclaim her happily married high school sweetheart (Patrick Wilson). When returning home proves more difficult than she thought, Mavis forms an unusual bond with a former classmate (Patton Oswalt) who hasn't quite gotten over high school, either.
Young Adult will be released December 16, 2011.
[via Slashfilm]