About That Time Taylor Lautner and Gus Van Sant Stopped by Cirque Du Soleil
Oscar-nominated director Gus Van Sant was once in the running to helm The Twilight Saga: Breaking Dawn before Bill Condon got the gig, but a July dinner outing with Taylor Lautner and Milk writer Dustin Lance Black had the gossip mill wondering if Van Sant was working on a new film with the Twilight star.This weekend the director and the erstwhile wolf boy were photographed taking in Cirque du Soleil's IRIS: A Journey Through the World of Cinema. What could Gus 'n' Tay-Tay have been talking about?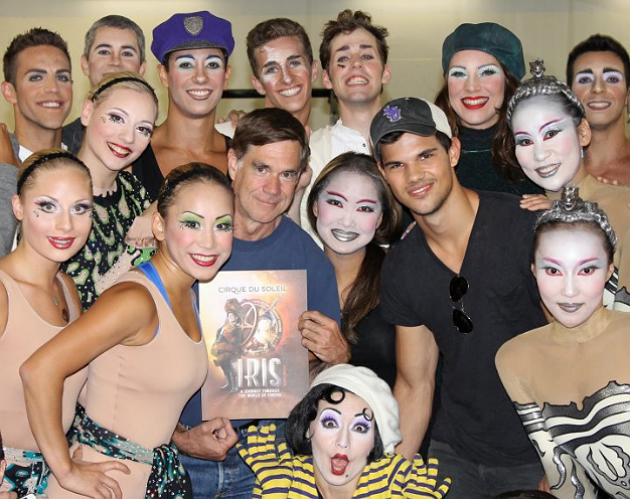 The backstage picture was posted to the show's Facebook page with the following explanation: "Twilight's Taylor Lautner and Academy Award winning Director Gus Van Sant attended the 8 pm performance of IRIS - A Journey Through The World of Cinema last night at the Kodak Theatre in Los Angeles (Sat, Aug 13). Guests of IRIS Music Composer Danny Elfman, the duo went backstage to meet the cast of IRIS following the performance."
After his July photo op with Van Sant and Black, Lautner played coy when asked if the trio were working on something together: "They are two talented men," he told MTV. "You'll see."
Our pals at Hollywood Life speculated that Van Sant and Lautner may be involved in a film adaptation of Green Day's American Idiot, which Black is scripting, although there's been no confirmation yet of any collaboration between the three. Which brings us to Cirque du Soleil: Could the hypothetical Van Sant-Lautner-Black collaboration have anything to do with face-painted acrobats, or perhaps composer Danny Elfman? Work in your finest speculative guesses in today's round of "Caption This" below.
[IRIS on Facebook via TwiFans]