Bryan Cranston Adapting Crime Thriller Home Again with Breaking Bad Producer, Will Direct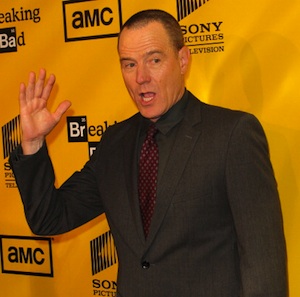 The insanely busy Bryan Cranston, whose upcoming slate includes Contagion, Drive, Total Recall, John Carter, Rock of Ages, Red Tails, World War Z, and Argo, has revealed plans to direct his own adaptation of David Wiltse's novel, Home Again. The crime thriller/mystery drama follows an ex-FBI agent who returns to his family in small town Nebraska only to become caught up in a murder investigation.
Speaking with reporters from the set of Total Recall, Cranston described his Home Again adaptation (which will reportedly be re-titled for the screen):
"It's basically a very strong father-son story, and a murder-mystery. An FBI agent who suddenly quits the department and takes his son and his wife and moves back to his hometown of Cascade, Nebraska, to rekindle family values and pay attention now. He's been working for the FBI for years, so he's been home sporadically. And his son is now sixteen, very sensitive, and looks upon his father like sort of a stranger... And then there's a murder that happens in the little town that they move to, which kills [the father's] whole stance on, 'Things are better in these small towns!' And then things unravel, and basically, the father and son come together at the end and save each other emotionally and literally."
Cranston, who previously wrote, directed, and starred in the feature Last Chance in 1999, is developing the project with his Breaking Bad producer Mark Johnson and says filming could begin as early as next year.
• Breaking Bad's Bryan Cranston Will Write and Direct a Mystery Drama [Hollywood.com]