Robert Pattinson and Kristen Stewart Talk Breaking Dawn Sex Scene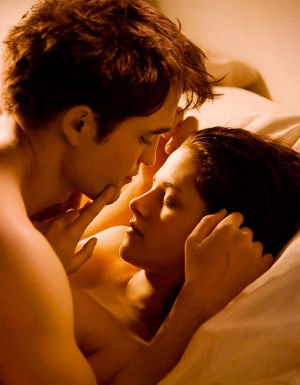 Now that Summit Entertainment has tracked down (and publicly blasted) that troublesome Breaking Dawn pirate, the studio can get back to promoting The Twilight Saga: Breaking Dawn - Part 1, due in theaters this November 18. And what better way to build buzz about Bill Condon's next installment of the popular vampire series than to have its stars talk about their eagerly-anticipated sex scene?
In a new interview with Entertainment Weekly, Stewart and Pattinson discuss the necessity of the butter-hued honeymoon scene, and how they would have changed it ever so slightly if they could have.
Kristen laughs, "Of course we had to have that!" Her co-star concurs, but wishes the scene had been tweaked a bit.

"I wanted to have it as a line so much," Robert says. "[In an American/Edward accent] 'I bit through all the pillows. Every. Single. One.' And then he'd start crying. By the way, that's what he should be ashamed of in the morning. All those beautiful pillows! Egyptian cotton! [Laughs] "I ruined this bed!"
Stewart revealed that she also enjoyed acting out the results of said honeymoon scene -- her character's pregnancy, which is surprisingly not embraced by both Bella and Edward.
"For a saga which is about eternal, undying love that nothing can touch, suddenly..." Stewart interjects, "There's one thing that can. That was fun to play. Bella's always liked him and liked everything he said and thought everything he did was right. This is something that she clearly disagrees with. She doesn't mindlessly and blindly follow him. She was always kind of defiant. I like that."
What do you guys think? Well, everyone except for you, Kiowa Gordon. You're still in Movieline-designated time out after that Four Loko-related arrest.
· 'Breaking Dawn' Stars Speak! [The Insider]