Aziz Ansari on 30 Minutes or Less, Paying Dues, and His Judd Apatow Collaboration, Spacemen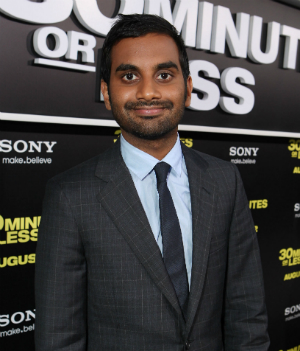 After contributing scene-stealing but all-too-brief supporting turns in films like Observe & Report, I Love You, Man, and Funny People ("Raaaaandy!"), Aziz Ansari finally gets a full-on leading role in this week's 30 Minutes or Less as Jesse Eisenberg's straitlaced BFF/partner in crime, Chet. What took Hollywood so long to give Ansari, who's currently between seasons stealing yet more scenes on Parks & Recreation, the screen time he deserves? According to Ansari, he's just been paying his dues.
"You look at people like Steve Carell, Will Ferrell and all those guys," Ansari explained to Movieline during a brief chat at San Diego's Comic-Con last month, where he joined director Ruben Fleischer (Zombieland), and co-stars Nick Swardson and Michael Pena for the 30 Minutes or Less panel. "They all went through their periods of doing these smaller roles then eventually got their break doing a bigger role."
[Read Movieline's report from the set of 30 Minutes or Less here.]
Said role in 30 Minutes or Less pairs Ansari with Eisenberg as Chet and Nick, respectively, former school friends and semi-slackers forced to rob a bank for $100,000 by local criminals (Swardson and Danny McBride) who outfit Nick with a bomb vest as incentive. It's the rare opportunity for Ansari to show a new side of his comic persona -- still hilarious as ever, but much sweeter than the douche bag characters he's been known for to date. Movieline spoke with Ansari in San Diego -- in the thick of the chaotic, ubernerdy Comic-Con 2011 hustle and bustle -- about making 30 Minutes or Less, following in the footsteps of fellow funnymen Will Ferrell and Steve Carell, and his upcoming Spacemen project with Judd Apatow.
How have you been enjoying Comic-Con?
I've just been doing interviews all day!
Ah, I see. Has Aziz been bored?
[Laughs] I guess so.
There's a lot of fun to be had in 30 Minutes or Less, but I particularly loved the fact that you play a guy named Chet.
His name is Chethan, and it's shortened. I came up with that after the fact, though, because I knew a guy named Chethan and so I said that's probably why it's Chet.
Aha! Well, in the film Chet is Nick's BFF and an elementary school teacher who gets wrapped up in this scheme to rob a bank. How did the character we ultimately see onscreen originate and how did you flesh him out from what was on the page?
I saw the script and I thought it was really funny, the idea of these two kind of slacker guys having to rob a bank. So as far as that character, Ruben [Fleischer], our director, was really cool about letting all of us kind of make our characters our own and bring in any ideas that we may have had through improvising. Any choices we were excited about making, he would always get behind. That's always really great, when you're an actor, to have a director who's really up for that kind of stuff.
Did you improvise on set while you were filming, or did much of it happen beforehand?
Wait -- yeah, of course while we were filming! It doesn't help to improvise three months before you shoot the film! [Laughs]
No, I mean did you improvise during filming vs. workshopping your characters in rehearsals!
Oh! No, no, no. When we were filming we would do scripted takes and then we would improvise takes afterwards, and they did a great job of filtering all the improv stuff and choosing the best stuff from all of that. I don't remember what was in the script and what was improvised, to be truthful, but there are a lot of moments that are from improv that made it in for sure.
What aspect of Chet are you most proud of having played?
You know, it was just fun for me to do a character... this was the first time I've had, like, a starring role, to be in a film the whole time. Just to do the film the whole time and do my work and be happy with my scenes, I was happy to have pulled that off.
Why do you think it's taken this long to get that kind of starring role?
I don't know, I mean that's the trajectory of most comedy actors. You look at people like Steve Carell, Will Ferrell and all those guys -- they all went through their periods of doing these smaller roles then eventually got their break doing a bigger role. So I think I'm just following the natural path that most people do.
You've done stand-up, sketch comedy, and television and film -- have you had any sort of intended career trajectory in mind for yourself over the years?
No -- with film stuff, you look at the people that are successful as comedy actors and most of them would do these smaller parts and do a great job and that led to them getting the bigger parts. You know, when I did smaller parts in Funny People, Observe & Report, and those things, I really made an effort to do a good job. I was thinking if I did a good job, then eventually I would get to be in a bigger role.
Since I love him so much, I might argue that in Funny People, Randy is not a small part, but in fact is the breakout star of the film.
I mean, screen time-wise that would be a tough case to make since I'm in the movie for, like, five minutes. [Laughs] But that's very nice of you to say.
I love Randy. Are you tired of him at all, of the idea floated back around the release of Funny People of reuniting with Judd Apatow to give Randy his own movie?
No! I did that character in that movie and I'm glad people liked it. And we're doing this other movie with Judd that I'm very excited about called Spacemen -- it's me and another guy who play two disgraced astronauts that have to go back to the moon to clear their names. That's what I'm working on right now with him.
What stage is that in at the moment?
We're just working on drafts and hopefully are going to shoot it when I have a hiatus from Parks & Recreation again.
Nice. Who's going to be your fellow spaceman?
Don't know yet!
Well, speaking of the two-man buddy dynamic, what was it like working with Jesse in 30 Minutes or Less? Did he hang with that improvisational feel on set?
I think he had that already. He was great. I'm such a big fan of his from everything from Social Network to Roger Dodger to Adventureland and Zombieland, I think he's a really amazing actor. And for this role, I think he does a great job of playing everything very real and kind of grounding the film. He was great to work with.
What's your Comic-Con experience been like? Do you enjoy coming here?
I came two years ago, it was a lot of fun! It's so cool seeing everyone dressed up and everything. I haven't gotten around to the floor this year but I'm going to go later.
Do you feel any kinship with the crowd here? I know I do, when I see folks dressed up in cosplay. I feel like I understand why they do it.
See them what?
When I see people cosplaying.
What's that?
Cosplay! Costume-play?
Oh, see I didn't even know that.
Oh yeah. Get with the times.
Whoa, I don't know anything about this. I've got to check it out!
If you were to dress up in character one of these years, what would you be?
You know, I'm a huge fan of stuff -- the things I like, I'm a huge fan of. Breaking Bad - that show, I'm a huge fan of that. If I saw someone dressed like Walt and Jesse walking around, I'd be like, 'That's awesome!'
30 Minutes or Less opens nationwide on Friday.