Talkback: Are You Ready for Blake Shelton to Cover 'Footloose'?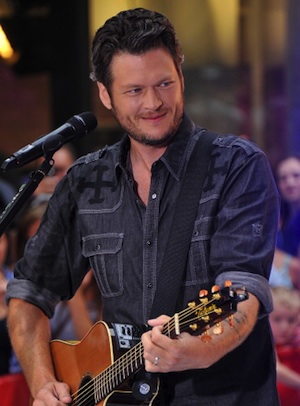 Movieline tried to thwart so many of these remakes, but it appears the Footloose revamp with nice guy Kenny Wormald is still happening. It's so real, in fact, that the title song from the movie soundtrack has a cover artist: country singer and The Voice panelist Blake Shelton. Does this sit well with you? Glimpse the other contributors (who will cover "Let's Hear It for the Boy," "Almost Paradise," etc) after the jump. Seethe together!
Behold, the entire Footloose soundtrack, courtesy of EW:
1. 'Footloose' -- Blake Shelton
2. 'Where The River Goes' -- Zac Brown
3. 'Little Lovin'' -- Lissie
4. 'Holding Out For A Hero' -- Ella Mae Bowen
5. 'Let's Hear It For The Boy' -- Jana Kramer
6. 'So Sorry Mama' -- Whitney Duncan
7. 'Fake I.D.' -- Big & Rich feat. Gretchen Wilson
8. 'Almost Paradise' -- Victoria Justice & Hunter Hayes
9. 'Walkin' Blues' -- Cee Lo Green feat. Kenny Wayne Shepherd
10. 'Window Paine' -- The Smashing Pumpkins
11. 'Suicide Eyes' -- A Thousand Horses
12. 'Dance The Night Away' -- David Banner
Lots of reality show cred in there -- Blake Shelton sings "Footloose" while his Voice colleague Cee Lo Green sings "Walkin' Blues," and Celebrity Apprentice winner John Rich teams with Gretchen Wilson. Does that mean anything to you? I guess I feel like a remake of Kenny Loggins's classic is as worthwhile as a remake of the film -- as in, I can't guess what kind of pleasure we're supposed to derive from them except the knowledge that we've experienced them before.
With regard to the rest of the soundtrack (and with respect to One Tree Hill actress Jana Kramer), I do not care who covers "Let's Hear It for the Boy" because it's one of the worst songs of the '80s. Ugh, the squeak of Denice Williams! Torture. That needed to be a Lisa Lisa tune. She just nails danceable longing, you know? Aside from the Smashing Pumpkins and David Banner here, there aren't any inspired choices on this list. I'm not angry, but I'm not breaking a smile either. I guess you could say... I'm all right.
What do you think? Is there a better artist than Shelton to cover this iconic classic?
· 'Footloose': What country superstar is covering the title song for the upcoming remake? We reveal the soundtrack listing! -- EXCLUSIVE [EW]
[Photo: Getty Images]