Rapper-Singer Nicki Minaj to Make Her Hollywood Film Debut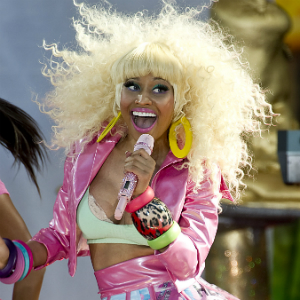 Rapper and singer and living Bratz doll Nicki Minaj -- she of the latest televised nipple slip, who is currently opening for Britney Spears on tour (I'd argue it should be the other way 'round) -- will make her feature film debut next summer alongside fellow rapper (and onetime Degrassi star, let's not forget) Drake. Which envelope-pushing production will Minaj lend her chameleonic talents to in her first major screen credit?
Drumroll please...
Minaj and Drake have been cast in unspecified roles in the 20th Century Fox sequel, which will also feature the voice talents of Jennifer Lopez, Aziz Ansari, Jeremy Renner, and returning cast members Queen Latifah, Ray Romano, Denis Leary, and John Leguizamo.
It's not quite the screen debut I'd envisioned for the 28 year-old Minaj, who's long voiced her passion for acting (and can be seen here in a low-budget independent film entitled Stuck on Broke), even telling MTV "I'm an actress first, and I don't want to be a rapper-turned-actress." If there's anything her musical persona demonstrates, it's a kind of versatility and dramatic flair and charisma that could conceivably lead Minaj into a fascinating second career in film.
Watch a clip from MTV's 2010 doc Nicki Minaj: My Time Now in which she describes her passion for acting and weigh in: Has Minaj been holding out on Hollywood?
• Nicki Minaj, Drake Join 'Ice Age 3' Cast [THR]