Blame the Farrelly Bros. When the Jersey Shore Kids Pursue Acting Careers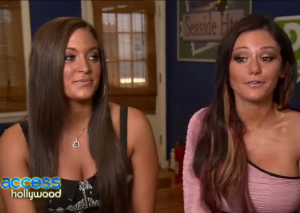 So the Farrelly Brothers decided to give the kids from Jersey Shore a cameo in their upcoming Three Stooges reboot (Oh, the jokes write themselves...) which turned out to be such an amazing experience that Sammi "Sweatheart" Giancola, Jenni "JWoww" Farley, Ronnie Ortiz-Magro, and Nicole "Snooki" Polizzi may now turn their fist-pumping sights on second careers as actors. At least when this nightmare comes to pass, we know who to blame.
JWoww and Sammi recently told Access Hollywood how wonderful their cameo-filming experience was, and how encouragement from directors Peter and Bobby Farrelly led them to consider pursuing acting.
"For the Farrelly Bros to say how well we did... it gives me chills," JWoww recalled.
Sammi elaborated. "Like, you never know," she mused. "Like, I actually enjoyed acting, and I enjoyed being a part of it, so I would love to see what the future holds, whether it's acting or something else."
Castmates Ronnie and Snooki also reportedly want in on the action, according to Access Hollywood. "We're not scared to be stupid or make fun of ourselves," said Snooki. "I think we could be good in acting. I would love to do comedy."
Watch the video yourself and weep for the future.
• Sammi & J-Woww: It Was An 'Amazing Experience' Being In 'The Three Stooges' [Access Hollywood]