Watch the Intriguing First Trailer for Francis Ford Coppola's Twixt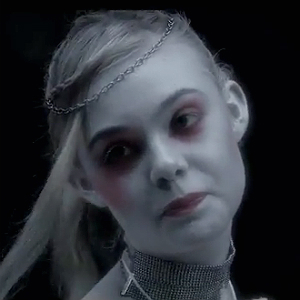 When Oscar-winner Francis Ford Coppola took to Comic-Con to present his new horror project Twixt, he blew minds in Hall H by live-editing footage from his iPad. Now you can watch the first trailer for Twixt to get a taste of what Coppola's got cooking with his Gothic murder-mystery tale about a hack novelist named Hall Baltimore (Val Kilmer) who befriends a ghostly girl named V (Elle Fanning) while searching for his next story in a small California town.
The new four-minute Toronto Film Festival trailer starts off in quirky fashion, a pony-tailed Kilmer playing the straight fish-out-of-water in an oddball town with a secret. Kilmer's Hall Baltimore begins dreaming, and Coppola's visuals get increasingly intriguing -- Edgar Allan Poe in the moon, Baltimore's first encounter with V in a foggy, black and white dream punctuated by her bright shock of make-up. And later: More visually striking glimpses of monochrome and color. Finally, a telling exchange: "I want to know the truth." "There are consequences." "What choice do I have? Tell me all of the story."
Twixt will have its world premiere as a special presentation at the Toronto Film Festival this September, where audiences can expect to get the full multi-media treatment that Coppola promised at Comic-Con before he takes the show on the road. And with the added element of 3-D (seen through those custom Edgar Allen Poe 3-D masks he gave out at Comic-Con, fingers crossed), paired with Dan Deacon's live musical accompaniment, the eye-popping sequences should make for a full sensory experience.
Verdict: Color me intrigued.