Great Movie Apes: Clyde, Every Which Way But Loose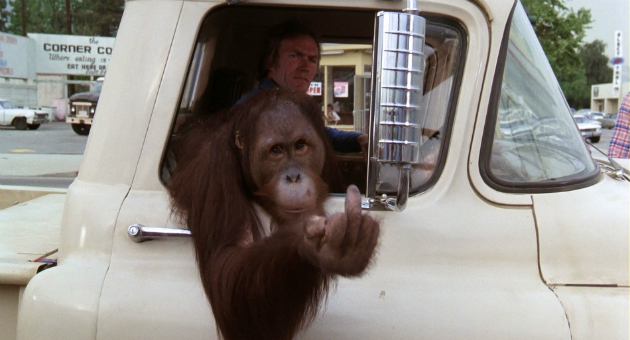 Rumor has it that this week the apes will rise. So in honor of our primate cousins and their varied achievements on film, Movieline will honor one great movie ape each day who embodies an admirable quality found in monkeykind. Starting us off is one of the greatest primate sidekicks who ever graced the screen, an animal actor Clint Eastwood once called "one of the most natural actors I ever worked with": Clyde the orangutan.
Name: Clyde
Film: Every Which Way But Loose (1978)
Great Ape Quality: Friendship (and that right hook)
Clint Eastwood's freewheeling 1978 romp Every Which Way But Loose (and its sequel, Any Which Way You Can, which starred a different orangutan actor) wouldn't be half as fun a joyride without Clyde the orangutan around to lighten the already light mood as the primate sidekick to Eastwood's brawling drifter Philo Beddoe. And as this scene demonstrates, the friendship goes both ways -- Philo chases down two bikers who insult his ape pal, while Clyde has his human buddy's back. Now that's love.