Attack the Block's John Boyega on Going 'From Hoodie to Hero,' and Taking Hollywood by Storm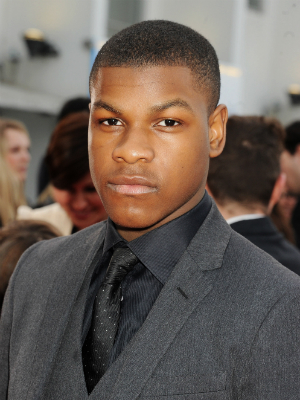 Now that his feature film debut as a hoodlum-turned-savior in Attack the Block is finally hitting theaters stateside, 19-year-old John Boyega is savoring his big moment. As Moses, the hardened teen anti-hero of Joe Cornish's British alien invasion romp, Boyega leads a gang of misfit delinquents into battle against a horde of vicious E.T.s to defend a South London council block. Off-screen, the charismatic up-and-comer has a new territory in his sights: Hollywood.
Upon debuting at SXSW, Attack the Block earned its geek-approved buzz the hard way: By earning it, with relatively little marketing from distributor Screen Gems, through a grassroots campaign that won some of the most dedicated fans ("Blockheads") of any film this year. (Opening over the weekend, Attack the Block earned a $16,250 per-screen average in limited release.) Much of the hook is the genre appeal -- part John Carpenter, part Goonies, it flies on its sharp wit and the visceral thrill of letting children fight aliens, plain and simple -- but there's more than meets the eye to Attack the Block. Like Boyega's performance, for starters.
Moses the character is a clever, biting piece of film-as-social commentary in itself; introduced while mugging a young nurse (Jodie Whittaker) at knifepoint, he becomes a hero by circumstance when furry, animal-like aliens begin assaulting South London one fateful night, triggering his juvenile aggression. But circumstance is just as much to blame for Moses's violent ways to begin with, and under Cornish's direction, Boyega lets his vulnerable secrets slip, bit by bit, to reveal tragic beginnings.
It's a performance made all the more impressive by Moses's relatively little dialogue, built primarily on silent glances and sheer screen presence. (Boyega cites The Wire as pre-performance homework.) In real life, however, the ebullient actor couldn't be farther from his on-screen alter ego, as Movieline learned upon meeting him earlier this summer on the Sony lot to discuss Attack the Block and his future plans for taking Hollywood by storm.
You've taken this film from its humble beginnings to opening in the U.K. to now doing a press tour in the U.S., and we're talking to you for a column called The Verge. How do you feel things are going from where you're sitting?
Well, I feel things are looking more clear. Just have to put in the work, you know. There's a lot of hard work to do.
How so?
Because it's the first film, it's the first role... I've grown as an actor, so now it's time to put it into other stories, to tell other stories in different formats and stuff. All that magickibob. [Laughs] That's not a slang, I just made that up. Put that out there, I just want to influence America a little.
Will do. We'll get that trending.
Thank you. Yes!
What's your background as an actor and what were your goals when you initially signed on for Attack the Block?
I've been acting since I was 5 years old, from primary school to secondary school, did training at drama school which was the big thing for me because they trained me, put me out into the industry. That was my first... I wouldn't call it a big break, but a break. But what was I expecting, what were my goals? To be good, you know.
When you start as a kid your goals may not be as fully formed as they are later in life...
Yeah, when you start off as a kid you don't really see it, but when I was maybe 9, 10 I watched films and went, 'Oh yeah, they get paid for that! That's an actual job, it's not just a hobby -- I want to do this.' And I found myself in Sony in L.A., for some reason.
I've been following you on Twitter...
Nice!
You seem to be having the time of your life here, visiting L.A.
Well, you know... it's been great. I've been here for two weeks now.
Tell me about your Hollywood experience so far. Highlights?
Oh! Well, we've had a little bit of highlights, you know... we've seen some people, some weird people. McDonald's is a big highlight for me.
What? You have McDonald's in London.
Yeah, but you do things differently. Seriously. I mean, I asked for a burger and they give me a tank. It's like, 'Wow, you guys eat!' I really respect that. We don't have the little thing where you can refill your drinks. We don't have that! So yeah, it's been fun. Seeing the history, seeing the Hollywood sign. I've been on Sunset. I went to the Griddle Café. Oh, man. I had an Oreo pancake. It was heavenly. I don't want to go back now, just because of that pancake.
Speaking of things I learned from following you on Twitter, I know that you are a huge movie nerd.
Yes. I know my movies. I love my movies. I'm an actor, what the hell would I be doing otherwise? [Laughs] It's like being a doctor and not knowing what the flip you're doing in there.
Are you up on the latest blockbusters?
Well, I've seen Super 8, I've seen Green Lantern. I'm looking forward to seeing Transformers. I'm a Michael Bay fanatic.
Ah! The few, the proud.
Yeah! People say that! You guys, go away. Michael Bay's beautiful, that's what he is. He's a great guy. I love him.
So, Attack the Block. How many times have you seen it with an audience now?
Over eight times. That's what makes it really special. Back home I went to different cinemas and I've seen it here.
What's the reception been like back home -- do people recognize you now on the street?
Well, yeah. Little by little. But I'm a quiet guy, I just do my thing. It's not like, "Oh my God, it's you!" People recognize you, they say hi, you say hi back, and it's appreciation for people thinking you were good in it.
What were your initial thoughts when you first heard about the project, and what did you do in your audition to nail it?
I first heard about the project through my agent, and they told me it was about aliens coming to a South London council estate, and attacking this block, and I thought it was incredibly stupid. Then, I got the script, and I just fell in love with it straight away. For me, that cinematic element just 15 minutes away from where I live, it's crazy -- having orchestral music, having Basement Jaxx on the soundtrack giving it that kind of, you know, we can represent in Hollywood too! We can do a feature film like that!
How aware were you of how all the elements -- the look and feel and sound of the film -- would come together?
If there's one thing about Joe [Cornish], he knew where he was going with it. He even gave us a DVD package with Warriors, The Goonies, giving us the vibe. Attack the Block is a love letter to all these films like that. I thank you letter for coming on Channel 5 and getting us kids escapism from the cruel, cruel world. [Laughs]
Take me into the psyche of Moses, because one of the tremendous things about him and your performance is how much is conveyed emotionally, and with such complexity, through so little dialogue.
Well, Moses is a strong and silent character and you meet him at a point where he's trying to make two decisions, whether to go on the right path or the wrong path. Obviously all that is disturbed by this alien invasion that so happens to come to South London, and with that, that brings out the good in himself. But it's about him trying to find that, trying to find what he lost due to circumstances due to no fault of his own -- you see his room, you see the way he's living. You watch it at first and think, "This is a terrible kid." Then you see that he hasn't got family. The boys are his family. He's got no money. And it's like, wow. Do you know what I mean? He's just a kid. For me it's about trying to externally give out, "Oh, I'm hard,' but in the interior you've just got a little boy who's just trying to make ends meet.
It seems challenging to accomplish that, again, with such little dialogue -- and we glimpse shades of his true self along the way. When we see him among actual gangsters there's a vulnerability to him, for example.
Exactly - which are decisions I made to show the audience. Because you get those urban roles, you get those hood roles, and you only get the forefront. You only get, "I'm hard," and that's about it. But back to these roles, I wanted to give you guys kind of a kid, a human being who's able to cry, who's able to laugh, who's able to feel sad. Just trying to give you that, breaking him down from hoodie to hero.
You have a moment where something tragic happens and you turn toward the camera with this tear streaming down your face, which I found quite moving.
That was actually quite petty, man. We were crying on set, all of us -- even little Alex [Esmail] -- because Joe likes to make everything real and we were preparing for the scene. Joe was like, "[Character name redacted] is dead, on the floor." And I was just like, I wasn't going to cry, man. Then the tears just started going and I had to turn around and do the kind of scared shot. I was breathing hard, when I was filming I thought, "This is going to look so stupid," I thought I needed to turn around and do a little [affects bold hero voice] "Oh yeah, what's out there?" kind of thing. But they used that shot, which was interesting. For me, it showed a lot. Putting myself out of it and watching it solely as an audience member, it showed a lot about Moses and his journey, and that's the first time you think, "Aw, he's just a kid. A kid in bad circumstances."
Moses also has so much invested in this group of kids, as their leader.
Yeah, those are his boys, those are his family because he has no one.
Speaking of that group, how much did you and your cast mates know about "hoodie" culture, so to speak?
I've lived in South London all my life, but obviously there's a difference between living there and being a part of there. It's just something you see every day, if you get to a certain area, you live in a certain area, you're going to be exposed to certain things. You know, urban culture is fun, it's lovely. You have fun elements to it, you have dark elements, you have light elements... so you kind of know that, right, because you're there. So you get that and just bring that to the film through your performance.
You mentioned the Warriors as a reference Joe gave to you, but there's also a distinct Goonies vibe.
Oh, yeah. I felt that on set.
How do you go about capturing that spirit?
No no, that's down to Tom Townend , our cinematographer. Warriors was shot at night, and me watching that gave this a certain flavor, a certain kind of light in the darkness kind of flavor. Kind of fun, filled with these sequences, they weren't all stilted shots, they were still and focused, which for me reminded me of The Warriors. With the Goonies, it's just a thing of normal kids in abnormal circumstances. Even the banter, the kind of fun, the jokes, getting scared and saying things like, "This is too much madness to explain in one text!" Saying the silliest things... that reminded me of The Goonies.
The aliens in Attack the Block are unusual in that they were physical, practical presences on set, and so different in design than most aliens we see these days. What were they like to work with? What did you even have to work with?
We had Terry Notary in a suit, on all fours. This guy is amazing. He was in Avatar, he was an ape in Planet of the Apes, great guy. He brought a Hollywood energy to the set. He was like, "Let's get this shot, John!" He was really like, "I'm going to bite your ass off before you even start a scene!" Or making the sounds and stuff. And I was there like, "'Hey Joe, this guy's taking it a bit too seriously..." [Laughs] But he was fun to work with.
What would you like to happen, career-wise, from this point on?
What I would like to happen? To carry on telling you guys stories, in the form of cinema. Eventually I'll be here, up in the hills looking over your city, seeing where I'll attack next. Make the arrangements. I'll be here soon.
Do you have projects already lined up to do next?
Not in this country, but there are plans being made. I've read a couple of scripts, you guys are bringing out some really good stories in the future that I'm willing to be a part of. So when the yes comes from me, I'll let you guys know. [Laughs]
Attack the Block is in limited release.