First Trespass Poster: Nicolas Cage, Nicole Kidman Battle Invaders, Release Strategy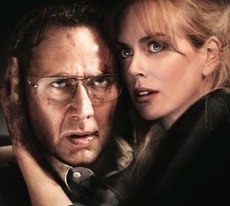 It's been a little more than a month since Millennium Entertainment picked up the thriller Trespass, which stars Nicolas Cage and Nicole Kidman as a couple defending their home against a ruthless gang of home invaders. Last week, very quietly, the company appears to have distributed the first poster for Joel Schumacher's film. But when does intend to distribute the actual film?
Good question! The poster presents Oct. 14 as the opening day in theaters, with the curious addendum "And at Home..." tacked on with a date that's illegible on the low-resolution poster. But an eagle-eyed tipster (who also pointed us to the one-sheet) directs us all to VideoETA, where a Nov. 1, 2011, street date is scheduled for the DVD/Blu-ray. Trespass has an Amazon page that corroborates this as well. No trailer has yet hit the Web, though something called the Ischia Global Film & Music Festival claims to have debuted the "15-minute world premiere" of the film earlier this month with Schumacher in attendance.
Anyway, save the date, etc... [Poster via @TRESPASS_Movie]