Electric Daisy Film Premiere Incites Riot Outside of Hollywood's Grauman's Chinese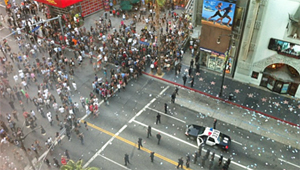 According to reports, a riot broke out late Wednesday night outside the film premiere of rave documentary The Electric Daisy Carnival Experience when too many eager rave fans gathered for an impromptu block party promoted via Twitter. In other news, eager rave fans still exist! En masse! More details about the event after the jump.
KTLA reports (via Deadline) that the premiere at Mann's Chinese theater inside the Hollywood and Highland complex was planned to be a somewhat routine affair, with a private-list after party to follow the film's screening, where celebrities including Paris Hilton were among attendees. But in the afternoon prior to the premiere, DJ Kaskade, slated to perform at the after party Tweeted the following to his 90,000+ followers:
Today@6pm in Hollywood @Mann's Chinese Theatre. ME+BIG SPEAKERS+MUSIC=BLOCK PARTY!!! RT!
And, moments earlier:
Let's see if the magic of social networking will work today.
Yup, it worked.
It appears that, contrary to early reports, the mob wasn't attempting to get into the private after party but had gathered because Kaskade had actually brought a flatbed truck, outfitted with numerous speakers (photo), to DJ for the public prior to the premiere. It is unclear if he had the city's permission to do so, though considering the heavily-trafficked location that seems unlikely.
Hundreds gathered outside the theater in answer to Kaskade's flash mob/block party call, only to be turned away as the crowd swelled. Bottles were reportedly thrown from the crowd, the police were called in, and at one point the police fired bean bag guns to disperse the mob.
The film, slated to screen theatrically nationwide on August 4, highlights electronic dance music figures like Deadmau5, David Guetta, Will.I.Am and Moby and is described as a way for fans to enjoy "a cinematic tour de force in the comfort of their local movie theater."
• Cops Fire Bean Bags at Unruly "Electric Daisy" Fans in Hollywood [KTLA]
[Image courtesy KTLA]