Here's Your First Look at Peeta and Gale in The Hunger Games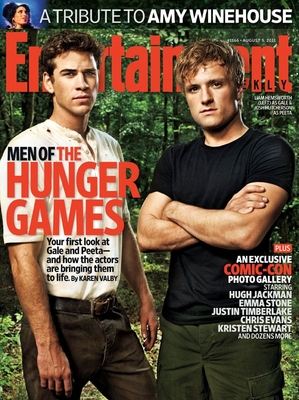 When EW debuted the first look at Jennifer Lawrence as heroine Katniss Everdeen in Lionsgate's The Hunger Games, it looked pretty damn good. But will Liam Hemsworth and Josh Hutcherson fare as well when it comes to embodying the well-loved characters of Gale and Peeta in Gary Ross's 2012 adaptation? Get your first full look at the men of The Hunger Games after the jump!
First reactions: Hemsworth as Katniss's hunting BFF Gale is closer to my mental image than Hutcherson is as Peeta, the golden boy baker's son who becomes her District 12 partner in the annual Hunger Games -- but then I knew as soon as Hutcherson's casting was announced that he'd never perfectly fit my idea of Peeta. Still, the kid deserves a chance to wow fans (or not) with his acting ability, and that touch of grime (or is it a sun-kissed tan?) helps Hutcherson look just a tad weathered and tough.
Hemsworth, meanwhile, disappears much more into the character -- granted, we're looking at a Photoshopped magazine cover, but still. He's so slimmed down, he looks like the Steve Rogers pre-serum version of Liam Hemsworth, as if Captain America technology had been applied to him in the pre-production process.
Question is, steely gazes aside, do either of these young men look tough enough to win J. Law-as-Katniss's heart? I'd say she wins the Hunger Games badass contest so far, which is just as well. Look for the cover article in the August 5 issue of EW to prove how the actors "are bringing [their characters] to life." The Hunger Games is scheduled to hit theaters March 23, 2012.
Click the cover for a closer look.