Marisa Tomei on Crazy, Stupid, Love. and Why It's a Hollywood Anomaly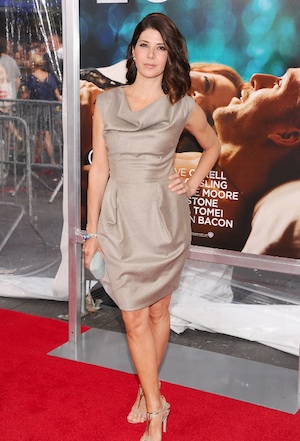 It's fitting that Marisa Tomei and Kevin Bacon have supporting roles in Crazy, Stupid, Love. (out Friday). After all, Tomei could have her own Six Degrees-like board game, having worked with everyone from Lisa Bonet to Joe Pesci to Sissy Spacek to Mickey Rourke throughout a variety of genres. In Crazy, Stupid, Love., she adds a cavalcade of likable performers to her roster of former co-stars (Ryan Gosling, Emma Stone, Julianne Moore and Steve Carell), and reconfirms to everyone that adult comedy is what she does best. If only Hollywood would actually make them.
Tomei stars as Kate, the first woman Steve Carell's Cal approaches following a sudden separation from his long-time wife Emily. As you've seen from the trailers -- and the poster -- Cal and Kate have something of a tryst, but like everything else in Crazy Stupid Love, there's a lot more to it than initially meets the eye.
Movieline caught up with the three-time Oscar nominee (and winner in 1993 for My Cousin Vinny) at the Ritz Carlton in Manhattan last week to discuss what makes Crazy Stupid Love stand out from the pack of Hollywood romcoms, why directors Glenn Ficarra and John Requa are perfect for comedies, and how come Hollywood seems reluctant to make films for adults.
Crazy Stupid Love is one of those movies where it looks like everyone making it had fun. Normally when that happens, the movie is bad -- but that's not the case here. Was it really as much fun as it looked?
It really was. I'm sure you've heard from many other people what a gem Steve Carell is. He's just a prince among men; he's so brilliant and talented, but also just a great person and so wonderful to work with. One of the most fun experiences I've ever had on a film are the scenes I did with him.
You have a supporting role in Crazy Stupid Love but it really pops -- you get to do some great physical comedy. What stood out for you about Kate while reading the script?
It did stick out on the page. It looked like you got to come in and just really play, and play hard and just get out.
Steve Carell is a noted improviser -- did you get to do a lot of off-script stuff with him while filming your scenes?
We did a lot of improvising, and we also had a very generous schedule, so we were able to just keep going with it. We got to really get in the arena. Plus, the directors are really good laughers. It really gets you excited between the takes because they'll just be like, 'Oh my God, I couldn't hold it in -- I almost ruined the take!' When you're getting that kind of response, you just want to do more to keep making them laugh.
Was there a specific improv you remember doing that really made them crack up?
I think it was all the physicality of the date night -- not the wordy scenes, but the date itself. Or the hook-up itself. There's so much freedom because it's like, 'What will it be? Let's just make something up.'
You mention John Requa and Glenn Ficarra. This is their first big studio production after I Love You Phillip Morris and years of screenwriting. How did they compare to some of the great directors you've gotten to work with in the past?
I love them. They really love actors. They give you a big arena to play in. They trust you, but they really had an eye toward what they wanted. They, themselves, have a range, because the film is not just a typical romantic comedy. There's so much more to it -- there are other notes. They were very good at all of the notes.
They seem to be. The film really stands out because, like you said, it's not typical. Do you think if Crazy Stupid Love succeeds that studios would be inclined to make more films like this?
I hope so. I talked to [screenwriter] Dan Fogelman about it a lot, because I love his writing, and this is the kind of movie that I want to do again and again. It suits me very well. That's the kind of actor that I am. I like that genre very much, and that's what I really, really want to do. He's one of the only people writing this kind of thing -- and a lot of the reason is that it's not asked for by the studios, which I was shocked by. It's so funny and so fulfilling. It's a classic -- it's like a classic '40s comedy, but modern. Why wouldn't studios [do these films]? I don't understand that at all. Obviously there are people who can fulfill it, like Steve or Tina Fey, or, you know, I'd love to do them. I don't know why that is. They just don't make a lot of these, but if I had the power, I would want to do this.
You've definitely made a strong career out of being a supporting actress. How do you make that jump to a lead role in -- let's say -- a mainstream comedy?
It's tricky. Everyone's trajectory is different. And sometimes -- especially when I was younger, it was true -- a lot of times the lead is really boring. Or they're 'perfect people.' And I'm not really actually interested in perfect people. But if it's a leading role that has dimension -- and especially in a comedy. Comedy is what I really want to do and propel. I want to bring all those other aspects to that. That's what I would really want to do. Comedy is just all I want to do, frankly.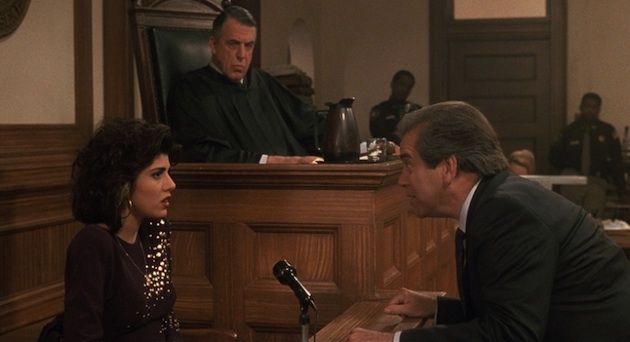 Speaking of comedies, I happened to notice that next year is the 20th anniversary of your breakout role in My Cousin Vinny.
Oh my God. That's making me sick to my stomach. Just because of time, not because of [the film].
Is that one of the films people still come up to you to talk about all these years later?
Well, not really. They talk to me about The Wrestler. People really like that. There's lots of different niches.
[Photo: Getty Images]