Aziz Ansari Describes Apatow Collaboration Spacemen and His Geek Dream Comic-Con Cosplay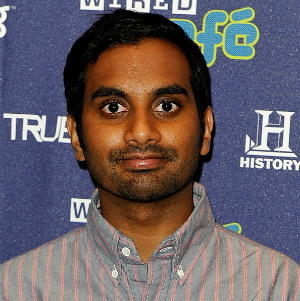 When Movieline grabbed a few minutes with star Aziz Ansari at Comic-Con to discuss his upcoming comedy 30 Minutes or Less (more to come), the Parks & Recreation funny man described the two-man comedy he's developing with Funny People director Judd Apatow. Hit the jump to hear more about Spacemen.
"We're doing this other movie with Judd [Apatow] called Spacemen that I'm very excited about," he told Movieline. "It's me and another guy who play two disgraced astronauts who have to go back to the moon and clear their names. That's what I'm working on right now with him."
"We're working on different drafts and hopefully are going to shoot it when I have a hiatus from Parks & Recreation again."
As for who'd play his spaceman colleague in the film, Ansari demurred. "Don't know yet!" (Leave your suggestions in the comments below!)
And since we were at Comic-Con, we had to ask: What kind of pop culture property would Ansari geek over most?
"I haven't gotten around to the floor this year, but I'm going to go later," he said. "I'm a huge fan of stuff. I'm a huge fan of Breaking Bad. If I saw someone walking around like Walt and Jesse I'd be like, 'That's awesome!'"
Get more coverage of Comic-Con here and follow our live reports on Twitter!