Neil Patrick Harris on The Smurfs, Fatherhood, and the Potential for Socialist Smurf Sequels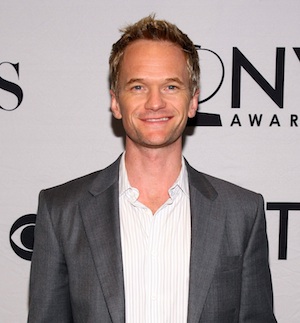 Actor, singer, magician, talented master of ceremonies, web star... Neil Patrick Harris can pretty much do it all -- but can he make the leap into mainstream movie stardom? He'll find out this month in Sony's live action-CG adaptation The Smurfs, which sees the famous blue creatures take Manhattan -- and the lives of Patrick (Harris) and Grace Winslow (Jayma Mays) -- by storm in a modern day-set adventure about appreciating family and stepping into fatherhood.
In The Smurfs, Harris is a harried New York City father-to-be whose already stressful life is turned upside down by the appearance of Papa Smurf and his brood, who need help evading Gargamel (Hank Azaria) and finding a magical way back to Smurf village. For the versatile Harris, it was a chance to stretch his comedy chops playing the straight man opposite the little blue CG creations, and a fortuitous stroke of life and work aligning at just the right moment.
Movieline spoke with Harris about how The Smurfs came into his life at the perfect time, how he and the filmmakers attempted to make it fresher than your average family film, how real-life fatherhood paralleled his onscreen fatherhood, and where a Smurfy sequel could potentially go.
At this point in your career, what pulled you into doing a Smurfs movie?
Well it seemed, weirdly, a good fit in many ways. I thought the idea of Smurfs lent itself to the 3-D environment pretty well, I think, better than some of the farm animal movies that have been done before. I was a fan of the Smurfs and they come with their own fan base, which I thought was nice. I think I have had success in sort of a mainstream nature, which makes me a reasonable choice for these kinds of movies. That being said, I'm not asked to be in big movies very often so I also have to be conscious of making active choices that will get me up the list of names of people who are bankable for a certain level of film. Combine all those together and the one static equation seems feasible, then you start meeting with directors and producers and start seeing what vibe of a movie it's going to be. Thankfully, the vision was strong and everyone was committed to it being quote-unquote "not just a family film," but that it honored the fan base that loved the Smurfs initially, that are now in their mid-20s to mid-40s. So that gave us the leeway to have funnier dialogue and to keep it sharp and keep it more irreverent and not just, like, a sequel to an Elmo movie.
Right -- and that happened as you came onboard? Were you able to help make the material feel a little fresher?
Yeah, most certainly. That's all a big part of the process for me, making sure that the content is sound. There were some, I think, opportunities for more clever jokes or specific banter. I wanted to make sure that Grace and Patrick's dialogue between each other seemed loving, and didn't seem to be stereotypical. Initial drafts had a lot of them just arguing and worried, and I didn't feel like they were a couple, or in love, and I didn't really care why they existed. So we went out of our way to have sort of a 1940s witty banter between Grace and Patrick, so that we thought each other's character was clever and would say so, as opposed to just hitting things on the head and saying, "I love you, Grace. I've loved you for seven years!" Establishing that in a more subtle and conversational way. I think that comes across.
The relationship between Grace and Patrick is so sweet. You have a great chemistry and this Glee connection with Jayma Mays -- how did you both come to be cast together in this?
She auditioned. I was on board, they were trying to find a Gargamel and that was a bit of a process, and then there was Grace. I kept calling and asking, "Have you found a Grace? Who are you thinking for Grace?" Because I didn't know where that actress fit, I didn't know if they were going to look for a movie star-y person or a celebrity kind of person or a pop culture-y kind of person, or who they would get. And they actually went for good actors. Jayma's just this perfect blend of incredibly sweet and adorable, pretty, and she's got such childish wonder in her expressions. And yet she' s a little bit quirky and dark and off at the same time. That intrigued me endlessly. I'm a fan of hers from Glee and know her to be a super fun, nice person, and when it was her name that was the final one I was ecstatic. We really got along well during the entire process. It's a lot of waiting around on these kinds of movies, because you have to deal with the CG people and you have to wait for digital mapping of every room after every take, so we spent a lot of time just hanging out, and I consider her a friend.
That brings up the idea of acting in a CG/live-action movie like this; you have a lot of scenes where it's just you acting with a bunch of CG Smurfs, doing a ton of physical comedy. Was that part of the job something that particularly appealed to you?
Very much so. I'm a big David Shiner/Bill Irwin/silent clown fan, and a lot of it ended up being me by myself miming a bunch of stuff. So I had to channel my inner Cirque du Soleil clown for a lot of the weird physical stuff. [Laughs] But it's like the more you commit, the happier the animators are; if you're at all iffy and concerned then it doesn't free them up to do as much fun stuff, so you have to just go for it and, again, trust the people around you and not be seemingly guarded and numb. Throw caution to the wind a bit.
On Twitter you recently mentioned that your babies had their nine-month birthday, and the theme of parenthood is strong in Smurfs -- your character learning what it means to be a father is what the film's all about. Did it mean something particularly special to you to be a gay parent yourself, and to be representing such a strong story about fatherhood?
I don't think much about the former, but the latter I think is a great anchoring for audiences watching the movie. If they know that I'm an actual dad in real life, then they're able to, I think, even more easily connect with Patrick and his concerns as well, because as we know, your public persona in life follows you around as an actor in the roles that you play. So, if anything, it seemed fortuitous timing that as I was actually going through this process in my own life, this script appeared -- and it was going to film at a time when I was not working on How I Met Your Mother -- and by the time it was released I'd be a dad myself. We were being very secretive about it, so all of that put together seemed like another reason to say yes to it. And when you watch the movie, when we were making the movie, it was helpful in those scenes; you know, I'm in Times Square looking at an ultrasound of my baby, and I'm sad that I can't be there in person -- those are not necessarily things I felt together at the same time, but I welled up at ultrasound photos and at other times I've regretted that I wasn't able to be there for other times. So it certainly helped to mine that.
There are so many Smurfy references and fun tidbits for fans of The Smurfs in the film -- that "La, la, la la la la" theme song is sung about a million times -- and it's full of clever nods to the franchise: The popular confusion surrounding Smurfette's origins, the different personalities in Smurf village, even how creator Peyo fits into the scheme of things. Was there ever a chance of the socialist undercurrents in Smurf lore finding their way into this mainstream family film?
[Laughing] No, never! Jordan Kerner, our executive producer, was so intent on it being from the Peyo children's book from the '50s, that was his source material and inspiration. They really wanted it to focus on the family of the Smurfs and how we're a family of humans and the connection between the two. So they wanted to keep it, I think, nuclear like that, and not go into broader terms -- at least for the first film. Maybe if there's a sequel, they can go there. But no, they want, understandably with a movie of this size, to be as inclusive of everything as possible.
That makes sense. Are you indeed on board for additional potential sequels?
I am.
Great! Could you pass on the message that I would like to see this other side of The Smurfs explored in future films?
I'll suggest that! Take a socialist twist on the sequel. I'm sure the kids will love it!