Comic-Con Hall H Live-Blog (Day 2): Tintin, Spider-Man and More
If you couldn't make Comic-Con this year, don't worry: Movieline will be faithfully live-blogging each day's major panels from Hall H, updating with footage highlights, breaking announcements, and celebrity appearances. Friday, Day 2, begins with the Tintin panel and continues with Haywire, Raven, Ghost Rider, 30 Minutes or Less, Total Recall and Spider-Man. Are you ready?
Scroll through for the full liveblog, or click to go directly to...
· The Adventures of Tintin panel coverage
· Relativity Media panel coverage (Haywire, The Raven)
· Sony panel coverage (The Amazing Spider-Man, Ghost Rider, 30 Minutes or Less, Total Recall)
Julie here, reporting for Hall H duty!
11:05 Today's events kick off with the Comic-Con director announcing that he will be presenting Steven Spielberg with the Inkpot Award but before the presentation, a highlight reel of Spielberg's work. The crowd cheers loudest for E.T. and Jurassic Park and Indiana Jones.
11:09 Spielberg walks onstage to Indiana Jones theme music. The audience gives him a standing ovation. Lights come on to quiet the roaring audience.
11:10 Spielberg accepts, "Thank you because I wouldn't be here without you supporting these movies and what we do and staying kids no matter what your age. You'll be kids the rest of your life. I feel the same way. I've been a kid all my life. Just ask my wife. If I grow up, I'll stop making movies which I don't intend to do. We all love the same source material that brings us here..the collective imagination of brilliant storytellers that give us our dream state hours that give us so much material to live by. [...] I feel like I should be in the audience with you and not up here. We're in the same world together. Let's keep doing this!"
11:13 The Adventures of Tintin panel officially begins. Spielberg says he didn't hear about Tintin until a French reviewer compared Raiders of the Lost Ark to the comic series and he looked it up.
11:15 Moderator asks about casting motion capture. "You start the way you cast a normal movie, you find the best actor for the part. [...] You won't see Daniel Craig's face but you'll see every expression through the thin skin created by Weta [Digital]."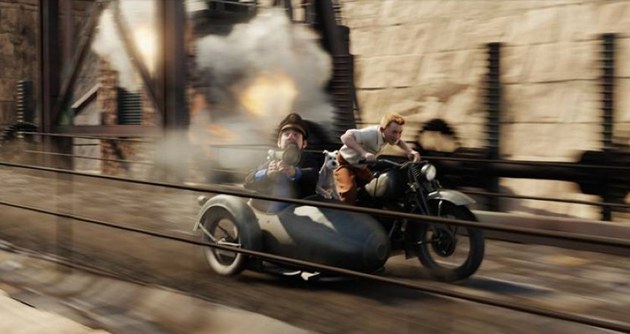 11:16 Spielberg throws to "footage of the film's first motion capture test." It's Peter Jackson! In a sailor hat! Fake auditioning for the role of Captain Haddock! He swigs from a bottle of alcohol because he's nervous, spills the bottle and an animated Snowy laps up the alcohol before drunkenly jumping into the sea behind him. Meanwhile, Jackson makes his casting case, "It would be a wonderful privilege to play Haddock."
11:18 The video ends and Peter Jackson appears from behind the screen to huge applause! "That test was supposed to be destroyed six years ago!"
11:19 On working with Spielberg, Jackson jokes, "I think he shows real promise."
11:20 Jackson talks about how he and Spielberg wanted to really marry the animation with live action. Spielberg says that most importantly, he wanted to make sure the animation quality honored Belgian artist Georges "Hergé" Remi/Tintin creator.
11:23 Spielberg assures the audience that he was holding the camera the entire time during production, in fact this style of filming was the closest he's come to shooting Super 8.
11:25 Jackson says that he first found Tintin before he could even read as a child: "I looked at Tintin when I was young as the older brother I wished I had having the adventures I dreamed of having -- although I never wanted to be shot at."
11:27 Time to see some Tintin. The clip rolls, Tintin meets Haddock (who looks vaguely like Peter Jackson). Their fast-paced adventures begin, sneaking around a ship, jumping off and into their own paddle boat, shooting at a helicopter overhead, chasing through the street on a motorcycle and sidecar. Tintin is dropped into the middle of a busy intersection as cars whiz by from all directions. We see from Tintin's point of view. The 3D looks amazing.
11:30 After, Spielberg explains that it was necessary to shoot motion capture because "if we don't do something new every time, we get a little bit bored with ourselves."
11:32 Peter Jackson says that he got into technology immediately after seeing Jurassic Park: "I knew that if I wanted to do what I wanted to do, I'd have to get into computers." He had to "mortgage the house literally" to get the computer technology. "That Tyrannosaurus had a tremendous impact on me," he explains.
11:34 Spielberg on filming live action: "There's a lot of handheld, a lot of Steadicam. I used the tools I knew how to tell my stories with. [...] But the process was the one I was most comfortable telling this story with. [...] It's a dense detective story, a murder mystery, it's funny when you have to be. [...] What you just saw was the tip of the iceberg, the first renderings to come out of Weta."
11:37 On whether or not Spielberg would use motion capture again: "Let me just say that performance capture is not a medium that is right for every film but it was right for the story. Performance capture allowed me to do things with the camera that I couldn't have done in live action with that story. And that might drive me to do another movie this way."
11:39 Spielberg talks about meeting Peter Jackson while handing him his Academy Award: "That was the first time we met and shook hands, with about 8 million people watching." Aside from working with Spielberg's "best friend George Lucas," the director calls this his best collaboration ever. "It was like working with my brother."
11:40 Jackson fields a question about The Hobbit: "I'm having a hell of a time. The thing is, I'm enjoying it far, far more than I ever thought I would. I'm having a blast."
11:42 On his busy schedule, Spielberg says, "The first thing that a director really mourns the loss of his objectivity" but when he keeps busy with a full slate of projects he is able to "maintain clarity." So his busy schedule is "actually a benefit to [him as a filmmaker] not a deterrent."
11:43 The first audience question comes from....Andy Serkis! Doing an impression of a crazed fan, he asks how Daniel Craig looked in motion capture tights. Spielberg laughs off the question and the fans cheer.
11:46 A cute, little kid steps up to the mic, "This question is for Mr. Steven Spielberg. What was your favorite movie to make?" The crowd loves him. Spielberg says that his favorite was "E.T. which I hope you've seen." Spielberg explains that it was his favorite because he didn't want to go home once the movie wrapped because he loved being with his cast so much, particularly Drew and Henry. "I wondered why I was so sad and then I realized for the first time in my life that I wanted children. Now, I have seven children."
11:49 An audience member asks which movie Spielberg regrets passing on directing. After a diplomatic preamble, he says, "That would be American Beauty...and even though that one got away, it got away to the right director, to Sam Mendes who ended up winning an Oscar for it."
11:51 On producing, Spielberg says, "My happiest producing moments were on Robert Zemeckis's Back to the Future movies."
11:52 Again, Spielberg thanks his fans. "We cannot make the kind of movies we make without you seeing them, more than one time, and writing about them. And being honest about them. You don't love me all the time, you love me sometimes. You take us to task and to be honest, that's good for us. Keep taking us to task."
11:54 On Jurassic Park 4, Spielberg announces, "We have a writer who is writing a treatment and hopefully we will make Jurassic Park 4 in the next two to three years."
11:57 One last question from an audience member. A guy in a customized gray t-shirt steps up to the mic -- the shirt says something to the effect of "I just want to meet Steven Spielberg and shake his hand." Jackson and Spielberg laugh. Spielberg says, "Get up here."
They shake hands and Peter Jackson snaps a picture. "This is the most well-directed picture in history," jokes the moderator.
Spielberg then takes a photo of the fan's t-shirt. The fan returns to his chair to cheers from Hall H.
That's it for the Tintin panel. Next up, Haywire and Raven.
And we're back for Relativity's section of today's Hall H panels. First up, Haywire.
12:25 After an action-packed trailer (during which Gina Carano kicks major ass), Steven Soderbergh takes the stage with stars Carano and Channing Tatum.
12:29 How did Steven discover Gina? "I saw Gina fighting on television. Remember when CBS was running the MMA fights on Saturday. I tuned in one night just out of curiosity and that's when I first saw her and thought, 'Why doesn't someone build a movie around her?' I'd never seen anyone perform like that...in a cage."
12:32 After Soderbergh mentions that there were very few stunt doubles, Channing reveals that Gina actually knocked him out on set.
Carano: "He asked me to kick him harder. Tell them the truth."
Channing: "Ok, it was a challenge. And I lost."
12:33 After working on her first film, the experience "really ruined movies for me," said Carano.
12:36 "I had never directed fights before," says Soderbergh. "My rule was that "it has to be real. They can't do anything that real people can't do." Because of this, the fights scenes are probably a lot shorter than most [in movies] because I wanted them to be real."
12:37 "We worked on the fights for a long time," explains the director. "The choreography was very detailed." There was a little bit of padding, but -- especially in Michael Fassbender's case -- "the padding definitely didn't really help."
12:40 Soderbergh throws to a clip of Carano and Fassbender, dressed to the nines, walking through a four-star hotel hallway. Tentative, they get to their room, Fassbender opens the door, lets Carano in...and then attacks her from behind. Not very gentlemanly. The two proceed to bang each other's heads into walls, flip each other over tables. There's a foot to the crotch, a knee to the head and Carano throws Fassbender through a door. It's a strangely intimate fight that ends with Carano strangling Fassbender between her legs, punching him in the face and (uh, spoiler alert?) shooting him in the head. The scene, Soderbergh says, was inspired by a similar one in Darker Than Amber.
12:42 On how he felt about beating up a girl, Channing explained that he didn't want to until Carano called him "the P word." Then, Channing said, "I had to do it for my manity." I vow to use the word "manity" every day for the rest of my life.
12:44 The moderator throws to audience questions. Someone asks about the G.I. Joe sequel. Channing says "Dwayne said he would pop my head off if I say anything. [...] But I can't wait to work with him."
12:46 A fan asks how Carano enjoyed the fight scenes. She says, "I really loved getting banged into everything," realizes her choice of word and giggles. "Next question!"
12:48 The moderator asks if Soderbergh is sure about this "retirement thing." The director says, "Matt Damon is apparently as discreet as a 14-year-old girl. I had this drunk conversation with him while shooting Contagion and four days later, I read about it in the paper. And he read it verbatim. [...] Nobody in this economy wants to hear about someone quitting a good job. That kind of got blown out of proportion. And that's Matt's fault.
12:50 Asked whether Carano will quit fighting for acting: "I don't think I got fighting out of my system. So no."
And with that, Haywire is over. So fast! Next up, The Raven
12:54 First ever public screening of the trailer. John Cusack is Edgar Allen Poe. He's wearing a lot of black, pointing a lot of guns. Kind of looks like Sleepy Hollow, very gothic. Alice Eve is trapped in a casket, screaming. It's closed on top of her. It's put into the ground. The trailer ends with Cusack saying, "No matter how this ends, I will kill him." Okay.
12:56 Director James McTeigue takes the stage with John Cusack, Alice Eve and Luke Evans.
12:58 Cusack on Edgar Allen Poe, "He was a bit of a rock star in his day. [...] He was world famous and had a huge ego. He had a charisma to him. He loved women. And he was funny. [...] He definitely was the godfather of goth. He was pretty gloomy." Cusack says that he sees a lot of Edgar Allen Poe in Hunter S. Thompson and vice versa.
1:00 Alice Eve on being buried alive: "Yeah, I was buried alive. I had to eat a lot of dirt. And James ended up being the person who was throwing it on my face. [...] James would spend days throwing dirt in my face and then he'd become engrossed on the computer and I'd be choking on dirt. I had a spit bucket but it was rough."
1:02 Cusack starts quoting Poe. Because Cusack can get away with things like that. "Poe said that there was nothing more fascinating in the world than a beautiful woman dying."
1:04 McTeigue explains that "do to justice to Poe, you have to honor what the guy's life. You have to know what his stories meant to him. [...] When we came to do the movie, we thought to capture the essence of the movie you have to capture the essence of what the character was. John did a great job of bringing that to the table."
1:06 John Cusack on Poe's relationship with women: "It's obviously all conjecture because I wasn't there. He didn't really like being in the company of men. [...] He wasn't really a playboy but he just liked the company of women. He idealized them. [...] That was his idea of heaven. This untouched female. [...] He had this sense of yearning for women, but being left by them [because his mother and first wife both died of tuberculosis]."
1:08 On his upcoming projects, Cusack mentions The Deceiver: "I'm not really sure what it's called at this point. I'm doing a film called The Paperboy with Lee Daniels and then I don't really know what else after that."
1:10 An audience member thanks John Cusack for Grosse Pointe Blank. Only a small section of Hall H claps. Get your priorities straight, Comic-Con fans.
1:12 Another audience member steps up to the mic and holds a boom box over his head. John Cusack does not laugh. John Cusack does not find this funny or original. Get some new material, audience member.
1:14 The audience member then asks, "Is this going to finally be a Cusack movie where the girl that I'm with doesn't say, 'I wish I was more like John Cusack?"
Cusack: "No."
1:16 Cusack begs audience members to ask someone else on the panel a question. They do not listen. The final question is if John has any plans to work with his sister Joan anytime soon.
Cusack: "I'd love to get away with it again. Each time we get to do it we think, 'Oh, we get to get away with it one more time.' I'm sure there will be something written at the studios forbidding it soon because we've gotten to do it eight or nine times."
Sadly, that is all for The Raven panel.
2:00 More coming soon from the Fright Night panel...
2:50 We're back for the Fright Night panel. Craig Gillespie greets Hall H and warns everyone that the clip they are about to see has been censored because apparently Comic-Con "doesn't like the word f*ck."
2:52 Gillespie introduces screenwriter Marti Noxon and stars Colin Farrell, Anton Yelchin, Imogen Poots and Christopher Mintz-Plasse. After Farrell makes a show of pulling out Poots's chair for her, Yelchin makes a point of pulling out Mintz-Plasse's chair.
2:56 That's not all though. Giellespie introduces surprise guest Chris Sarandon, star of the original Fright Night. "I've seen it and it's terrific," Sarandon promises Hall H.
3:00 Sarandon asks Noxon if it was daunting to take on a horror classic. "Yes, because there's a lot of vampire out there and once you've done Buffy, it's kind of hard to top." Noxon says she was most exited to write about Ed and Charlie's relationship and vampires "that don't play the piano."
3:02 Mintz-Plasse tells fans that he is getting a Film Fanatic award tonight. When a few people clap in the audience, he jokes "Thanks mom and dad."
3:06 When he was approached about the Fright Night remake, Farrell jokes that he thought, "Oh Hollywood. Here we go with your originality again."
3:08 Sarandon says that he did spent a couple of days on set but he did not have much of a role in the film. He then throws to a clip called "Car Chase" that was filmed when he was on set. "You're not going to see me in this clip though. You're going to have to go see the movie."
3:09 In the clip, Imogen's character confronts Yelchin about his shadiness of late. "Just forget about me," Yelchin pleads. Yelchin is worried that Imogen will get hurt. "How will I get hurt?" Cut to Colin Farrell's creepy neighbor knocking on the door downstairs. Farrell shouts to Yelchin's mom (Toni Collette) that her son has broken into his home. "Go get the authorities," says Collette. Farrell retreats...only instead of getting the authorities, he gets a...shovel! He takes the shovel into the backyard, digs into Collette's yard, tampers with a gas line and the fireplace blows up, setting the house on fire. Collette, Yelchin and Poots flee, practically, in their minivan. Super spoilery stuff happens and it's actually really funny.
3:17 But that's not all on the clip front. We get another, this time featuring the Las Vegas illusionist played by David Tennant." Tennant's character complains that his leather pants don't breathe, drinks something out of a martini glass, calls his magic act a sham and spitballs ways to kill vampires with Yelchin.
3:20 As a quick sidebar, Sarandon takes a moment to pay respect to the late, great Roddy McDowall who played the original Peter Vincent before throwing to a videotaped message from David Tennant who could not be here today. "Hello, Comic-Con. I am gutted that I am not there. [...] Comic-Con is proof positive that we geeks will inherit the world one day. [...] Lots of love from London town."
3:25 An audience member asks Farrell whether it was easier to star in Miami Vice or Fright Night. Farrell jokes that he doesn't remember. "Miami Vice was pretty much a six-month blackout for me."
3:30 An audience member asks Mintz-Plasse about Kick-Ass 2: Balls to the Wall. "I am about to disappoint everyone here but I have no idea. We all really would. But Fright Night comes out August 19!"
3:31 On Farrell's appreciation of his film roles: "I've enjoyed the work a lot more in the last four or five years. I came to success relatively quickly in my career -- and success is relative, you could say all of the films were sh*t -- I personally lost sight of why I went to my first acting class. [...] In the past few years, I feel like I've reconnected with that Colin that was going to acting class."
3:34 How does Farrell know if he likes a script he's reading? "If I connect to something, my lips start moving to the dialogue."
3:36 An audience member says, "This is a question for Christopher."
Without any hesitation, Mintz-Plasse responds "I"m here for you."
Mintz-Plasse says that the next comic project he would want to do is Kick-Ass 2.
3:38 On whether Farrell would want to do a superhero film: "Well I was told I'd be playing a superhero on Alexander and that didn't work out for me. No more swords and sandals."
3:40 As the last question, someone at the front of Hall H asks for Farrell's autograph. Farrell walks to the front of the stage, bends over to sign and accidentally flashes the camera part of his backside. And that is how the Fright Night panel ends.
Back again with 30 Minutes or Less.
4:39 Director Ruben Fleischer and cast members Nick Swardson, Michael Peña and Aziz Ansari hit the stage. Jesse Eisenberg and Danny McBride are away shooting other projects but Danny has sent a video.
4:40 Fleischer rolls the tape. "Wow, Ruben," McBride deadpans. "Incredible intro. Did you pop a Tylenol PM or something? [...] If you are viewing this, it means the apes have won. [..] Seriously, I wish I was there.
4:42 Everyone laughs and Fleischer rolls more tape, this time a clip of the 30 Minutes or Less bank robbery. "This is where Jesse and Aziz, probably the two most unlikely people to rob a bank, have to do that. It was our favorite scene to shoot and hopefully you guys will like it."
4:43 Update: I don't like it that much. But you might. Love Aziz and Eisenberg, but the scene plays like rough footage. Throw me in an editing bay and I'll cut this down. Just kidding. But really. Aziz does choose the code name "Cruise" as his criminal alias and that is cool. McBride has a good line. While Peña buzz cuts his hair, McBride yells, "It's too boxy. I don't want to look like Arsenio Hall when I go down to the morgue to identify bodies."
4:48 The lights turn back on in Hall H. Fleisher talks about letting his stars improvise. "The part where Michael is looking into the mirror saying, 'You're a pimp, you're a pimp.' There wasn't any dialogue for that scene."
Michael: "I just wanted to make my role bigger."
4:50 When asked about his character's relationship with Danny McBride's character in the movie, Swardson jokes, "Danny and I play sisters. No, we play best friends. He is the mastermind of this whole thing. He wants to kill his dad and get the inheritance so that he can start up a tanning salon/brothel. You know?" All too well, Nick Swardson.
4:51 An audience member asks Swardson if he can switch Comic-Con lanyards with him. Swardson says, "No." Dejected audience member walks away from mic.
4:52 Someone asks Aziz about The Rise of the Dark Knight. "I saw the first fifteen movies this morning at the screening. [...] It was right at the end of the Inception 2 panel. You guys didn't see that?" Jokes!
4:55 Aziz on whether or not any of his scenes were cut: "There's a whole scene where I play a gorilla that wants to go to T.G.I. Fridays the whole time." [Referring to Zookeeper]
4:58 Michael on his character: "Nick and Danny hire [Aziz and Jesse] to rob the bank so that they can pay me to kill Danny's dad. I'm the assassin. The Satanic Hispanic."
5:01 Nick on using a flamethrower: "It's exciting when you read 'flamethrower' on the page and then you get to set and you're like, 'Holy sh*t. Get me out of here [...] Then Danny's throwing stuff at me and the flamethrower because he wants me to blow up. He thinks it would be a good outtake."
5:03 Aziz on filming the chase scenes with Jesse, "That was actually Jamie Foxx and they CGI-ed my face. He thought he was going to get a cameo but nope."
5:05 On Jesse's training for the role, Fleischer said, "Yeah some actors do ride-alongs with police for cop movies. Jesse did that with a pizza delivery guy for this."
5:06 Nick on what drew him to the part, "I was excited to play this because I didn't have to play, you know, a flaming gay homosexual on roller skates. I was excited to break out of that mold."
And so ends the 30 Minutes or Less portion of today's events. Next up, Total Recall.
5:08 Director Len Wiseman and stars Jessica Biel, Bryan Cranston, John Cho, Kate Beckinsale and Colin Farrell hit the stage.
5:10 Even though the film is only halfway through shooting, Wiseman wants to show the audience something so he brought a clip...Farrell walks down a dimly-lit alley and is ushered into a warehouse. He is about to get the whole Total Recall treatment by John Cho (Give us the fantasy, we'll give you the memory.") when Cho screams, "He's a spy." What appear to be two dozen storm troopers appear, move towards Farrell and he takes them all down. Cranston appears briefly as villain Vilos Cohaagen. Clip ends with Cranston saying, "You don't have the most reliable memory. Do you?"
5:17 As the lights come back on in Hall H, Cranston cracks, "That clip looks so good. I should read the script."
5:20 Cranston on his character: "I play Cohaagen, who is the benevolent leader of the real world, who is the center of the movie. The moral core. [...] I am very excited about this because I wanted to instill a compassion for him [that wasn't there in the first movie] and I think that's what makes him so much scarier. And more fun."
5:21 Beckinsale on her character, "I play Colin's lovely, understanding wife. Or not."
5:22 Wiseman on why he decided to remake Total Recall: "I read the script and like many people, wondered whether there should be a retelling. But I was really gripped by the direction the script went. [...] It was really the script, the direction it went and the tone it took."
5:24 Farrell on why he decided to star in the film: "I was taken with the idea that if something of a bigger scope came along than what I had been doing the past five years, I would do it. [...] I loved the original but thought that this was different enough. [...] Then Len showed me his drawings and I remember thinking, 'Holy shit, I could be part of that frame.'"
5:26 The moderator opens the panel up to audience questions. A Breaking Bad fan asks if Cranston will be just as "bad" on Total Recall. "I get to celebrate badness in Total Recall. Well, I go back. We're shooting more. And I'm so looking forward to breaking his heart. We're actually rewriting now so that I succeed."
5:29 Beckinsale reveals that she has never been more scared of filming a fight scene than she was filming with Biel because "having to throw an elbow at a $3 billion nose is terrifying."
5:31 A fan begins his question to Cranston by saying, "I'm sorry you won't be able to win your fourth consecutive Emmy for Breaking Bad. Cranston cuts him off with mock confusion and then angrily yells, "You're pissing me off!"
5:33 On how Cranston's perspective has not changed since he started getting such good roles: "This hasn't changed me at all. My butler still puts my pants on one leg at a time. We were talking about that with my limousine driver on the way over."
5:37 Beckinsale is asked whether she was intimidated to fill a role that Sharon Stone originally played and responds, "I am now. [...] I'm not trying to recreate it though in any way. [...] But I am doing [the Basic Instinct pose right now under the table."
5:40 Another question for fan favorite Cranston, this time about his approach to his characters. "To approach a character, you can't judge your character. You have to find the reasons why he or she is doing what he or she is doing so that you come in fully realized. Instead of playing the moustache-twisting bad guy, you want to have justification for what you're doing. So even though [my character] sends a lot of people to their death, they deserve it. [..] I know plenty of people that you'd like to just swoop down and remove from Earth. You can't do that though so you play them in the movies."
5:45 Yet another question for Cranston, this time asked by a fan in a scarf. "Before I answer, what is that snake around your neck. Is it cold here in San Diego or something?" he jokes.
5:45 The panel ends by Wiseman saying that he thinks the movie is coming out sometime in August of 2012.
The last panel of the day is The Amazing Spider-Man. Woohoo!
5:48 As soon as the Spider-Man title hits the screens overhead, the audience cheers.
5:54 The 3D trailer starts rolling: Lots of first-person building scaling. We feel like we're climbing walls and swinging across buildings.
5:56 After seeing the trailer, a guy in a cheap Spider-Man costume rushes to the mic. The moderator says, "No, no we're going to take questions at the end of the panel."
5:58 "No, no, I have a question," cheap Spider-Man says. "This is my dream, to be at Comic-Con as Spider-Man." He rips off his mask and it is Andrew Garfield!
6:00 After a fairly awkward preamble in which Garfield nervously talks about how excited he is (Is he still supposed to be acting like a jittery fan boy? A girl behind me groans, "This is like death. Can I forget this is happening?") Garfield continues, "This is definitely the coolest moment of my life and thank you for being here and sharing it with me."
6:01 Garfield introduces director Marc Webb, producers Avi Arad and Matt Tolmach and his co-star Emma Stone.
6:04 The panel begins with a 2D clip. Peter Parker being bullied in school, riding a skateboard, being disciplined by a faculty member for humiliating a peer. Martin Sheen (as Parker's Uncle Ben) yells at Parker in the hallway before embarrassing him in front of Gwen Stacy (Emma Stone). Awkward. Parker and Stacy share an adorably awkward moment in the hall. Parker: "Want to do something...or do something else?" Stacy: "Yeah, either one." Awww. Stone walks away and Parker skips out of the hallway. Another scene of Parker going through his father's briefcase, trying on his dad's glasses, looking at his dad's old ID card and pulling out a file of personal information, staring at it in wonder. "Your father was a very secretive man, Peter" says May Parker (Sally Field). The Rolling Stones "Street Fighting Man" kicks in for a montage of Parker realizing his power. He accidentally beats up a guy on the subway. He disciplining a car thief. He webs a criminal to the wall. The cuts quicken and finally the screen goes black and we hear May Parker warn, "Peter, secrets have a cost."
6:09 The panel throws to questions. A cute kid, baring a striking resemblance to Garfield, asks about Garfield's approach to a character. "We were such huge fans of the Tobey Maguire, Kirsten Dunst, Sam Raimi ones. That should be said. We're approaching this like it's Shakespeare, like a modern myth. [...] We want to watch these, our favorite characters on the big screen."
6:10 Stone on taking over the Dunst role: "I'm viewing it the same way. From a new perspective. I fell in love with Gwen Stacy but I can't play a character without making her my own a little bit. So hopefully it's okay that I'm playing her."
6:11 Stone said that she and Garfield "swung" while listening to "Dance Tonight" by Paul McCartney on set. "In case you guys are going to swing, Paul McCartney is great for it."
6:12 The cast also listened to a lot of Sleigh Bells on set. Whenever Garfield didn't have to prepare to speak with a thick Brooklyn accent, Webb would bring in huge speakers and play Sleigh Bells.
6:15 Surprise clip! Of the Lizard in 3-D. But first as the professor. Rhys Ifans starts out as Dr. Curt Connors at first. He watches his hand morph into a reptilian limb under a desk light. He shouts something outside at the moon, into the rain. Cut to two school girls burning a photo of an ex-boyfriend over a toilet in a public restroom.The toilet drops from the bathroom floor and The Lizard appears and sticks his reptilian tongue at one of the girls. Yes, The Lizard just made his Comic-Con debut through a toilet-shaped hole in the floor. Disappointing?
6:17 Another surprise: Rhys Ifans is here! He hits the stage and hugs Garfield. Spidey and the Lizard embracing!
6:19 Garfield talks about how "Peter designs [the web shooters] himself with his scientific genius. [...] He figures it out. It's pretty awesome how they get made and I think the design is pretty rad too."
6:21 A fan in elaborate Mad Hatter garb steps up to the mic and tells Emma that he is digging her bangs and then asks about the costumes because, "as you can tell, I'm kind of a costume freak."
6:23 Random thought from Andrew Garfield: "How great is it seeing a skinny guy beating the crap out of big guys?"
6:25 A fan declares Stone her favorite actress and asks, "How do you feel about being the new funny girl face of Hollywood? "Hey man, I'm just, to be honest with you, I'm just trying to be as present as possible. Right now, I'm sitting on the panel of Spider-Man at Comic-Con so that's how I'm feeling right now."
6:24 Some free life advice from Emma Stone: "If you love what you're doing, then all of that fear kind of has to just be set aside and you have to commit to what you're making. [...] As scary as it is, it's worth it."
6:25 On bringing humanity to his role, Ifans says, "You never bring humanity to a monster. Monsters bring us humanity."
6:26 A fan directs a question at Stone and Garfield who are too busy eating Hershey's Kisses to listen. "Can you repeat the question please?" asks Emma.
6:30 On whether or not Garfield conferred with Maguire about the role: "Every night, every night. He was like a hotline, a suicide hotline. [..] No, I spoke to him after but I did get an amazing message from him through Matt on the day that I got the news that I was taking on this [character] that is greater than him or me. [...] But I met him after and he's the best. I'm Team Tobey, Team Tobey totally."
Stone: "Me too."
6:32 On whether playing Gwen has affected Stone: "Gwen affected me in many ways. Professionally, it's the last thing I did so only time will tell."
6:33 Identical twins wearing Ghostbusters t-shirts ask Stone, "Now that you've appeared with both of the stars of The Social Network, why haven't you accepted our friend request?"
Stone: "Done. Don't believe what you hear. I don't have a Facebook. But if I did, I'd accept you in a heartbeat."
6:35 Last question. It's for Andrew. A girl asks for Garfield's name tag. She is promptly reprimanded by Comic-Con staff and booed by the audience. "Oh no, it's fine!" Garfield says, "It's fine. No boos. You can have it."
6:36 Stone says that she only had a minute and 30 seconds between finding out that she won the role and it being announced..."so that was crazy." She talks about how she had three weeks after filming The Help to prepare. Meanwhile Garfield's preparation was much more strenuous. If anyone sees the trainer who worked with him on the film, "punch him in the face for me."
And with those loving words, today's panels are over. Thanks for sticking it out with me!