REVIEW: Another Earth Isn't One You'd Want to Visit
A mindbending darling of this year's Sundance Film Festival, Another Earth arrives in theaters this week on a wave of laurelled adulation for its contributions to the cinema of science. And it's true -- there is a lot of science to be parsed and digested, to say nothing of the It-Girl phenomenon of leading lady/co-writer Brit Marling. That's all fine and good, except that there's not quite enough art.
Another Earth is ultimately just another less-accomplished entry in the booming cinema of catharsis, your average gorgeous-teen-astrophysicist-meets-schlubby-bereft-composer-whose-family-she-wiped-out-in-a-drunk-driving-accident-on-the-night-they-discovered-another-planet tale. Seriously. The film's Earth 2 is exactly what it sounds like, hovering there in the wintry horizon over Connecticut when comely manslaughterer Rhoda (Marling) is released from a four-year prison stint. She was supposed to have done that time at MIT. Now, though, she struggles to reassimilate into both a family and a society that seem to have passed her by, relocating a handful of celestial swag from her astronomy-drenched girlhood bedroom to an austere attic and taking a job as a high school custodian.
Rhoda tells her re-entry counselor that she doesn't want to be around too many people, and director/co-writer Mike Cahill complies as well, with disembodied voices and sounds from the cosmos that has abandoned her. Only one particular man's attention appeals to Rhoda: that of John Burroughs (played by William Mapother), a reclusive former composer and Yale professor who lost his pregnant wife and toddler son to Rhoda's drunken, stargazing malfeasance. She arrives on his doorstep offering a free housecleaning, to which he reluctantly submits. One session begets another, and another, and when she fails to confess their true connection despite every intention, thus commences Rhoda and John's slow -- and I mean slow -- dance to healing and, of course, romance.
Simply put, Another Earth is a fucked-up movie about fucked-up people whose fucked-up narcissism is compounded by the fucked-up pathology that a whole other version of their fucked-up lives is unfolding simultaneously on this conceivably not-fucked-up alternate Earth visible from the fucked-up telescope Rhoda assembles in John's own fucked-up attic. Oh, the synchronicity. Narrated interludes (from a man the press notes hasten to qualify as a former colleague of Carl Sagan's, because, you know, Carl Sagan, everybody) detail the theoretical underpinnings of this fucked-up paradigm, which really is little more than Sliding Doors for the Sundance/sci-fi set. If this is high-concept, then this year's other "Oops, I drove over a pregnant chick"/catharsis-cinema effort The High Cost of Living is a milestone worthy of Arthur C. Clarke.
Indeed, that earlier film's guilt-addled New York expat loses himself in a sensual, almost extraterrestrial Montreal awash in foreign cultures and freezing night. Not to impose too much of a comparison (though the films do basically share a story), but Cahill and Marling make the metaphor physical with an actual other planet to which Rhoda aspires to travel, one where the life truly meant for her is happening right now. Whatever. All the more rock to bang you on the nose with. Add to this the "Win a Trip to Earth 2!" contest Rhoda enters ("As a felon, I'm least likely to be qualified for a thing like this -- or perhaps I am the most likely...") and the mystical ancient Indian janitor whose doddering senility gives way to prophecy and an unfortunate encounter with bleach, and you've got a somewhat nauseating blend of sensitivity and entitlement -- sublime because it says so. By the time John engages Rhoda in Wii boxing and steals her off to serenade her with the mating call of his wood saw in the best acoustics known to New Haven (again, I'm not kidding), you'll want to shoot both of them into space.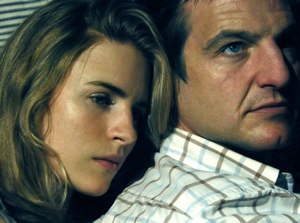 Alas, only one of them can go. Maybe, however, it should be Cahill: Groan-worthy as this material may be, it's his overwork as a director and cinematographer that fatally burden Another Earth. His strained compositions yield all the charm and elegance of a stamp pad; he deploys more zooms than a kung-fu flick. For all that has been made of Marling's ethereal blond beauty, she stalks and pouts and lilts through the film as little more than the muse she is. Mapother, too, lurches along behind his broad, sulky features. Together, they do inhabit a sort of awkward grace, as if transported from the art-house ghetto of '80s-era French cinema to that of contemporary independent American film. Without the narrative cushion for them or their characters to land on, however, their limited charm and resonance dies on impact with the screen.
Another Earth does propose a few intriguing side-effects of its titular quandary, including a media climate where the scourge of partisan politics has been supplanted by 24/7 astro-chat. Could you imagine? The film also features a fantastic last shot that's not worth spoiling here; you never know, maybe you'll catch it on cable someday. Suffice to say it's quite the exclamation point to the folly that precedes it, and a sign that the literal best of both worlds can still be a giant let-down.