Here's Your First Look at Lily Collins as Snow White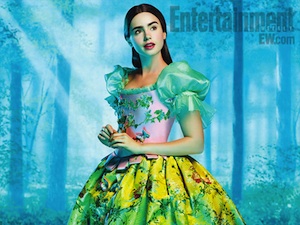 · The Tarsem Singh-directed version of Snow White (i.e., the one that doesn't include Kristen Stewart, Chris Hemsworth and a battalion of awesome British character actors) doesn't have a title just yet, but it does have a release date -- and a photo of Lily Collins in costume. The Relativity Media project is due out on March 16, 2012, and judging from the new pic, at least Snow White's costume is in order. Next stop: a name! Click through for a look, then stick around for more Buzz Break.
Click through to EW for a bigger look at Collins in costume.
· New York City yellow cabs are being phased out in favor of a new Nissan min-vans, giving The Guardian a chance to remember the history of the famed New York icon. Click through for a gallery of cabs -- yes, Taxi Driver and Taxi are included. [Guardian]
· The space shuttle program may have come to an end, but that doesn't mean cool pictures from space have to dry up. Here's a Wired gallery of some of your favorite sports venues... from space. [Wired]
· The lost roles of Anchorman is a must read for anyone who considers themselves a fan of Anchorman. I love lamp. [SplitSider]
· UFC president Dana White has banned Nicolas Cage's son Weston from ever fighting in the Octagon again. "I would never allow Weston Cage to set foot in a UFC ring after two domestic violence arrests." Now you know. [TMZ]