Which Avengers Co-Star Made Captain America's Chris Evans 'Giddy' On Set?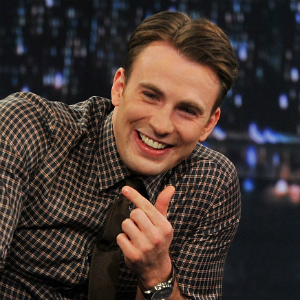 Speaking with press about this Friday's Captain America: The First Avenger, Chris Evans got to talking about his work on the Marvel super group pic The Avengers: How his costume's been updated, why he was initial commitment-phobic when pitched on the multiple film franchise, and most importantly, which of his Avengers co-stars dazzled him so much on set that he left the set walking on air. Who was the mystery movie star who charmed the charmer?
We'll get to that, but first, Evans discusses the difference between his Captain America suit and the updated version he'll wear in The Avengers:
"They each have pros and cons. This, the first Cap costume, is very cumbersome. It's thick and it's bulky, it's tough to do fight sequences in, but the cowl, the helmet, can come on and off at will. The current wardrobe is a bit different. The suit, the range of motion is fantastic, you can really get some good fight sequences in. It's a little bit more form-fitting. But the cowl, the hood, has some... changes that make it a little more difficult to get on and off."
Though he eventually overcame his qualms, Evans was initially hesitant to commit the next decade or so of his life -- and sacrifice his privacy -- to the Captain America role:
"It started out as a nine-picture and they dropped it down to a six-picture deal, but even six movies -- they could spread those out and it could be ten years. I could be doing this 'til I'm 40. That's a crazy thing to think about. I don't think anybody here could make a decision for the next ten years of your life. It's crazy. Movies, for me up until now, have been one at a time. If my passion shifted, if my search in life went somewhere else, I could go do that. This just meant you can't. That's scary. And the potential lifestyle change; I've been making movies for ten years but I can still go to a ball game. I can still go to Disney World. I can still live my life with relative ease and anonymity, and this movie could potentially change that, and that's scary too."
And finally, Evans waxed adorable on the generous, supportive Avengers co-star who left him utterly charmed -- Iron Man himself, Robert Downey, Jr.:
"He's so great. I can't say enough about him, I really can't. I didn't know what to expect going in to work with him. He's so talented and he's got so much charisma and persona. I can honestly say, of all the movie stars I've worked with, he's the one that when he comes on set, you really feel like, 'Man -- this guy's a movie star!' You just feel it. When he comes in a room he just owns the oxygen. He is a movie star, and he's been so great. So supportive, so positive. I had to do a scene with him the other day where I was just nervous, it was just me and him, and I was just terrified. It's Robert Downey Jr.! And he's just, you know, every little take he gives you a fist bump, a little thumbs up, and it just changes your whole day. It probably means nothing in his mind but I go back to my trailer, like, giddy. He really is something else."
Get more on Captain America: The First Avenger, in theaters Friday.