Bruce Campbell Confirms Evil Dead Remake Is Happening; May Have New Director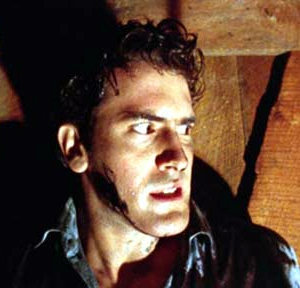 Talk of a fourth Evil Dead movie/Evil Dead remake has been around for a while, with little solid proof that the indie horror franchise would actually see new life. Until now: Following an online report that editor Bob Murawski was heading to Detroit to start working on the project, Bruce Campbell -- Ash himself -- has Tweeted confirmation that the project is on its way to fruition.
Responding to a skeptical fan, Campbell (whose new Twitter account, @GroovyBruce, was verified by his official website) Tweeted the following:
"Believe in the remake, dawg! The project is real. In the works. Cool as hell. Scary as hell."
The original Evil Dead debuted 30 years ago, spawned sequels Evil Dead II and Army of Darkness, and was adapted into a stage musical. Director Sam Raimi, who's busy with Oz: The Great and Powerful, will be on board producing; Campbell previously hinted that he may have a role in the film ("I will be one of the producers and possibly play the milk man").
Meanwhile, Bloody Disgusting reports that Uruguayan filmmaker Fede Alvarez has landed in the director's chair. Back in 2009, Alvarez signed with Raimi's Ghost House Pictures based on the strength of his low-budget YouTube hit short, Panic Attack!
[via DreadCentral, @GroovyBruce, BloodyDisgusting]