Which Former Donkey Kong World Champ Inspired Colin Farrell's Horrible Bosses Character?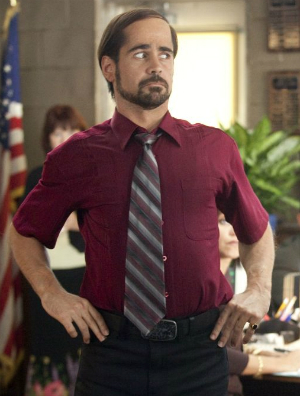 As Jason Sudeikis's coke-snorting, kung fu-practicing, pot-bellied new supervisor in Horrible Bosses, which notched an impressive number 2 box office slot last weekend, second to Michael Bay's 3-D robotstravaganza Transformers: Dark of the Moon, Colin Farrell is a revelation of douchebag assholery, the last person you'd want above you in the workplace food chain. (Well, one of them.) But which former gaming world champion deserves credit for loosely inspiring portions of Farrell's characterization -- and could Farrell portray this muse one day on the big screen?
Director Seth Gordon shared the tale of Farrell's Horrible Bosses transformation Sunday night at the Arclight Cinemas in Hollywood, where I moderated a post-screening Q&A alongside Digital LA's Kevin Winston. As it happens, Gordon worked with Farrell to develop the terrible, swaggering, offensive-in-almost-every-way Bobby Pellitt with a little help from his own documentary The King of Kong: A Fistful of Quarters.
"When I first met Colin, he wanted to disappear into the character," Gordon explained to a packed theater. "We talked about a bald cap, we talked about a belly, we had those prosthetics made for him, just to see. That wasn't scripted, nor was the kung fu. It was just a very dynamic, creative process."
"When he put those prosthetics on, he literally changed," he continued. "I'd also shown him a doc I did, The King of Kong, and there's a guy in the movie who's got this amazing hair, and who walks with a cockiness that's frozen in time from the '80s. I think that really informs the posturing that Bobby does."
Amazing hair? Surefire cockiness? Gordon could only be talking about one man: Billy Mitchell, the former Donkey Kong champion of the world and one of the main subjects of Gordon's documentary.
"Billy Mitchell," Gordon confirmed, admitting that he'd consider Farrell to portray Mitchell in New Line's upcoming feature adaptation of The King of Kong. "I think [Farrell] brought such fun to that role. That definitely occurred to me, watching that."
While Mitchell inspired Farrell's horrible boss, Gordon also gave a nod to The King of Kong's de facto hero Steve Wiebe, the family man who would eventually steal Mitchell's Donkey Kong title in what remains the arcade gaming community's most famous ongoing rivalry. Eagle-eyed King of Kong fans can spot Wiebe in a brief cameo in the opening scenes of Horrible Bosses.
"He had the third shot," Gordon explained. "I try to put him everything because he's just great to have around, he's such a great guy. He's the character that [Kevin] Spacey threatens to fire unjustly -- that just felt like the right place for Wiebe."
In the interest of fairness, did Gordon offer Mitchell a similar cameo? "Billy won't return any phone calls," said Gordon. "He says he still hasn't watched the documentary. His cell phone is 1-800-HOT SAUCE, if any of you want to call. But he won't answer phone calls from 310, 323, 626, 213 area codes, any of the area codes loosely associated with us, because Hollywood is evil. Hollywood, Florida is not evil, that's where he is. But our Hollywood is evil, according to him."