Is Kevin James the New Chris Farley?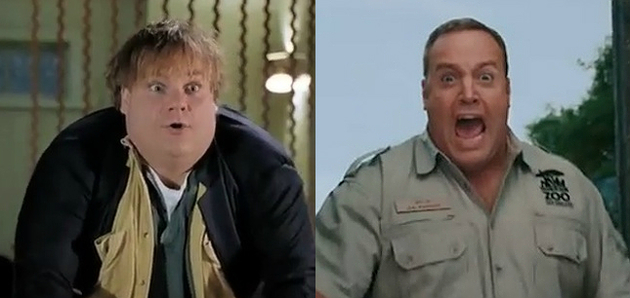 I didn't make the rules, girls, but it appears that Kevin James has reached a point in his career where he can look back and say, "I'm like if Chris Farley had it together!" I'm going to get out this comparison's way and let the late SNL star and Zookeeper topliners' careers speak for themselves.
August beginnings in live comedy
Just as Chris Farley first gained notoriety on the stage at Madison's Ark Improv Theatre and Chicago's Improv Olympic and Second City, Kevin James kicked off his career with a very respected standup act. The future Zookeeper made countless appearances on the late-night talk circuit, and Comedy Central even anointed James as one of their 100 Greatest Stand-Ups of All Time. Here's Farley talking with Jay Leno about conceiving SNL characters at Second City, followed by a medley of bits from James' standup special Sweat the Small Stuff. The jetski bit is still a winner.
A knack for playing harmless firebrands
It's fair to say that Chris Farley and Kevin James both their careers to that ineffable brand of wild, comic overreaction. In the still-hysterical "Gap girls" skit from SNL, Farley vaulted from prissy immaturity to Gorgon-like howls; on The King of Queens, James's transformations weren't as extreme, but they were no less a switch from "rational straight-man" to "infuriated, overly convicted blowhard."
A love of choreographed gyrations
In Farley's most well-known SNL sketch, Farley gyrates, undulates, and convulses alongside Patrick Swayze at a Chippendale's audition. It's hard not to flash back to that skit as you watch Kevin James gyrate, undulate, and convulse in this (unembeddable) Backstreet Boys parody of "Larger Than Life" from Canada's Just for Laughs.

Patrick Swayze & Chris Farley : Chippendales by tartenpion333
Movie careers built on characters with wacky jobs
California ninjas and 19th century frontiersmen! Mall cops and zookeepers! Whether you think Farley or James is the more versatile, inherently funny actor, there's no denying that their contributions to film depended on broad occupational roles. They even share some animalistic overlap; in Almost Heroes, Farley famously tangled with an aerie full of eagle eggs, and in Zookeeper, James dares to tangle with a lion played by Cher. Equally fearsome creatures, obviously.