How Many Oscar-Winners Will Topline Comic-Con's Day 2 Line-up?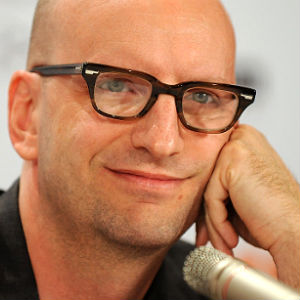 Breaking Dawn highlighted yesterday's announcement of the Day One schedule for Comic-Con, but today's unveiling of Day Two's line-up promises even more star wattage in Hall H. Among the talent making appearances in support of upcoming projects: John Cusack, Steven Soderbergh, Jeff Bridges, Alex Proyas, Guillermo del Toro, Colin Farrell, Kate Beckinsale, Nicolas Cage, and Andrew Garfield. Hit the jump to see how many award nominees and Oscar winners will come through the geek event on Friday alone!
William Shatner kicks off the day with a presentation of his documentary Star Trek: The Captains, moderated by Kevin Smith. Then, John Cusack rolls through Comic-Con -- which takes place every year in San Diego, if you didn't know -- with Relativity's Raven, in which he portrays Edgar Allen Poe. Steven Soderbergh follows with his action pic Haywire, with MMA fighter-turned-movie star Gina Carano in tow.
The afternoon continues as Legendary Pictures brings in the stars and filmmakers of Pacific Rim, Seventh Son, Paradise Lost, and Mass Effect, including Guillermo del Toro and Alex Proyas; Kate Beckinsale and Co. present Underworld 4 (newsflash: they made an Underworld 4); and Craig Gillespie brings the stars of his Fright Night remake.
But it's Sony who looks to own Friday at the Con, with a star-filled line-up of upcoming films Ghost Rider: Spirit of Vengeance, 30 Minutes or Less, Total Recall, and The Amazing Spider-Man.
By my count that makes at least three Golden Globes winners and/or nominees and four Oscar winners and/or nominees (and, ahem, a few Razzie honorees) in the span of one afternoon at Comic-Con -- not bad for a gathering known better as the genre nerd gathering of the year. Film-related highlights for Friday below.
10:15-11:15 Star Trek: The Captains -- William Shatner is joined by fellow Star Trek captain Avery Brooks to present a preview of the EPIX Pictures original documentary produced and directed by Shatner, in which he travels the world to interview all the actors who've played Starfleet captains. This lively discussion and Q&A session is moderated by Comic-Con fave Kevin Smith. Room 6BCF
12:00-1:00 ASIFA/Hollywood's State of the Animation Industry -- What do pros think of the animation scene today? Will it all go 3D? Is 2D dead? When is a hybrid VFX flick an animated flick? How do I get my first job? Join Tom Sito (Lion King, Hop), Ken Duncan (Tarzan), Allen Battino (The Smurfs), Sean Petrilak (KFP TV show), Kevin Grow (Resistance: Fall of Man), and Brittany Biggs (KFP II) and get in on the discussion! Room 32AB
12:15-1:15 Relativity Media: Raven and Haywire -- Two fantastic films from Relativity Media debut in this Hall H presentation.
Raven -- The film is a gritty thriller in which Edgar Allan Poe joins forces with a young Baltimore detective to hunt down a mad serial killer who's using Poe's own works as the basis for a string of brutal murders. Raven stars John Cusack as Edgar Allan Poe, Luke Evans, and Alice Eve and is directed by James McTeigue.
Haywire -- An electrifying tale of espionage and betrayal. A female covert ops specialist who works in the deadly world of international operatives strikes back after discovering she's been double-crossed by someone close to her in the agency. Mixed martial arts superstar Gina Carano makes her feature film -- and Comic-Con -- debut, starring and performing her own high-adrenaline stunts. Also appearing is director Stephen Soderbergh. Hall H
12:45-1:45 Legendary Pictures: Preproduction Preview -- Legendary Pictures holds its first-ever Comic-Con panel and shares an early look at some of the movies on the company's upcoming film slate. Fans will be able to access Legendary's plans, garner sneak peeks at their movies in preproduction, and hear from filmmakers and cast members from the upcoming Pacific Rim, Seventh Son, Paradise Lost, and Mass Effect. Panel participants include Jeff Bridges, Bradley Cooper, Guillermo del Toro, Ben Barnes, Charlie Hunnam, Idris Elba, Alicia Vikander, Alex Proyas, Sergei Bodrov, Travis Beacham, Mark Protosevich, and Casey Hudson. Room 6BCF
1:30-2:30 Screen Gems: Underworld 4 -- Underworld 4 brings a stunning new dimension to the epic battle between Vampires and Lycans as the first film in the franchise to shoot in 3D. Kate Beckinsale, star of the first two films, returns in her lead role as the vampire warrior Selene, who escapes imprisonment to find that humans have discovered the existence of both Vampire and Lycan clans and are conducting an all-out war to eradicate both immortal species. Appearing in person are Kate Beckinsale, Michael Ealy, Len Wiseman (producer and director of Underworld and Underworld: Evolution), and directors Mans Marlind and Bjorn Stein. Hall H
2:45-3:45 DreamWorks: Fright Night -- Colin Farrell (The Way Back), Anton Yelchin (Star Trek), Christopher Mintz-Plasse (Superbad), Imogen Poots (Jane Eyre), Dave Franco (Charlie St. Cloud), director Craig Gillespie (Lars and the Real Girl), and screenwriter Marti Noxon (I Am Number Four) take the dais to give fans a taste of the horrific fun to come in DreamWorks Pictures' 3D reimagining of the classic horror film. Hall H
3:30-4:15 The Military in Film -- The Armed Forces of the United States have been featured in film and television over the last century. How does the real military support the entertainment industry? U.S. Army Lt. Colonel John Clearwater (Avengers, Hawaii Five-O), U.S. Marine Corps Lt. Colonel Jason Johnston (Battle: Los Angeles, Avatar), U.S. Navy Lt. Michael Smith (Battleship, NCIS), U.S. Air Force Lt. Colonel Francisco "Paco" Hamm (Transformers, Iron Man 2), and U.S. Coast Guard Commander Sean Carroll (The Adjustment Bureau, Deadliest Catch) offer an in-depth discussion and Q&A session. Moderated by U.S. Air Force veteran Jon Huertas, actor on ABC's Castle and HBO's Generation Kill and chairman for SAG Armed Forces Task Force. Marriott Hall 2, Marriott Marquis & Marina
4:00-6:30 Sony -- Sony returns to Hall H with a stellar lineup of films and talent, including:
Ghost Rider-Spirit of Vengeance -- After blazing a trail around the globe in the worldwide hit Ghost Rider, Nicolas Cage returns as Johnny Blaze in Columbia Pictures' Ghost Rider-Spirit of Vengeance. Still struggling with his curse as the devil's bounty hunter, Blaze is hiding out in a remote part of Eastern Europe when he is recruited by a secret sect to save a young boy (Fergus Riordan) from the devil (Ciaran Hinds). At first, Johnny is reluctant to embrace the power of the Ghost Rider again, but it is the only way to protect the boy -- and possibly rid himself of his curse forever. Live on stage: directors Mark Neveldine and Brian Taylor (Crank) and stars Nicolas Cage, Idris Elba, and Johnny Whitworth.
30 Minutes or Less -- From Ruben Fleischer, the director of Zombieland, comes the action comedy 30 Minutes or Less. In the movie, Nick (Jesse Eisenberg of The Social Network and Zombieland) is a small town pizza delivery guy whose mundane life collides with the big plans of two wannabe criminal masterminds (Danny McBride and Nick Swardson). The duo kidnap Nick and force him to rob a bank. With only a few hours to pull off the impossible task, Nick enlists the help of his ex-best friend, Chet (Aziz Ansari). As the clock ticks, the two must deal with the police, hired assassins, flamethrowers, and their own tumultuous relationship. Talent in attendance includes director Ruben Fleischer and stars Aziz Ansari, Nick Swardson, and Michael Peña.
Total Recall -- Welcome to Rekall, the company that with one little implant can turn your dreams into real memories. For a factory worker named Doug Quaid (Colin Farrell), the mind-trip sounds like the perfect vacation from his ordinary existence. But when the procedure goes horribly wrong, Quaid becomes a hunted man. With the line between fantasy and reality blurred and the fate of his world hanging in the balance, Quaid goes on the run to discover his true identity, his true love, and his true fate. Based on Philip K. Dick's classic story "I Can Remember It for You Wholesale," this new take on some of his most visionary ideas is directed by Len Wiseman and stars Colin Farrell, Kate Beckinsale, Jessica Biel, Bryan Cranston, and John Cho, all of whom will be appearing.
The Amazing Spider-Man -- The Amazing Spider-Man is back on the big screen, shot in 3D for the first time, and will be swinging into your neighborhood on July 3, 2012. Starring Andrew Garfield, Emma Stone, Rhys Ifans, Denis Leary, and Martin Sheen, as well as Sally Field, and directed by Marc Webb, The Amazing Spider-Man's new creative team will be taking a whole new direction in the unfolding saga of everyone's favorite web-slinger. Appearing in person are producers Avi Arad and Matt Tolmach, director Marc Webb, and our own Peter Parker and Gwen Stacy -- Andrew Garfield and Emma Stone. Hall H
4:15-5:00 Independent Filmmakers Postproduction Panel Discussion-- You may know Avid as the company that makes the tools used to create your favorite feature films, TV shows, and music: Media Composer and Pro Tools. In a crazy (yet practical) twist, the folks at Avid have decided to make a movie of their own. The result: Agent MX Z3RO, a 15-minute indie movie that's meant to be a fun throwback to the '70s "shoot-em-up" action spy genre -- think Eastwood meets Connery. Why'd they do it? Mainly because it's difficult to secure demo material that they can use -- without restriction -- to teach filmmakers and postproduction pros the same tools and workflows used across the industry to help them succeed. Meet the director/writer, producer/writer, film editor, and sound supervisor who created the film. Join the discussion about the challenges facing indie filmmakers. and get some information about the tools and tips that can make your project look and sound the best it can be and ultimately more successful. Marriott Hall 2, Marriott Marquis & Marina
6:45-7:30 At the Drive-In -- Come with us now to those thrilling days of yesteryear when one of the few places you could see some offbeat genre films and a slew of trailers was at your local Drive-In. We're trying something new at Comic-Con this year by giving some up and coming genre filmmakers an evening berth to preview their upcoming films. So as San Diego gets darker tonight, so will Hall H as we welcome our first guests to the Virtual Drive-In:
Grave Encounters -- Locked in an actual abandoned mental hospital, the crew of a ghost-hunting reality show find themselves trapped in a psychotically endless and deadly labyrinth. Written and directed by The Vicious Brothers, Grave Encounters, which premiered at the Tribeca Film Festival earlier this year, takes the found footage horror genre to a terrifying new level. Appearing on stage: The Vicious Brothers.
Tucker & Dale vs. Evil --Tucker and Dale are two best friends on vacation at their dilapidated mountain house, who are mistaken for murderous backwoods hillbillies by a group of obnoxious, preppy college kids. When one of the students gets separated from her friends, the boys try to lend a hand, but as the misunderstanding grows, so does the body count. Tucker & Dale Vs Evil has been a hit on the festival circuit, debuting at Sundance, and winning the Midnight Audience Award at SXSW, the Jury Prize for First Feature at Fantasia, the Best Director award at Fantaspoa, and the Best Motion Picture Award at Sitges. Confirmed panelists include Eli Craig, Alan Tudyk, and Tyler Labine.
Hall H
7:00-8:00 Sushi Girl -- Sushi Girl chronicles the story of five friends who reunite six years after a diamond-job-gone-wrong to eat sushi off a naked girl. Sure enough, the thieves can't help opening old wounds in an attempt to find their missing loot, and all mayhem ensues. This film marks the return to the big screen for Mark Hamill (Star Wars) and Noah Hathaway (Neverending Story) and also features cast members Tony Todd (Candy Man), James Duval (Donnie Darko), Andy Mackenzie (Shoot 'Em Up), David Dastmalchian (The Dark Knight), and Cortney Palm (Sunday Morning High). The legendary Sonny Chiba (Kill Bill) also stars. Kern Saxton (Deader Living Through Chemistry) directed and co-wrote with Destin Pfaff (Millionaire Matchmaker). Producers Neal Fischer (Fight Club) and Suren Seron (Forever Plaid) and moderator Ted Stryker (KROC) round out the panel. Meet the entire cast and creators and witness the world premiere of the official trailer, followed by Q&A session. Room 25ABC
8:00-10:00 World Premiere: Batman: Year One -- Warner Home Video, Warner Premiere, DC Entertainment, and Warner Bros. Animation proudly present the World Premiere of Batman: Year One, the highly anticipated next entry in the ongoing series of DC Universe Animated Original Movies. Based on the landmark 1987 DC Comics titles from 12-time Eisner Award winner Frank Miller and illustrator David Mazzucchelli, Batman: Year One depicts young Bruce Wayne's return to Gotham City in his first attempts to fight injustice as a costumed vigilante. The playboy billionaire chooses the guise of a giant bat to combat crime, creates an early bond with a young Lieutenant James Gordon (who is already battling corruption from inside the police department), inadvertently plays a role in the birth of Catwoman, and helps bring down a crooked political system that infests Gotham. When the film ends, stay in your seats for a lively panel discussion amongst voice cast members Ben McKenzie (Southland), Eliza Dushku (Dollhouse, Buffy the Vampire Slayer), and Katee Sackhoff (Battlestar Galactica), executive producer Bruce Timm (DCU films), directors Lauren Montgomery (Superman/Batman: Apocalypse) and Sam Liu (All-Star Superman), and casting/dialogue director Andrea Romano (DCU films). Moderator Gary Miereanu will offer a first glimpse into the 2012 DC Universe Animated Original Movies slate, give away some exclusive prizes to inquisitive audience members, and quite possibly introduce a few surprise guests. Warner Home Video will distribute Batman: Year One on Blu-ray and DVD, OnDemand and For Download on October 18, 2011. Ballroom 20
10:00-12:00 Spike & Mike's Sick and Twisted -- The venerable duo Spike & Mike present for your crude and vulgar pleasure The Gauntlet of Sick and Twisted Animation. Vote on the new Sick & Twisted films...love them or hate them! Throw your inhibitions out the window and see the craziest, sickest, brain-slapping animated shorts the world has to offer. Highlights this year include a new Happy Tree Friends episode, Daisy, The Pig Farmer (a true masterpiece by one of the creators of Ren & Stimpy), and Bloody Date from Japan. Trevor Groth, director of programming at the Sundance Film Festival says, "The notoriety of Spike and Mike has caused them to be dubbed the kings of tasteless toons by animation industry giants." Room 6BCF
Get the full Friday line-up at the official Comic-Con website.