Gerad Butler's Machine Gun Preacher Picked Up For Early Awards Season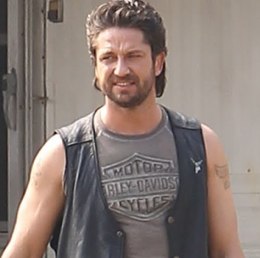 Relativity Media sends word today that it has acquired Machine Gun Preacher, the Marc Forster-directed, Gerard Butler-starring biopic about a drug dealer-turned-man of God who becomes a crusader for refugee children in East Africa. And thus did the studio -- with its Sept. 23 limited release date (and presumed Toronto Film Festival debut) -- and its partners at Lionsgate enter the awards hunt. Full details about the film and its rollout are below.
Forster has directed awards-caliber performances before, calling "Action" for Halle Berry's Oscar-winning turn in Monster's Ball and for Johnny Depp's Oscar-nominated work in Finding Neverland. His last foray into awards-season contention actually ended better than anyone remembered, with his 2007 adaptation of The Kite Runner taking home the Oscar for Best Score (thought it was notably DOA in the prestige categories, lost in the shadow of There Will Be Blood at Paramount Vantage). Stay tuned for more on this one as events (and/or clips and trailers) warrant.
====
(Beverly Hills, CA) July 7, 2011 - Relativity Media announced today that it has acquired North American rights from Lionsgate to theatrically market and distribute Machine Gun Preacher. Directed and produced by DGA and Golden Globe®-nominee Marc Forster (Finding Neverland, Monster's Ball) and written by Jason Keller (Relativity's Untitled Snow White Project), the film stars Gerard Butler (300) in a tour de force performance and will release in Los Angeles and New York on September 23, 2011. The film will expand markets in the weeks to follow. Lionsgate will continue to oversee international distribution on the film, working in partnership with Relativity.
The film also showcases powerful performances by an ensemble cast, including Michelle Monaghan (Due Date), Kathy Baker (Cold Mountain), Oscar®-nominee Michael Shannon (Revolutionary Road), Madeline Carroll (The Spy Next Door) and breakout actor Souleymane Sy Savane (Goodbye Solo).
Machine Gun Preacher is based on the true story of Sam Childers, a former drug-dealing criminal who finds faith leading him on a path to East Africa. Shocked by the mayhem in Sudan, Childers becomes a crusader for hundreds of refugee children. Inspired to create a safe haven for the multitudes fleeing enslavement by the brutal Lord's Resistance Army, he restores peace to their lives and eventually his own.
Producing are Relativity's Robbie Brenner, Safady Entertainment's Gary Safady and Craig Chapman, and GG Filmz's Deborah Giarratana.
"This is a powerful story, and we feel strongly that it is one audiences need to see. Forster once again proves that he is among the best directors of our time and Butler delivers a career-defining performance bolstered by a rock solid supporting cast," says Relativity's President of Worldwide Production, Tucker Tooley.
"The film is blessed to have two passionate partners in Relativity and Lionsgate. I'm excited to be working with both companies to bring the incredible story of Sam Childers to the world. I'm really proud of my cast, and all of their hard work in making this movie that means so much to all of us personally," said Forster.
"We have a longstanding relationship with Marc, and given that together we felt it was best for the film to be released domestically this year, we are very happy that Relativity is able to handle it," says Mike Paseornek, Lionsgate's President of Motion Picture Production and Development.
###