Breaking Dawn Will Pack 'Em in Early and Other Fanboy-Friendly Comic-Con Updates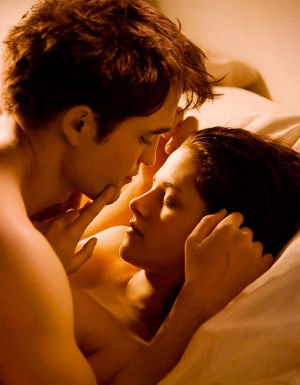 For fanboys, a sigh of relief; the just-announced schedule of events for Thursday at this year's Comic-Con will slate ladies first, generally speaking, as The Twilight Saga: Breaking Dawn holds its presentation early in the day, thus allowing for thousands of sweaty non-Twilighter geeks to pack Hall H in time for their most-anticipated panels. Official Breaking Dawn panel times and more from Thursday's schedule after the jump!
Summit's Breaking Dawn panel will take place from 11:15 a.m. to 12:15 p.m. in Hall H, with filmmakers and possibly all three leads in attendance to unveil exclusive footage from the November release. Will K-Stew, R-Pattz, and Taylor Lautner show up again to incite deafening screams and test fire safety capacity numbers in Comic-Con's biggest forum? It seems likely, but is still unconfirmed. Either way, Twi-hards are expected to camp out in line overnight to be first into Hall H.
The move is smart on Comic-Con's organizers' part, as scheduling Twilight first should alleviate fanboy concerns that Twilight fans will suck up all the space in Hall H before other big studio presentations of the day -- which include Sony Pictures Animation's panel (Arthur Christmas, The Pirates! Band of Misfits), FilmDistrict's double team of Don't Be Afraid of the Dark and Nicholas Winding Refn's Drive, 20th Century Fox's as-yet unnamed titles, Robert Rodriguez's Quick Draw Productions line-up, and EW's annual Visionaries panel, this year featuring Guillermo del Toro and Jon Favreau in conversation.
Meanwhile, yours truly will be in Room 5AB from 4:00 p.m. to 5:00 p.m. on Thursday, July 21, participating in the annual Masters of the Web panel alongside online writers Peter Sciretta (Slashfilm.com), Anne Thompson (Thompson on Hollywood), Scott Beggs (Film School Rejects), Sasha Perl-Raver (Movieweb), Vic Holtreman (ScreenRant), Jenna Busch (Moviefone), Mike Sampson (JoBlo), and John Campea (AMC Theatres).
More details as Comic-Con International rolls out their daily program of events! For now, scroll through film highlights set for Day One at the convention.
10:00-11:00 TheOneRing.net: Hobbit Talk -- From the decade-old and perhaps most influential fan site on the Interwebs (and a consistent breaking news source), staff vets Clifford Broadway (Quickbeam) and Larry D. Curtis (MrCere) take a good, hard look at the latest from the two Hobbit films' production. Since this isn't a studio affair, you'll get the street-level latest (authorized and unauthorized) as well as spy reports, rumors, and even informed opinions. Surprise guests are a possibility; audio and visuals are a given with a Q&A and all sorts of fun. Room 7AB
10:30-11:30 Spotlight on Joyce Brabner -- Is she the glacial, humorless activist as portrayed in the film American Splendor or just the person who published the first comic on the Internet? Come hear Comic-Con special guest Joyce Brabner talk about her latest projects, including finishing the work of her late husband Harvey Pekar and dealing with his legacy. Room 8
11:15-12:15 The Twilight Saga: Breaking Dawn Part 1 -- Summit Entertainment presents a sneak peek at the highly anticipated next chapter of The Twilight Saga. This is a must see for fans interested in the story's final chapters. You'll see exclusive footage from The Twilight Saga Breaking Dawn Part 1 and be treated to a filmmaker and cast Q&A session providing details on the first half of the epic two-part finale. Hall H
12:15-1:00 Focus on Rick Baker -- The multi-Oscar winning master of makeup effects will take us on an overview of his remarkable career with a special emphasis on his work with director Barry Sonnenfeld on Men In Black 1 & 2, as well as a first look at some of his creatures and makeup for the upcoming Men In Black 3. Appearing on stage: Rick Baker in conversation with Geoff Boucher of the Los Angeles Times' Hero Complex. Indigo Ballroom, Hilton San Diego Bayfront
12:45-1:45 Animation Showcase -- Sony Pictures Animation plunges Hall H into a 3D animation universe with previews of upcoming films with Aardman, the home studio of Wallace and Gromit, as they make their first trip across the pond to Comic-Con to present a first look at two of their upcoming animated feature films:
Arthur Christmas -- The 3D, CG-animated family comedy Arthur Christmas, an Aardman production for Sony Pictures Animation, at last reveals the incredible, never-before seen answer to every child's question: "So how does Santa deliver all those presents in one night?" The answer: Santa's exhilarating, ultra-high-tech operation hidden beneath the North Pole. But at the heart of the film is a story with the ingredients of a Christmas classic -- a family in a state of comic dysfunction and an unlikely hero, Arthur, with an urgent mission that must be completed before Christmas morning dawns. Producer Peter Lord and co-writer Peter Baynham discuss the animated film.
The Pirates! Band of Misfits -- In the 3D, stop motion-animated The Pirates! Band of Misfits, Hugh Grant, stars in his first animated role as the luxuriantly bearded Pirate Captain -- a boundlessly enthusiastic, if somewhat less-than-successful, terror of the High Seas. With a rag-tag crew at his side (Martin Freeman, Brendan Gleeson, Russell Tovey, and Ashley Jensen), and seemingly blind to the impossible odds stacked against him, the Captain has one dream: to beat his bitter rivals Black Bellamy (Jeremy Piven) and Cutlass Liz (Salma Hayek) to the much coveted Pirate Of The Year Award. It's a quest that takes our heroes from the shores of exotic Blood Island to the foggy streets of Victorian London. Along the way they battle a diabolical queen (Imelda Staunton) and team up with a haplessly smitten young scientist (David Tennant), but never lose sight of what a pirate loves best: adventure! Director/producer Peter Lord will be live on stage to talk about the movie. Hall H
2:00-3:00 Napoleon Dynamite -- Original cast members from the hit indie film including Jon Heder, Tina Majorino, Efren Ramirez, Jon Gries, Sandy Martin, Diedrich Bader and executive producer Mike Scully (The Simpsons) present a new series following your favorite awkward teenager like you've never seen him before -- animated! Join us for a sneak peek at never-before-seen footage of the newest member of FOX's Animation Domination lineup and a "sweet" Q&A session. Room 7AB
2:00-3:00 Bill Plympton: Independently Animated -- Two-time Oscar nominee Bill Plympton (Mutant Aliens, I Married a Strange Person) celebrates the release of the new Rizzoli Press book Independently Animated: Bill Plympton, about the life and art of the King of Indie Animation. Also, Bill will discuss the recent release of his animated feature Idiots and Angels on DVD, screen some of his recent short films, and present a sneak peek at what he's working on next, including The Flying House, a remastering of a classic Winsor McCay film. Everyone who attends will receive a free Bill Plympton autographed drawing! Room 25ABC
2:00-3:00 FilmDistrict Studio Panel -- FilmDistrict, the new studio that brought you Insidious, celebrates two upcoming features: Don't Be Afraid of the Dark, a Guillermo Del Toro production starring Katie Holmes and Guy Pearce, and Drive, directed by Nicolas Winding Refn, starring Ryan Gosling, Carey Mulligan, Ron Perlman, and Christina Hendricks. Exclusive footage will be presented and a Q&A will be held for both films. Hall H
2:00-3:00 Warner Premiere: H+ and Mortal Kombat: Legacy -- From producer Bryan Singer (X-Men, X2, X-Men: First Class, Superman Returns) comes a Comic-Con exclusive first look at H+, the forthcoming Warner Premiere/Dolphin Entertainment web series directed by Stewart Hendler (Sorority Row) and written and created by John Cabrera and Cosimo De Tommaso. H+ takes place in a near-future world where a tiny and stunning new piece of technology lies at the center of a dark and epic mystery. Then, Mortal Kombat: Legacy, a hit web series with over 35 million views, takes the stage for a panel discussion with director Kevin Tancharoen (Mortal Kombat: Rebirth), Jeri Ryan (Star Trek: Voyager), Michael Jai White (The Dark Knight), Darren Shahlavi (Sanctuary), Peter Shinkoda (Falling Skies), and Matt Mullins (Kamen Rider: Dragon Knight). Fans will see -- for the first time -- the long-awaited final Mortal Kombat: Legacy episode! Indigo Ballroom, Hilton San Diego Bayfront
3:15-4:30 20th Century Fox -- At past Comic-Cons, 20th Century Fox has previewed Independence Day, X2, Avatar, and X-Men Origins: Wolverine. You won't want to miss the excitement this year, as Fox presents first-looks at some of its most-anticipated pictures of 2011 and 2012. Hall H
4:00-5:00 Masters of the Web -- Some of the most prominent and influential film pundits on the web discuss the film industry, writing for film online, film fandom, and a whole lot more. Panelists include Peter Sciretta (Slashfilm.com), Anne Thompson (Thompson on Hollywood), Jen Yamato (Movieline.Com), Scott Beggs (FilmSchoolRejects.Com), Sasha Perl-Raver (Movieweb.com), Vic Holtreman (Screenrant.Com), Jenna Busch (Moviefone), and Mike Sampson (JoBlo.Com), hosted by John Campea (AMC Theatres). Room 5AB
4:45-5:45 Robert Rodriguez's Quick Draw Productions -- Be the first to get a sneak peek at Robert Rodriguez's upcoming films. Robert presents Quick Draw's new slate featuring special guest collaborators. He will also show exclusive material from his latest top-secret project. Hall H
5:00-6:00 Harry Potter Fandom Panel -- The final Harry Potter film is in theaters now -- how many times have you seen it? How many times have you read the books, written or read fanfic, checked out fanart, macros, fanfilms, musicals, and vids, listened to Wrock, played Quidditch or watched a game, or participated in the terrific projects organized by the HP Alliance? Have you visited Pottermore, the Wizarding World of Harry Potter, or the traveling Harry Potter Exhibition? Where has the Harry Potter fandom been, and where are they flying to next? Melissa Anelli (The Leaky-Cauldron.org, Harry - A History), Kathryn Mudgway (International Quidditch Association), Joey Richter ("Ron" in A Very Potter Musical/Sequel), Andrew Sims (Mugglenet, Hypable.com), Andrew Slack (TheHPAlliance.org, Imagine Better), and moderator Heidi Tandy (FictionAlley, Ascendio2012/HPEF) discuss all this and more. Room 25ABC
6:00-7:00 Entertainment Weekly: The Visionaries: A discussion with Jon Favreau and Guillermo del Toro on the Future of Pop Culture -- EW moderates an in-depth conversation with Jon Favreau (Cowboys & Aliens) and Guillermo del Toro (Don't Be Afraid of the Dark), two filmmakers at the forefront of bringing geek culture to the masses and making blockbuster art out of pulp fiction. They will discuss their inspirations, their current work, and how they strive to put a personal stamp on blockbuster entertainment. Plus: How is new technology changing the way stories are produced and viewed? And what do they think the pop culture universe will look like a decade from now? Moderated by Jeff "Doc" Jensen. Hall H
7:00-8:00 Writing Movies for Fun and Profit -- Meet Thomas Lennon (Reno 911!, The State, I Love You, Man) and Robert Ben Garant ( Reno 911!, The State, Bob's Burgers). Sure, you love their cult TV shows, but the movies they've written -- Night at the Museum I & II, The Pacifier, etc -- have made over a billion dollars at the box office. Their new book Writing Movies for Fun and Profit will teach YOU the secrets of the studio system and everything you need to know to break into the film biz and start earning piles of money by SELLING OUT. Join them for an informative and irreverent Q&A. Room 5AB