Nikita's Lyndsy Fonseca on John Carpenter's The Ward and Hunger Games Auditions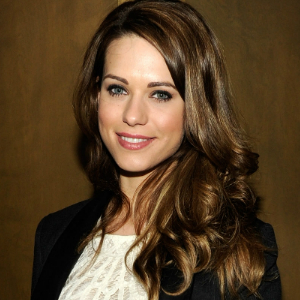 Twenty four-year-old Lyndsy Fonseca has been familiar to television fans since her days on The Young and the Restless (she also appeared on Boston Public, Big Love, Desperate Housewives, and as Ted Mosby's future daughter on How I Met Your Mother) but she made herself known in fierce fashion last fall as Maggie Q's cunning and loyal protégé, Alex, on The CW's lady spy series Nikita. This week Fonseca adds to her growing film slate with a turn in John Carpenter's The Ward, a '60s-set psychological horror tale also filled with complex female relationships, themes of survival, and endless twists and turns.
Fonseca plays Iris, a bespectacled mental patient with an artist's touch, who (along with Amber Heard, Laura-Leigh, Danielle Panabaker, and Mamie Gummer) finds herself tormented by a sinister force. It's a far cry from the toughened Alex of Nikita, and different still from Fonseca's recent work in Hot Tub Time Machine (as John Cusack's totally '80s girlfriend) and Kick-Ass (as Aaron Johnson's oblivious crush); she next appears in the Lifetime movie Project Five as a stripper-slash-breast cancer victim.
Movieline spoke with Fonseca, days away from her return to the Toronto set of Nikita, about her first meeting with John Carpenter, her brush with Gary Ross's Hunger Games adaptation, and the legacy of the 1990 French cult film that inspired the Nikita franchise.
The Ward is John Carpenter's first film after a decade-long break, which already earns it special note. What else about it appealed to you?
Well, I read it and immediately liked it because I liked all the distinct characters. And it's John Carpenter, obviously -- I really respected him and was a fan of his old work. So I met with him at Hamburger Hamlet on Sunset Boulevard, and he was easy to talk to. We just instantly got along. He knew exactly what he wanted and there wasn't any question about it, so there was a kind of a sense of ease about the whole thing.
Hamburger Hamlet -- that's his spot.
I think that's where he met all the girls! But he was just honestly the most down to earth person.
What was your initial take on the character you play? She's the nice girl in this group of mental patients, but then every one of these young ladies has some secret to hide.
It was really cool because of the nature of the film -- each personality is really about one thing, and what they're trying to get out of their situation in that ward. My character was an artist in every sense of the word; she thought of everything as a painting or a drawing, and it was kind of cool that there was a simplicity about that. If there was anything I was ever confused about, I could always go back to that. Just draw, or look at the lighting and thing of it in an artistic way. That's kind of what Iris is, she's very committed to getting out and she'll do anything to not be stuck in there.
The Ward was filmed in 2010, which was a big year for you; Nikita premiered and blew up and you had more and more film roles in the same relatively short span of time.
I had done The Ward after Hot Tub Time Machine, and Nikita hadn't existed yet.
Do you feel like Nikita has changed the way people see you as an actor -- what you're capable of, the kind of range you can play?
Gosh, I hope so! I don't know, but it definitely helps me with opportunities that I probably wouldn't have been able to have, just because of the audience it reaches. It's not an independent film that you just hope people will find and love. Nikita just internationally reaches a bigger audience, so I feel very fortunate for that. And it's a really fun show!
It seemed like once Nikita hit the airwaves it showed people that you could really do action, and then the next thing you know you were being championed to be cast in The Hunger Games.
Yeah! That was really, really, nice of everybody. It was incredible.
How far into the audition process did you actually go?
I went to Gary [Ross's] house and read with him -- he's just a lovely man. You know, there were just a few of us girls by that point and Gary has a studio in his house, we worked on it for a little bit. But I was just lucky to get that far, to be honest. It was cool to meet with Gary.
Now, Nikita in itself is an interesting concept because it's -- let me get this right -- a remake of an adaptation of a film remake of a French movie.
[Laughs] You know, it's just simpler to say that it's a remake of a famous franchise, but we're taking it into our own. Craig [Silverstein] has a very different voice from the original film, and I'm such a huge fan of the original film -- that movie blows my mind. We're not trying to be that movie, because nobody can touch it. It is what it is. We're just hoping people will love the characters and the story enough that they'll go on the ride with our take on it, you know?
As a fan of the original film, was it particularly thrilling when you get to do pay homage to Anne Parillaud's character in the first Nikita?
Oh, yeah. And there are a ton of similarities, with my character even moreso than Maggie [Q]'s, because they wanted to show Maggie being years later, already gone rogue, with my character trying to escape. So there are more similarities with my character and the original film but at the same time, I didn't have the pressure of it already being an iconic character, so I didn't have the freak out of, "Oh my god I'm not going to do it justice!"
When you began the series were you aware of what would happen to Alex by the end of the first season? She ends up in such a different place than she begins.
Craig was really cool, and I really respect how he's dealt with telling us everything because he really does think ahead. He knows where the season's going to go -- maybe not how fast or slow, because that always depends on the audience's reaction -- but I didn't expect to be graduating Division so soon. I definitely thought I'd be spending the first season as a recruit. So all of that happened a lot quicker but what I did know was Alex's family back story. Craig and I thought it was important that we were on the same page about that, so he told me about my father and my family and Nikita's involvement in it and stuff like that.
Pages: 1 2