Christopher Walken Will Play Zeus in Modern Day Comedy Gods Behaving Badly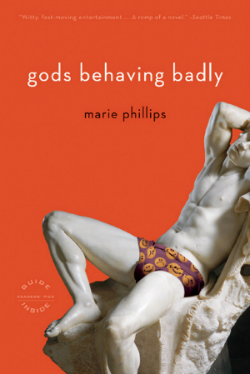 While Daniel Craig is off channeling Edie Falco, Edie Falco will soon be channeling the Greek goddess Artemis in the big screen adaptation of Brit lit bestseller Gods Behaving Badly. Also on board, fleshing out what I'm predicting to be the strangest casting blitz we'll see all week: Phylicia Rashad as Demeter! John Turturro as Hades! Sharon Stone as Aphrodite! Christopher Walken as Zeus! Your full list of '90s stars playing downtrodden gods and goddesses after the jump.
Adapted from Marie Phillips' bestselling novel of the same name, Gods Behaving Badly goes into production this month with more '90s stars-as-has been immortals than you can shake a decanter full of mead at. Behold, the official synopsis and casting announcement:
The film tells the story of the Greek Gods, alive and well and living in a brownstone in New York City, as they cross paths with a young couple, Kate and Neil. The intersection of the Gods and the mortals threatens not only the couple's budding relationship, but the future of everything else. Kate will be played by Alicia Silverstone and Neil by Ebon Moss-Bachrach. The gods are: Aphrodite -- Sharon Stone, Apollo -- Oliver Platt, Artemis -- Edie Falco, Demeter -- Phylicia Rashad, Dionysus -- Nelsan Ellis, Eros -- Gideon Glick, Hades -- John Turturro, Hermes -- Henry Zebrowski, Persephone -- Rosie Perez and Zeus -- Christopher Walken.
Phillips' satire envisioned the gods and goddesses as fallen deities living like normal humans on earth -- working lame low-rent jobs as phone sex operators and dog-walkers, tinkering in one another's affairs, using their powers to become TV stars -- but writers Josh Goldfaden and Marc Turtletaub (who will also direct) transplanted the setting from a London house to a New York City brownstone. Production begins mid-July in New York.
So, randomest cast ever? Here's hoping the Xanadu-esque "gods in modern day America" tale works on-screen. With Walken playing Zeus as the crazy old guy in the attic, how could it not?
[via Press release]