See High School Dropout Emma Stone on the Cover of Vanity Fair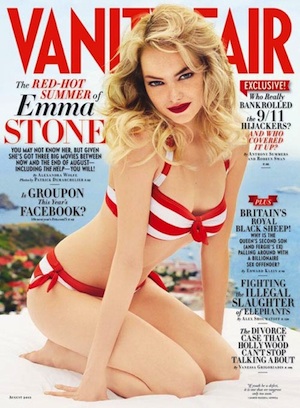 · The lovely Emma Stone graces the cover of Vanity Fair next month, and in the accompanying interview she reveals that perhaps staying in school isn't all its cracked up to be: "I did Superbad in what would've been my senior year," she said about dropping out of high school to pursue her career. "I was playing a senior, and had I graduated I would've missed that opportunity, and had I missed that opportunity I wouldn't be here right now." That's some Sliding Doors stuff right there! Click through to take a look at Stone's cover photo, then stick around for more Buzz Break.
For more from Stone, including a great story about how she almost got cast on Heroes, head over to Vanity Fair.
· It looks like the upcoming Martin Scorsese 3-D film The Invention of Hugo Cabret is now simply called Hugo. [AwardsDaily]
· FilmDistrict will release Only God Forgives, the latest Ryan Gosling/Nicolas Winding Refn collaboration. [Deadline]
· Match Point star Jonathan Rhys Meyers was hospitalized after being found "slumped over" in his London home on Tuesday. No official word yet on what caused his mallady, though some reports suggest an overdose of pills. [E!]
· According to a report, neither Matthew Fox or Ed Harris will appear in World War Z; their schedules simply didn't work out with the now-filming production. [Vulture]