Check Out 3 New Images from Brad Bird's Mission: Impossible — Ghost Protocol
Pixar watchers and action fans alike were waiting to see what Oscar-winning animation veteran Brad Bird might do with the reins to the Mission: Impossible franchise, and the first wave of promo materials offers an answer: Pretty much what anyone would do with a slick, globe-trotting, high-octane Tom Cruise vehicle. Can we find greater detail in the first batch of stills from Mission: Impossible -- Ghost Protocol?
The fourth M:I outing sees Ethan Hunt (Cruise) and his team officially disavowed by the government so they can go deep undercover to find the baddies responsible for the bombing of the Kremlin. Simon Pegg, Ving Rhames, Jeremy Renner, Josh Holloway and Paula Patton join Cruise in the action pic along with Michael Nyqvist (The Girl with the Dragon Tattoo) and Lea Seydoux as a pair of European baddies.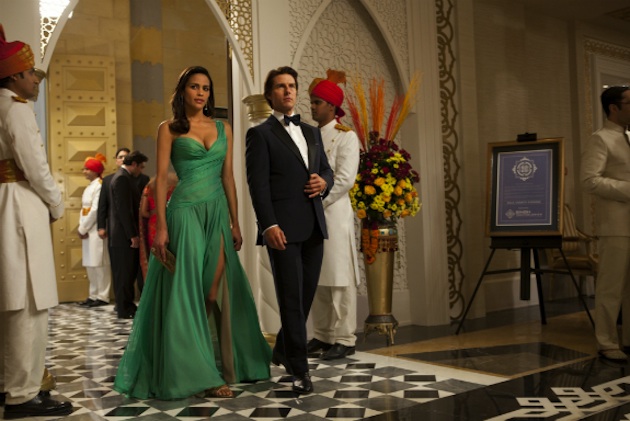 The first trailer seemed to indicate that Bird had lots of fun shooting his first live-action feature, what with all the spy games and set pieces he had to work with. On closer inspection of these first couple of stills, his strong visual sense come through even more strikingly: the vibrant colors on and around Paula Patton as she strolls into a party with Cruise (signage indicates it's a "Gala Charity Evening" for a company called Singh Technologies); the tricky reflection shot of Cruise free-climbing an office building.
Still, we'll need to see more from Mission: Impossible -- Ghost Protocol (in theaters Dec. 16) to tell how much Bird puts his own stamp on the franchise and genre at large. Click above to launch the gallery.