Guillermo Del Toro's Don't Be Afraid of the Dark: Too Scary for the MPAA?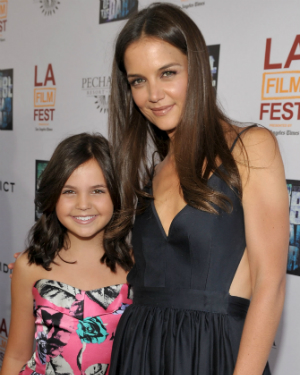 Before Sunday night's L.A. Film Fest premiere of the August horror pic Don't Be Afraid of the Dark succumbed to an unfortunate series of annoyances -- a fire alarm temporarily evacuated the theater midway through, while chaos reigned at the post-screening cell phone check -- producer and co-writer Guillermo del Toro emphasized what, hopefully, will make Don't Be Afraid of the Dark memorable: Its "pervasive scariness," so terrifying that the MPAA deemed it too frightening for its intended rating.
"This movie was in mind for a PG-13, but I will say with great honor the non-negotiable R-rating from the MPAA, I wear as a badge of honor," del Toro quipped before the screening. "Whatever they saw that they thought was 'R,' we didn't want to cut. So I don't know why, but it's an R for 'pervasive scariness.'"
"It's like getting an award for sexiness; I'll take it." He paused. "It hasn't happened yet."
The film stars Katie Holmes (in her biggest film since 2008's Mad Money) as an interior designer restoring a spooky Gothic mansion with her architect boyfriend (Guy Pearce). His young daughter Sally (Bailee Madison) comes to live with them and discovers supernatural fairy-like creatures living in the basement -- creatures that are so very hungry.
Del Toro and co-writer Matthew Robbins adapted the film from the 1973 TV horror movie of the same name. Between the film's young protagonist and its non-gory but very, very effective shocks, it makes for the kind of scary movie that made you pull the bedsheets over your head, in a good way, as a kid. For del Toro, recapturing that bygone spirit was essential to his update of the original film. "I think this is a classic movie, going back to the no-gore, no-torture [movies]. It's really a throwback to the classic scary movies that I love."
11-year-old Bailee Madison, on her way to joining the ranks of the Fanning sisters as one of Hollywood's most poised young actors, expertly walked the red carpet in four-inch heels with Holmes, del Toro, and director Troy Nixey. She credited del Toro for helping her "get in the zone" during the film's scarier scenes.
"I wanted to feel scared because I wanted the audience to feel like they were in the movie, that they weren't just sitting there watching it," she told Movieline. "Working with Guillermo del Toro, he really gave me the opportunity to be like that. Before he would yell 'Action' he would let me get myself in the zone and do what I needed to do, scream whatever I needed to scream. And I would look at him, give him the thumbs up, and I'd go straight into that scene."
"He helped turned this movie into such an amazing thing."
Del Toro, meanwhile, was pulling triple duty for the festival; in addition to premiering Don't Be Afraid of the Dark, he served as guest director of the fest and hosted a screening of Pupi Avati's 1996 Italian horror film The Arcane Enchanter (L'arcano incantatore). And on top of that, he's prepping the anime-influenced sci-fi actioner Pacific Rim, which begins filming in five months and will mark his biggest film to date.
"Without a doubt, it's the biggest film I've ever done by about twice," del Toro explained, pointing to the film's CG component. "It's very effects heavy. I think there's no way of doing the creatures in this movie practical, they are too big."
Check back for full interviews with Guillermo del Toro and Katie Holmes and read all of Movieline's coverage of the L.A. Film Fest here.